Las Vegas City Council to vote on short-term rentals rules
Updated June 19, 2017 - 11:00 am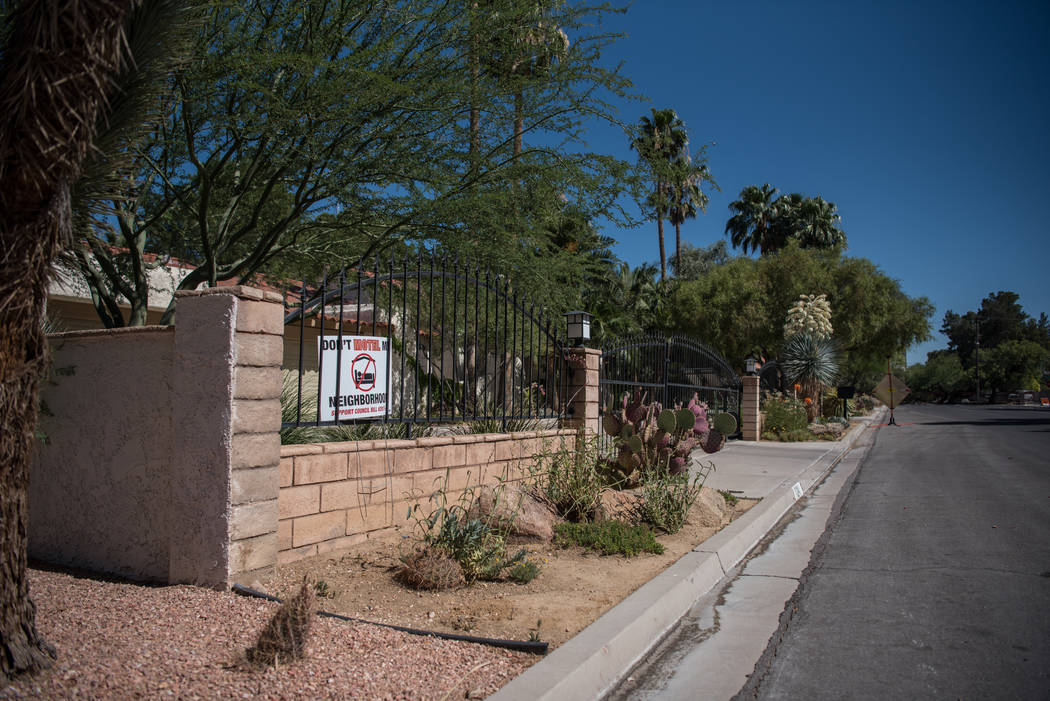 For the better part of a decade, Las Vegas Councilwoman Lois Tarkanian has wanted new rules governing short-term residential rentals in the city.
That might come Wednesday, when the City Council is slated to vote on an ordinance that would give the city more oversight and create a more rigorous approval process for where short-term residential rentals can go.
"I don't want to go through another three or four years of them saying they'll police themselves, when in the past they've done zero. Zip," Tarkanian said.
One of the proposal's most controversial parts, a requirement that operators obtain a special-use permit from the city, is what Tarkanian sees as the most necessary. The rules also call for proof of liability insurance coverage for at least $500,000 and a placard displayed on the exterior of each rental unit with 24-hour contact information. Short-term rentals would not be permitted within 660 feet of one another.
An ordinance was proposed but failed in 2007 that would have banned the renting of homes or condominiums for 30 days or fewer. The emergence of online platforms such as Airbnb have made it even easier to rent a private residence.
Residents in central Las Vegas neighborhoods such as the Scotch Eighty complain of party houses where buses drop off dozens of people and trash litters the neighborhood when the renters vacate. The "party house" contingent in neighborhoods near the Strip have been the most irksome for Tarkanian.
An hourslong public hearing last month on the proposal drew complaints from both sides. Some said the new rules are onerous; others think they are not strong enough.
Scotch Eighty resident Kathryn Fox said she used to stay at short-term rentals when she traveled, but she has since decided the rentals are business operations that do not belong in neighborhoods.
"It's just eroding the neighborhood and the city," Fox said.
The key to making people follow the rules are the consequences, Mayor Carolyn Goodman said.
Charging a $250 or $500 fine won't change much, but at $5,000, "believe me, you'd see something different," Goodman said.
"The issue, really, from my perspective, is if you expect something, you have to inspect it," Goodman said. "The city of Las Vegas doesn't have enough code enforcement or marshals to go around 155 square miles and check what's happening. So we have to rely on complaints."
Since February 2016, Julie Davies has had an application to rent out her downtown condominium. Davies is trying to follow the rules, but she has grown frustrated with the delays. Davies has issues with several of the proposed changes, including the requirement to post a placard on the property.
"To have a sign outside the house that says whether it's occupied or not is just a burglar magnet," Davies said.
Public hearing
The Las Vegas City Council's Recommending Committee will hold a public hearing on the proposed short-term rental rules at 10 a.m. Monday in council chambers at City Hall, 495 S. Main St. This is a continuation of a May public hearing, where not everyone present who wanted to speak was able to.
The short-term rental rules are also on the agenda for Wednesday's City Council meeting, which will take place in the same location. The council is scheduled to take up the issue at 11:30 a.m.
Related
Nevada Legislature debates tax on short-term rentals
Clark County pays overtime to crack down on short-term rentals
Airbnb sees explosive growth in Nevada as hosts take in $47M