Las Vegas City Manager Betsy Fretwell plans to leave job in July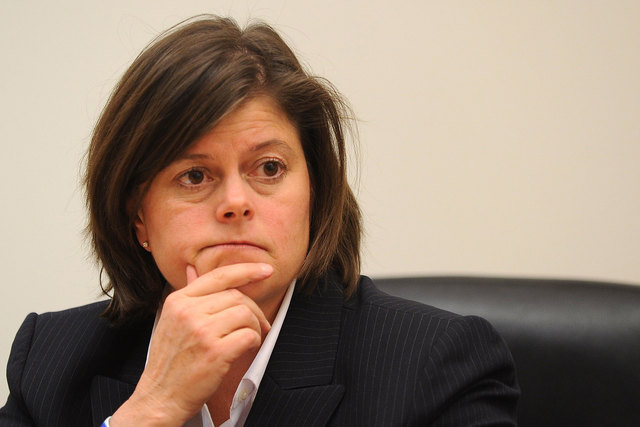 After more than 25 years in the public sector, Las Vegas City Manager Betsy Fretwell is planning to make a switch.
Fretwell announced Tuesday that she will retire from the city, effective in July, to take a position as senior vice president of Switch SMART, the computing company's new smart city division.
Fretwell joined the city of Las Vegas in 2000, and took the helm as city manager in 2009. She called "battling through" the recession one of her toughest challenges because the city had to eliminate a large chunk of the budget "when the work didn't go away, and people actually needed us more," she said.
Fretwell cited the city's high marks in citizen surveys on customer service and advancement in renewable energy initiatives as some of the highlights. The city reached its goal late last year of pulling 100 percent of the power for its facilities from renewable energy sources.
"It's not too often you get to build a new division of a business from the ground up," Fretwell said.
The City Council will have to determine a succession plan, but Fretwell will continue with the city past the municipal elections and through the next budget cycle.
In Fretwell's new position, she will head up strategic development, implement and oversee the expansion of Switch's "vision to integrate all aspects of smart city development," according to a news release issued by the company Tuesday.
Councilman Bob Coffin said Fretwell's departure is a big loss for the city, but that the move also speaks highly of the city "that we have someone who is so highly valued."
There isn't a set succession plan yet, but Coffin voiced confidence in Fretwell's deputies stepping up.
"We have some very good deputy and assistant city managers," Coffin said. "She's leaving a lot of talent at the top. I think we're in good hands."
Contact Jamie Munks at jmunks@reviewjournal.com or 702-383-0340. Find @JamieMunksRJ on Twitter.