Las Vegas council rule 'a ban in disguise' on short-term rentals
Updated December 5, 2018 - 10:37 pm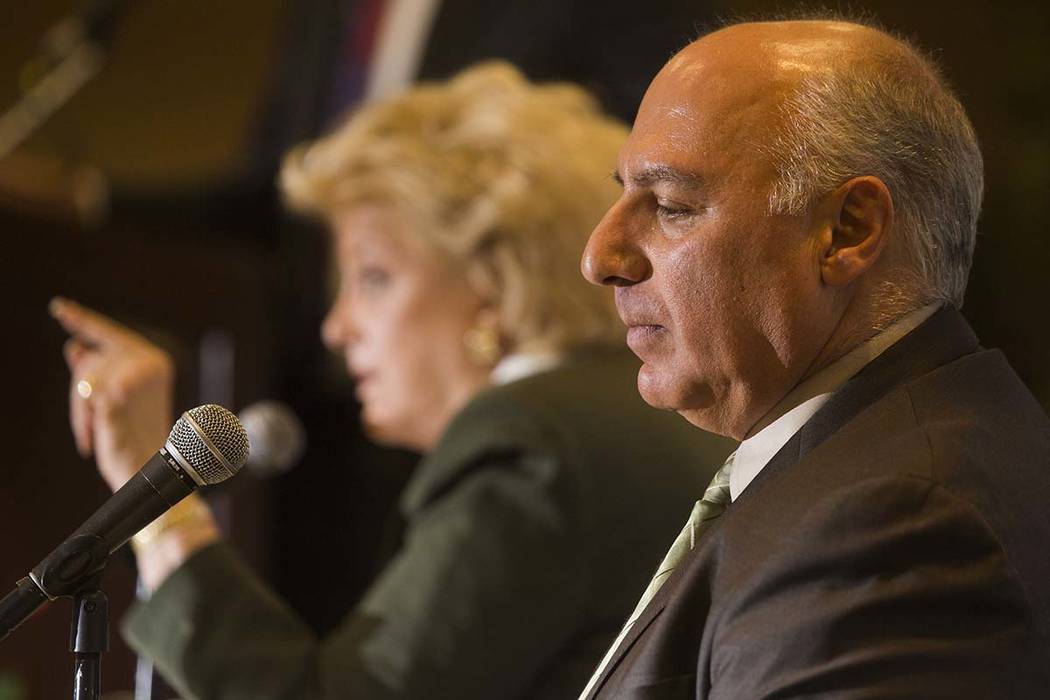 Proponents of tightening restrictions on short-term residential rentals in Las Vegas were given a narrow victory Wednesday after the City Council approved limiting new permits to owner-occupied homes, likely significantly reducing the number of legal home-sharing units in the future.
By a 4-3 vote, elected officials signed off on the bill that also requires such dwelling units, where rooms are rented for fewer than 30 days, to have no more than three bedrooms and be at least 660 feet from the nearest other short-term living unit.
No waivers exist to request an exemption.
City officials say existing rentals and those in the process of seeking special use permits required to operate will not be affected by the new regulations, which drew at least five hours of testimony from advocates on both sides.
Councilman Stavros Anthony said that the bill is effectively "a ban in disguise," since only about 1 percent of legal short-term rentals in the city are owner occupied.
City spokesman Jace Radke later clarified that updated city figures, to which Anthony had not been privy, show about 15 percent are owner occupied.
For proponents who had called for an outright ban, concerned that short-term rentals — particularly those run by absentee property owners — intrude on neighborhood civility, the bill represented a reasonable compromise and step in the right direction.
"We want to protect our neighborhood and not protect their wallets," said Dina Cianchetti, who lives on the city's west side.
Yet opponents saw the move as ignoring economic benefit, government overreach and an overreaction to a municipal policing issue.
Instead, they said, the city must better deal with noise and public nuisance complaints whether they stem from short-term rentals or the neighborhood at large.
"While cities around the world are embracing the economic benefits of short-term rentals, the city council has doubled-down on onerous regulations, and added further restrictions," said a spokeswoman for Airbnb, the most well-known player in the short-term rental industry.
"This vote is a disappointing blow to Las Vegas hosts who rely on short-term rentals to support their families and will hurt the local economy."
Councilwoman Michele Fiore, who with Anthony and Councilman Cedric Crear opposed the bill, said she preferred to continue working on a policy overhaul that would add teeth to regulations in lieu of enacting restrictions.
Mayor Carolyn Goodman and Councilwoman Lois Tarkanian both implored fellow elected officials to act, however, acknowledging that policy could be tweaked as the city continued to address how to co-exist with short-term rentals.
Home-sharing platforms like Airbnb are particularly prominent in wards 1, 3 and 5. Ward 3 Councilman Bob Coffin described the new regulations as "our breath of air to try to slow it down."
Tarkanian, who introduced the bill, suggested that short-term rentals may ultimately be her legacy, but said that property rights of neighbors near such units must be respected, countering a key point of opponents that restrictions would impede on the operators' rights.
"It's just a beginning to give some respite to these people," she said, "who have taken it in the chin for a long time already."
City officials said that policy decisions to address high-rise buildings are in the pipeline.
Contact Shea Johnson at sjohnson@reviewjournal.com or 702-383-0272. Follow @Shea_LVRJ on Twitter.
New rules for home-sharing platforms
— Must be owner occupied
— No more than three bedrooms
— No closer than 660 feet to another short-term residential unit
— No exemptions