Las Vegas ordinance could help more pigs become pets
October 3, 2016 - 7:29 pm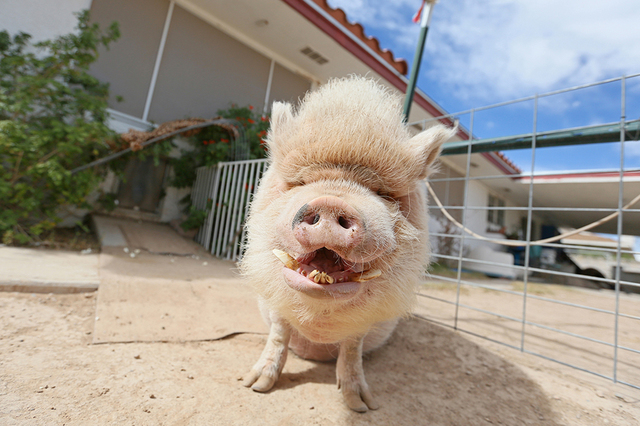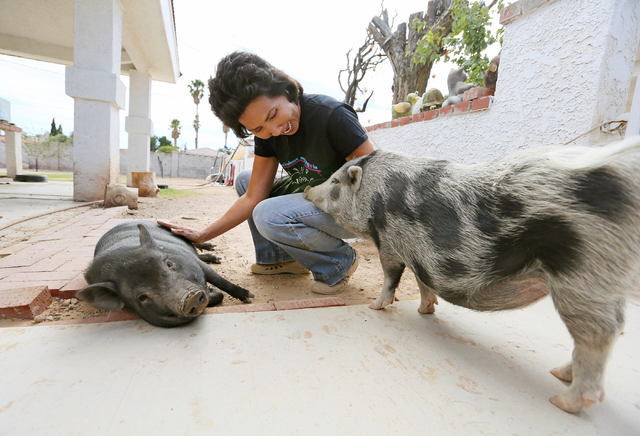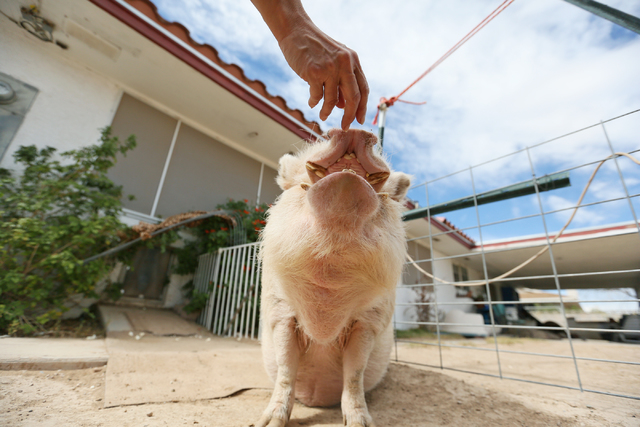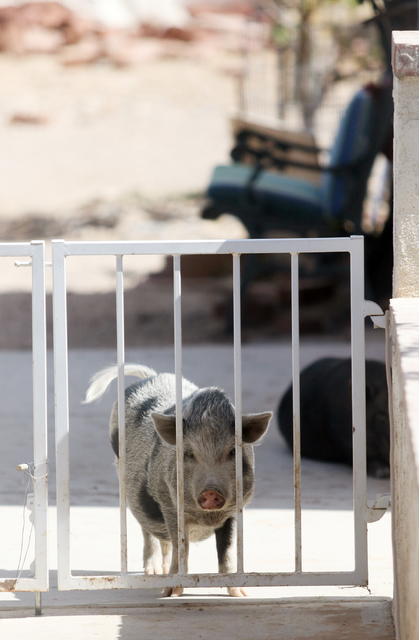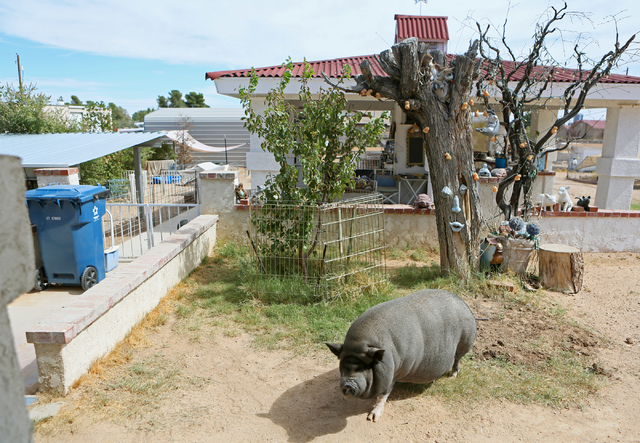 Pearl and Sweetpea are sisters, but unless the city of Las Vegas changes its rules, the potbellied piglets can't be adopted into the same permanent home.
Potbellied pigs have grown in popularity, in many places faster than city codes and regulations can keep up. Swine statutes have often remained restrictive, relegating potbellied pigs to rural areas.
The Las Vegas City Council will take up a new proposal later this month that would allow up to six pigs on city lots, depending on size. Until now, the cap in the city has been one potbellied pig per property with what Crystal Kim-Han calls unrealistic size restrictions — a maximum of 120 pounds and 22 inches in height.
"You don't put a weight limit on dogs, why put one on potbellied pigs?" said Kim-Han, who runs the rescue organization VegasPigPets out of her Clark County home. "We have a lot of pairs of pigs, and pigs actually do better in pairs."
If the council approves the change Oct. 19, Kim-Han said it would help her to place more pigs in homes in the valley.
The change would essentially remove those weight restrictions — a grown pig that doesn't reach 120 pounds is rare, Kim-Han said.
It also would put in place a sliding scale for lot sizes and how many pigs could be kept on a property. The maximum, six potbellied pigs, could be kept only on lots that are 40,000 square feet or more.
Property owners with lots under 13,200 square feet in the city could keep a maximum of one potbellied pig.
The change would bring the city's animal ordinance more in line with Clark County's. The city continues to annex "islands" of unincorporated county land in the northwest valley, which sometimes creates friction because of differing regulations and zoning between the two jurisdictions.
"Some of those folks want to maintain their rural lifestyles even though they're annexed into the city," said Councilman Bob Beers, one of the sponsors of the new ordinance.
Vicki Ozuna, code enforcement supervisor for the city, said odor and noise complaints stemming from pigs already come into her office. She cautioned City Council members at a Monday committee meeting to consider the possible effects of removing weight and height restrictions for potbellied pigs.
"Neighborhood people aren't overly charmed with the pigs," she said.
Kim-Han has eight pigs on her Clark County property, five of which are up for adoption. Mo and Bonnie are her personal pets. Bonnie reigns over Kim-Han's living room and kitchen, while Mo has his own bed next to Kim-Han's bed. After a tentative minute just outside her pig-sized passage into the house on Monday, the 200-pound Bonnie burst into the living room, only to fall asleep on her bed in the corner.
Kosha and Harry are another pair that have bonded and that Kim-Han hopes to be able to adopt out together.
Kim-Han makes a case for pigs as pets because they're hypoallergenic, they don't bark and they bond strongly with their families. But it takes the right kind of person to care for pigs, Kim-Han said.
While potbellied pigs have increased in popularity, education remains an issue, Kim-Han said. People may not understand what a pig's needs are, or it may outgrow the size a breeder promised them. And sometimes when the pigs are adopted out, they're later returned when they grow too large or the family moves.
Allowing multiple pigs per city property could mean some of those unwanted pigs could be placed in homes where owners understand their needs.
"People think 'Oh, it's like a tiny little dog — I can keep them in the house and take them for walks when they have to go potty' — no. So people are buying them because they're cute, but they don't know what their needs are," Kim-Han said. "It would be great if we could find homes for more pigs."
Contact Jamie Munks at jmunks@reviewjournal.com or 702-383-0340. Find @JamieMunksRJ on Twitter.