Las Vegas residents study to become citizens amid immigration scrutiny
Updated July 3, 2019 - 9:36 pm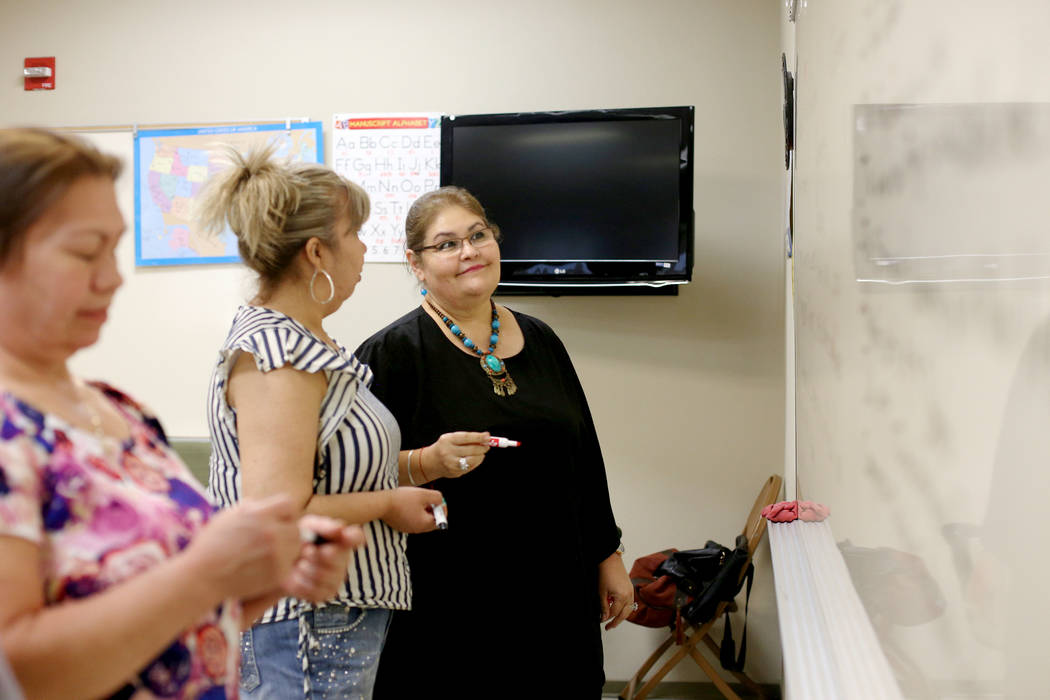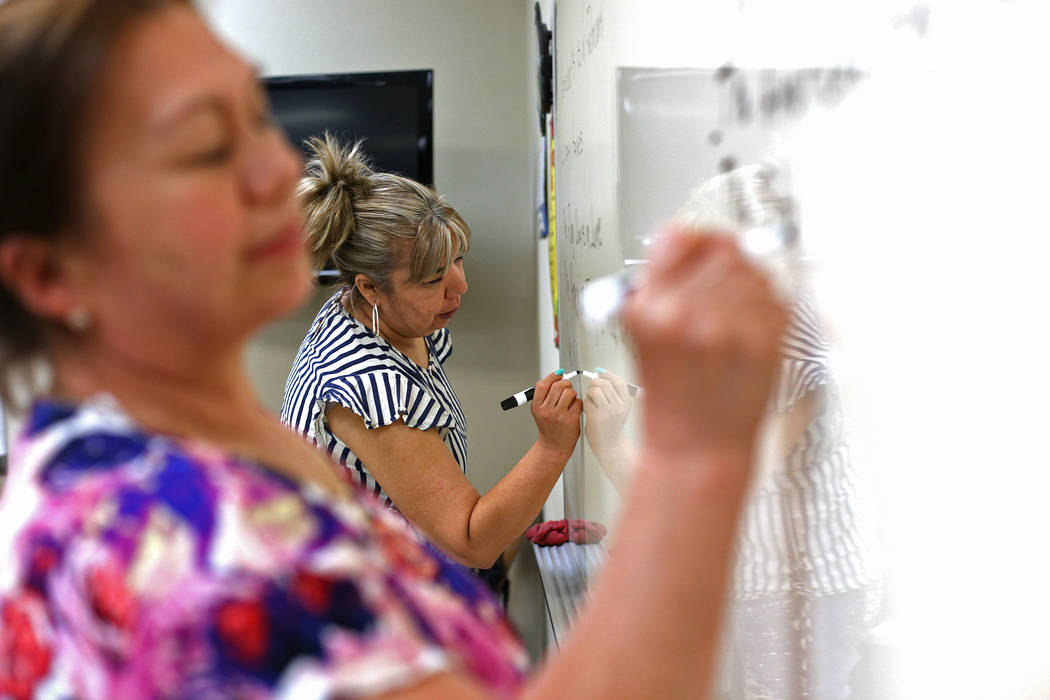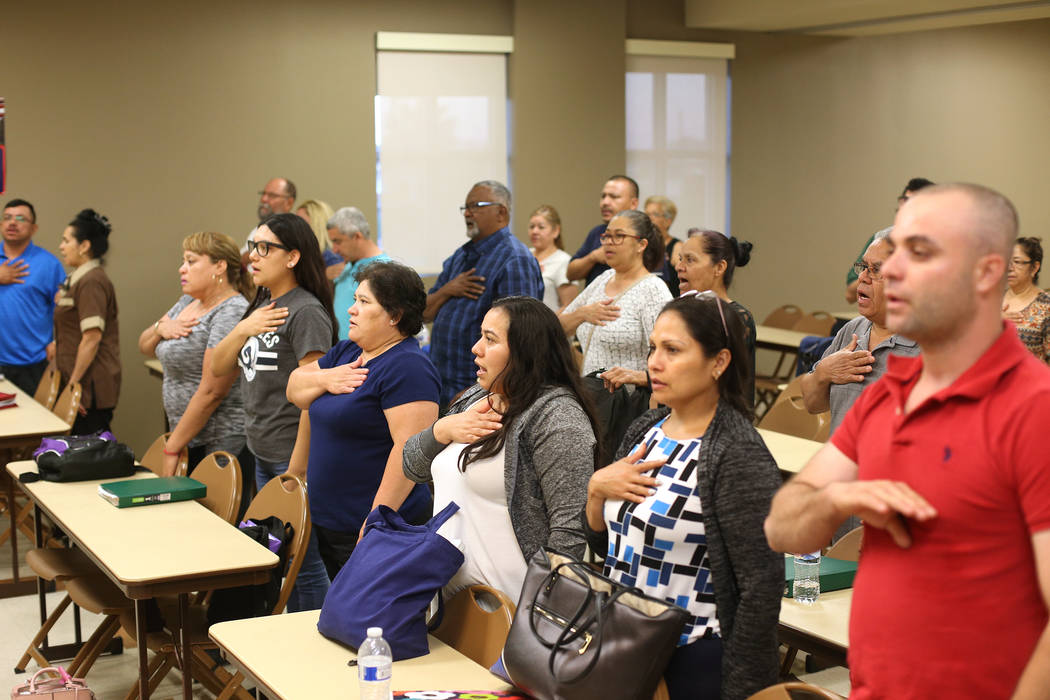 Walter Salguero is on the hot seat.
When were you born? What's your phone number? Were your parents married when you were born?
The 32-year-old Salguero, wearing a red shirt and a black backward baseball cap, answers each one in turn.
Then the questions get harder.
Who is your representative in Congress? What are the powers of the federal government? What are two rights of every American citizen?
Salguero carefully responds to each question, ending with "freedom of speech and freedom of assembly."
His coach, Las Vegas city staffer Mayra Crum, congratulates Salguero for completing the practice. "Muy bien," she says. ("Very well.") The class claps, and the next student is up.
Salguero is scheduled this month to be the latest permanent resident under Crum's tutelage to take the U.S. citizenship test. In more than two decades, Crum has helped thousands to pass, reaching a milestone in June when her 10,000th student was naturalized.
For Crum — who said she landed the job teaching citizenship courses in 1997 after marrying an American and migrating from Mexico, where she studied criminal law — the three-day-per-week sessions at the Stupak Community Center have been a labor of love. Because so many have come through her program, she cannot help but run into them every now and then.
"So if I go to the DMV, if I go to the markets, I find the students," she said before a recent class. "I feel so proud of them."
Many come from Spanish-speaking countries such as Mexico, El Salvador and Colombia, while fewer have moved from places such as China or Jamaica. But all, according to Crum, seek a similar outcome: A better opportunity to support their family and, frequently, to escape danger lurking at home.
In some cases, opportunities mean a chance to work for the federal government. Or to vote in American elections. Or to file a petition for a relative to obtain a green card. These goals oftentimes overlap.
Surge in applicants
The urgency for Crum's students to obtain citizenship has intensified since the election of President Donald Trump, whose immigration policies and increased scrutiny of the naturalization process have created uncertainty for those without citizenship.
It's part of the reason why those who have lived with green cards for years in Las Vegas are now paying $30 each month to enroll in Crum's courses with the citizenship interview in their sights.
During a class on June 19, the Review-Journal interviewed some permanent residents who have lived in the city for decades. Maria Pleitez, a 44-year-old casino porter from El Salvador — one of many of Crum's students in the gaming industry — came to the city in 1999 and sees a noticeable difference between then and now.
"The people who didn't have the legal status, they were more free, and today they are scared," she said through Crum, who translated for her.
Crum said she was unsure whether an uptick in green card holders seeking naturalization was entirely driven by fear, but more are seeking to become citizens.
The waiting period for the citizenship test has surged nationally over the past nearly three years as the government fails to keep pace with incoming applications, according to Boundless, a Seattle-based company assisting immigrants through the green card and naturalization process.
In Las Vegas, Crum said an application for naturalization used to be processed in six months through U.S. Citizenship and Immigration Services. Now she noted it is closer to a year and a month: "It's way too long."
By the government's own estimates, however, it's even lengthier — 15.5 to 19.5 months. But Citizenship and Immigration Services has said in the media that it continues to operate effectively and efficiently despite dealing with "a record and unprecedented" increase in applications.
High stakes
Housekeeper Adriana Bolanos, 39, arrived in Las Vegas from Mexico in 2001. Salguero relocated to the city in 2005. The two, along with Pleitez, were three of about 30 enrolled in the recent class, saying they valued a better life in America than afforded in their home countries.
Ultimately, they will pay $725 to take the official citizenship test incorporating all areas they cover in class. If they fail, they may try again. A second failure, according to Crum, means they must start from the beginning and wait a year.
With the stakes high, students are eager to learn and do well. To be eligible for class, they must have had a green card for at least five years and love the country, Crum said.
"I feel very proud to study and become a citizen," said Salguero, a painter who has been in classes for about a year.
To pass the citizenship interview, they must have lived for at least three months in the district where they apply and learn American civics and history as well as how to read, write and hold a conversation — all in English.
It is common in their classroom to stand and recite the Pledge of Allegiance. Students did so recently with enthusiasm, keeping attentiveness high as they named a war fought by the U.S. in the 1800s, spelled out "Thanksgiving" and wrote "Donald Trump is the president of United States" on a dry erase marker board.
Each month, new students enroll as room is made when others are successfully naturalized. There are normally about 62 students in the class, although summer months are less active, according to Crum. To keep up with demand, the city recently expanded offerings to courses at the East Las Vegas Community Center.
Crum said there is no timetable for how long a student can come to class to feel prepared to take the test.
"They are welcome in here until they are ready to go."
For more information on classes, visit LasVegasParksandRec.com or call 702-229-7529.
Contact Shea Johnson at sjohnson@reviewjournal.com or 702-383-0272. Follow @Shea_LVRJ on Twitter.