Protesters rally against immigration policy in Las Vegas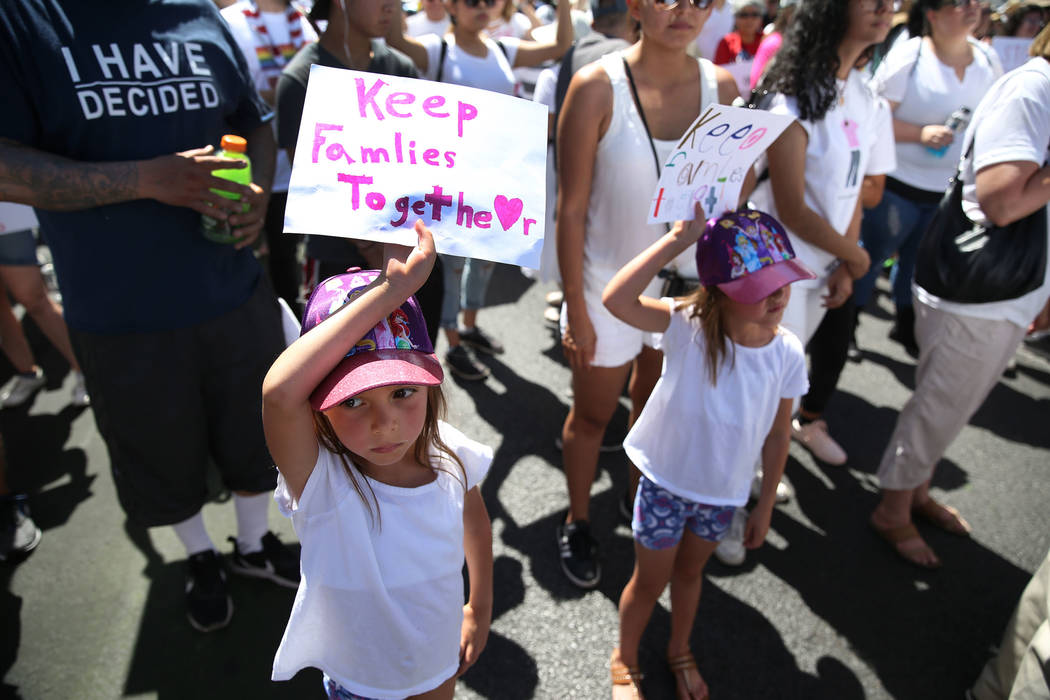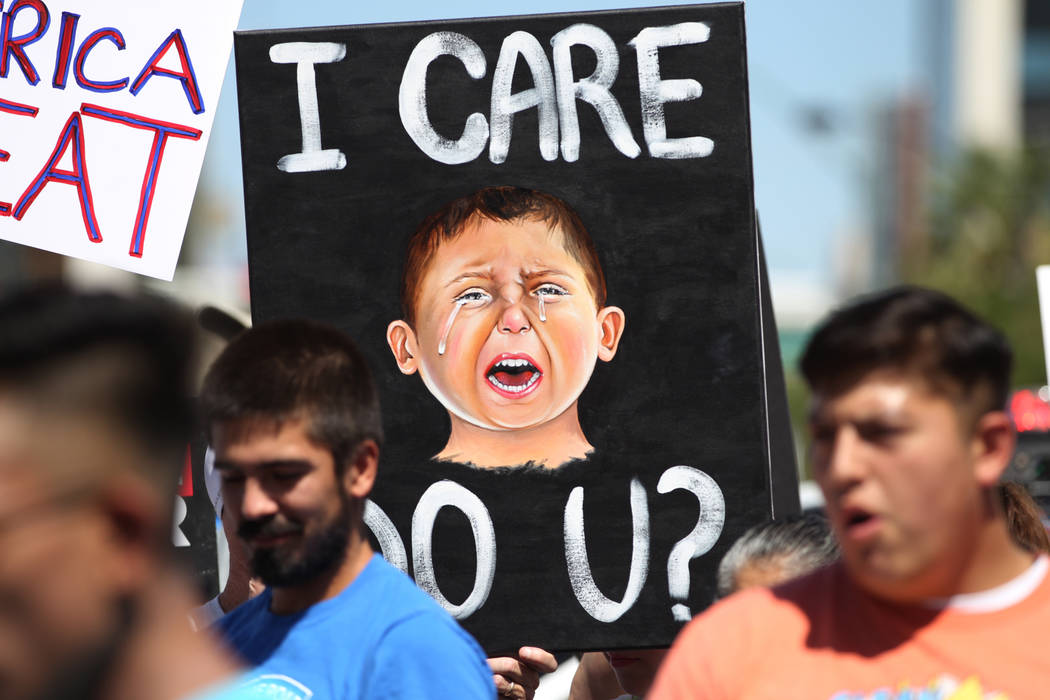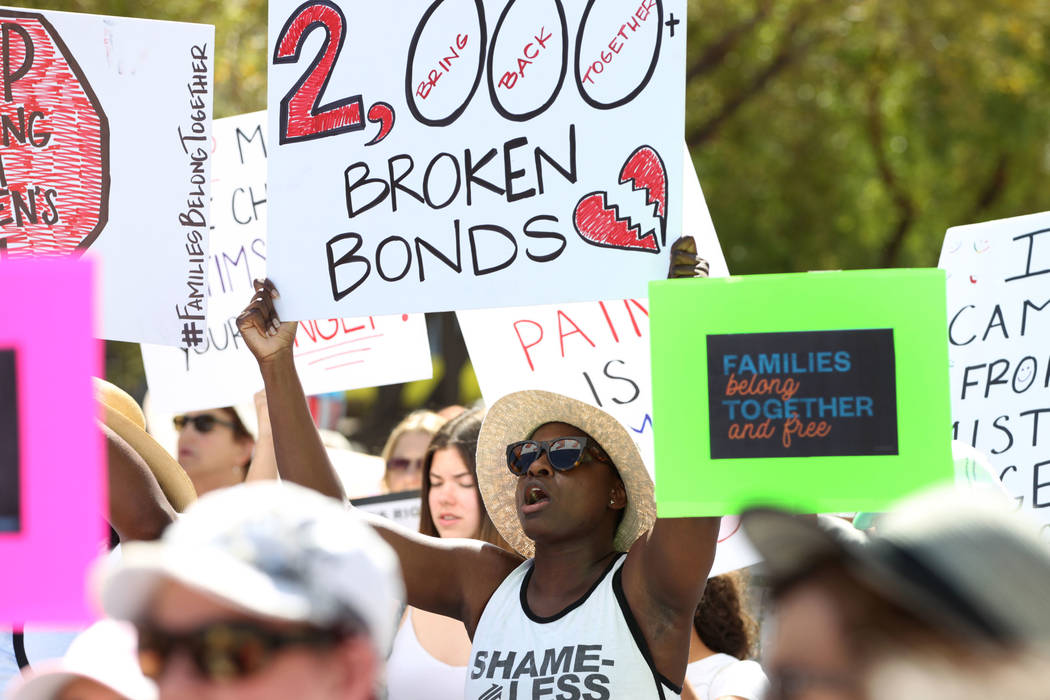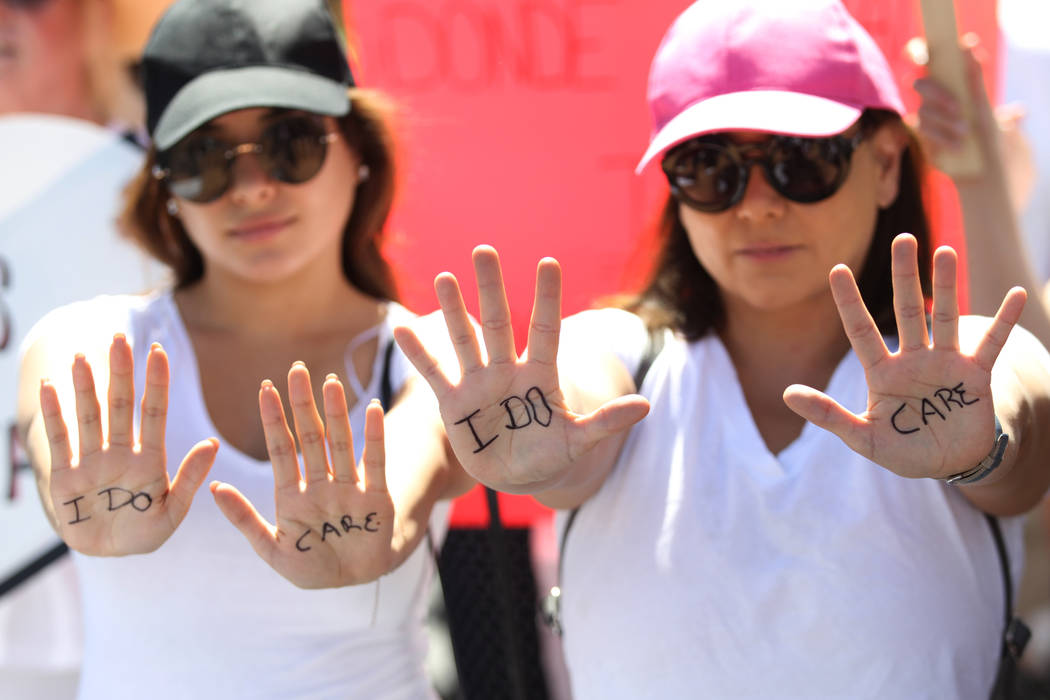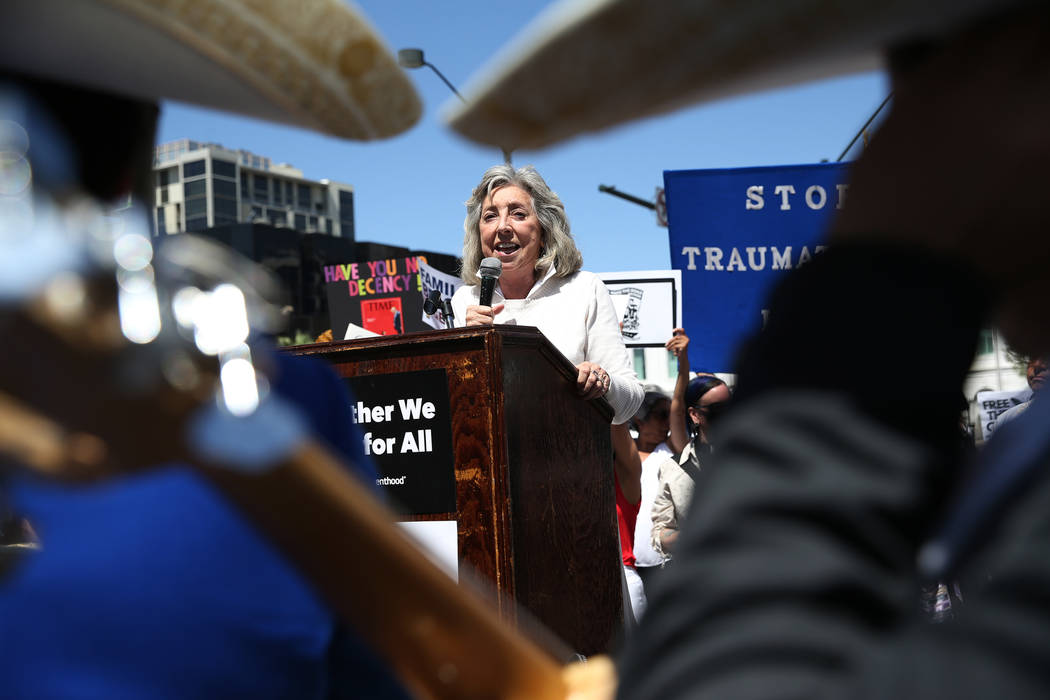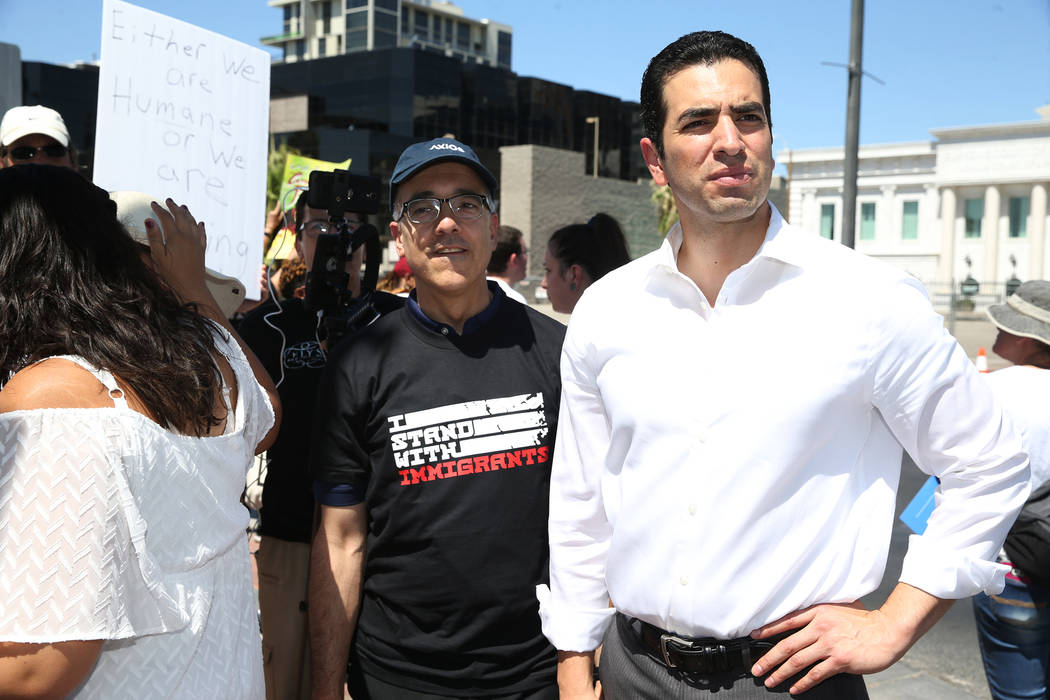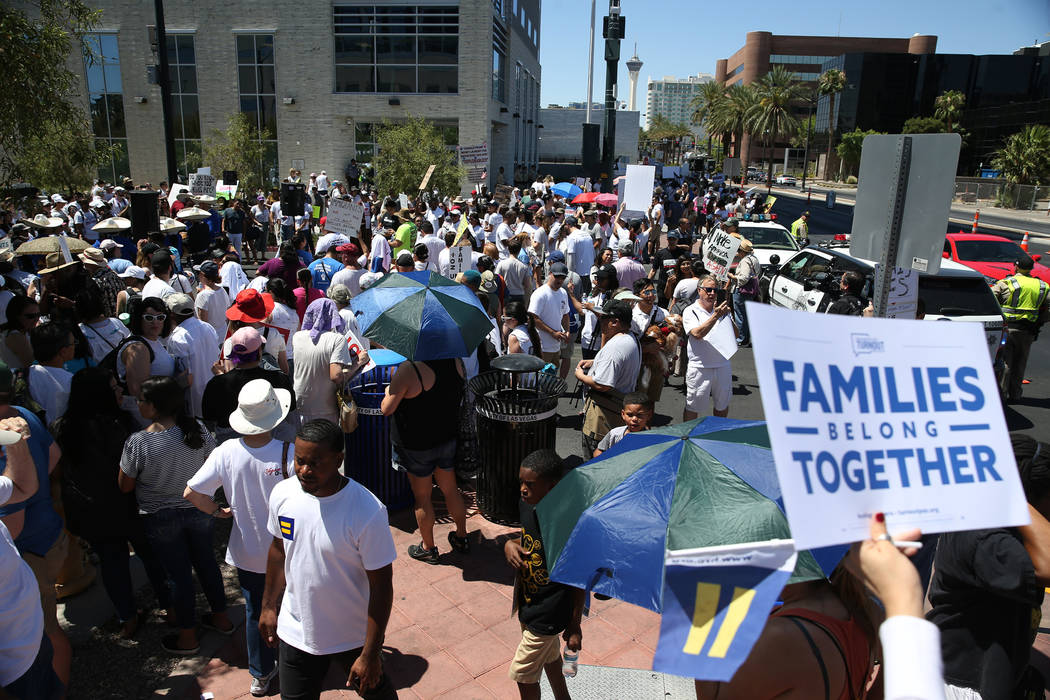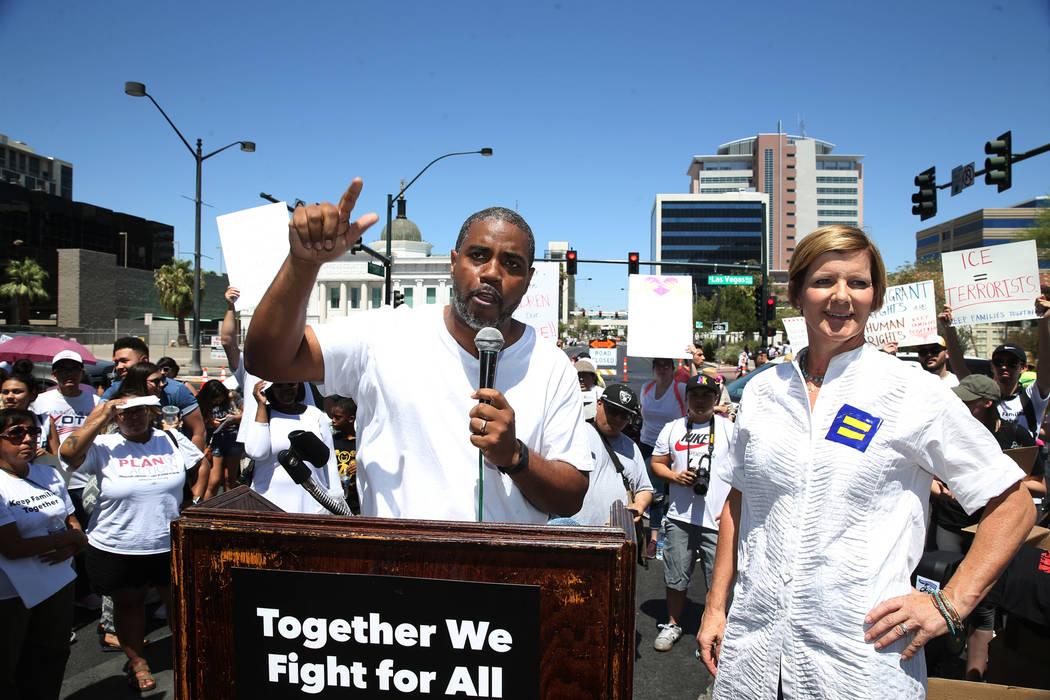 Armed with signs, shouting chants, dressed in white and carrying water to handle the summer heat, a few hundred people gathered in downtown Las Vegas on Saturday morning to protest the Trump administration's family separation and detention policy.
The Families Belong Together protest outside the federal courthouse on South Las Vegas Boulevard was one of more than 700 similar events planned nationwide, according to organizers. It focused on three main demands: reuniting separated migrant families immediately, releasing families from detention centers and reversing the Trump policy.
"Our country and our immigration laws say people have the right to seek refuge and asylum," said Erika Castro, a 29-year-old Las Vegas resident and one of the organizers of the event.
Castro, who works for the Progressive Leadership Alliance of Nevada, came to the United States from Mexico City with her parents when she was three. Castro is one of approximately 800,000 young immigrants who have become eligible to work legally in the United States under the Deferred Actions for Childhood Arrivals program.
At the same time as the nationwide rallies, President Donald Trump posted a Tweet saying that when people come into the country they must be sent back immediately "without years of legal maneuvering." He also said that the United States laws are the dumbest anywhere in the world.
When people come into our Country illegally, we must IMMEDIATELY escort them back out without going through years of legal maneuvering. Our laws are the dumbest anywhere in the world. Republicans want Strong Borders and no Crime. Dems want Open Borders and are weak on Crime!

— Donald J. Trump (@realDonaldTrump) June 30, 2018
Leaders encourage voting
Elected officials and religious leaders took to a small stage Saturday, set up on Clark Avenue, with a continued message of hope and constant reminders for those in the audience to vote in November.
In the 95-degree heat at 10:30 a.m., Congresswoman Dina Titus, a Democrat representing district one, said that the hotter the weather gets, the hotter politics gets. She encouraged those in attendance to continue to protest, rally and to speak up.
"What it's going to take is hearing from people like you," she said.
Assemblyman Nelson Araujo, D-Las Vegas, said the family separation issue was a humanitarian one, not a politic one. Araujo spoke of his mother, who came to Las Vegas from El Salvador to flee the civil war and worked for more than 30 years as a hotel housekeeper. To him, this is personal.
"We must fight for those single parents, we must fight for those families and we must unite in this," he said.
For Lisa Hendricks, a 39-year-old Las Vegas resident and mother of two, the idea of being separated from her two daughters, ages 3 and 1, is unimaginable.
"We believe that all parents should be able to bring their children home," she said, as her family stood on the sidewalk of Las Vegas Boulevard, waving at the cars going by. "I hug my kids tighter every day now."
But having children wasn't a prerequisite Saturday. Kevin Matsumoto, a 34-year-old bartender in Las Vegas, doesn't have children, but said that doesn't matter.
"To see it on TV, the families being separated, it still breaks my heart," he said.
Saturday was Matsumoto's second protest, he joined crowds last year who were protesting the Trump administration's ban on immigrants from several countries with high populations of Muslims.
"It's scary to see this. It's not OK," he said. "This is not what America is about."
Contact Meghin Delaney at 702-383-0281 or mdelaney@reviewjournal.com. Follow @MeghinDelaney on Twitter.
Protesters flood US cities to fight Trump immigration policy
In major cities and tiny towns, hundreds of thousands of marchers gathered Saturday across America, moved by accounts of children separated from their parents at the U.S.-Mexico border, in the latest act of mass resistance against President Donald Trump's immigration policies.
Protesters flooded more than 700 marches, from immigrant-friendly cities like New York and Los Angeles to conservative Appalachia and Wyoming.
They gathered on the front lawn of a Border Patrol station in McAllen, Texas, near a detention center where migrant children were being held in cages, and on a street corner near Trump's golf resort at Bedminster, New Jersey, where the president is spending the weekend.
— The Associated Press