Seroka, Fiore set to take places on Las Vegas City Council
Updated July 17, 2017 - 12:18 am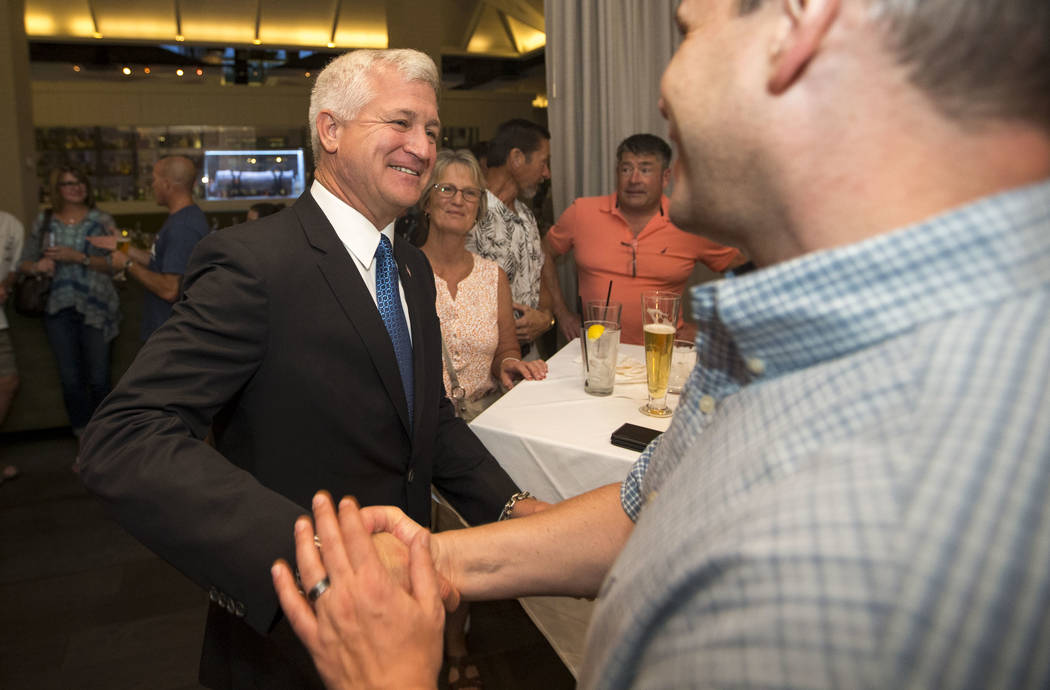 The city of Las Vegas' leadership team gets a new look this week.
Las Vegas voters' picks for Ward 2 and Ward 6, Air Force veteran Steve Seroka and former state Assemblywoman Michele Fiore, will be sworn into office Wednesday morning.
Seroka defeated incumbent Ward 2 Councilman Bob Beers last month, while Fiore triumphed in the open race for the seat term-limited Councilman Steve Ross is vacating.
One-third of the council turning over is bound to influence the dynamic on the dais, but Mayor Carolyn Goodman is ready to get to work with the newcomers.
"Whoever had been elected, everybody needs time to have their chance," Goodman said. "I think the current council is looking forward to working with the new members."
Seroka and Fiore join Lois Tarkanian, Ricki Barlow, Bob Coffin, Stavros Anthony and Goodman on the council. Another opening could come before the next municipal election. Anthony, who was re-elected in April, plans to run for Congress next year.
Fiore returns to public office after two terms in the Nevada Legislature, where she represented Assembly District 4. Fiore, who made an unsuccessful bid last year for Nevada's 3rd Congressional District, drew plenty of attention during her time in the Assembly.
From a constituent Christmas card with photos of her family wielding firearms to getting involved in the negotiations to end an Oregon standoff between federal agents and armed protesters, the spotlight on Fiore has expanded beyond Nevada.
While Fiore has experience in a state-level office, Seroka embarked on his first campaign this year. Despite the newcomers and the potential differences they might bring to the council, Goodman expects the group to come together, particularly because city elected offices are officially nonpartisan and "not a venue for one political party or another," she said.
Fiore posted a narrow victory June 13 over Kelli Ross in the race to represent the city's northwest ward. Ward 6 has seen rapid growth but retains pockets of rural life.
Seroka ended his 30-year military career at Nellis Air Force Base and stayed in the Las Vegas valley after his retirement.
Other oaths
Municipal Judge-elect Cara Campbell will also be sworn in Wednesday morning, and Scott Adams officially will become city manager, replacing the retiring Betsy Fretwell.
Goodman also will name her mayor pro tempore Wednesday, the council member who fills in as mayor if she's absent. Steve Ross had most recently been in that role.
There also will be some title shuffling among department heads as Adams, who is being promoted from deputy city manager, assembles his team. The council also is slated to consider promoting Karen Duddlesten to chief community services officer, Tom Perrigo to executive director of community development and Jorge Cervantes to chief operations and development officer.
Duddlesten has been the business licensing manager, Perrigo the planning director and Cervantes the executive director of community development.
Contact Jamie Munks at jmunks@reviewjournal.com or 702-383-0340. Follow @JamieMunksRJ on Twitter.