Stavros Anthony named Las Vegas mayor pro tem
Updated July 8, 2020 - 2:58 pm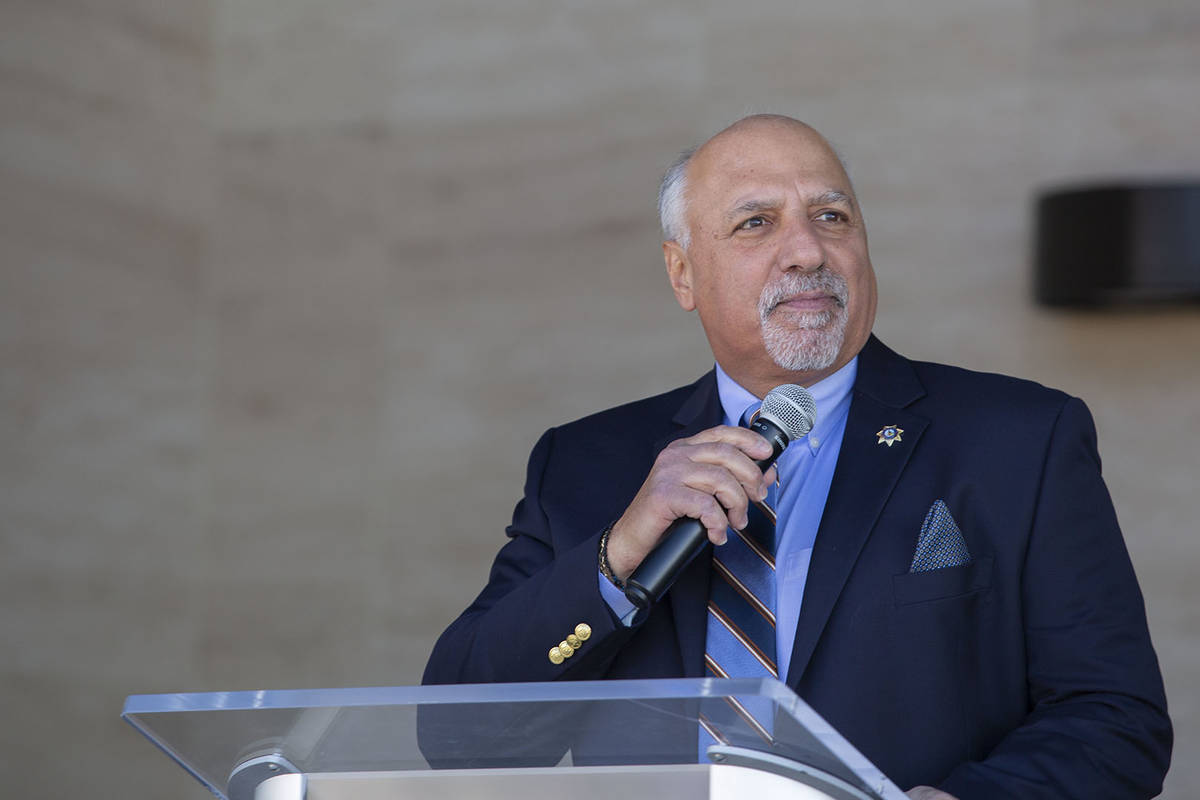 Las Vegas City Councilman Stavros Anthony, the city's most senior lawmaker, was unanimously appointed mayor pro tem on Wednesday to replace Councilwoman Michele Fiore.
Fiore gave up the leadership title last month amid escalating criticism over "racially charged" remarks she is said to have made during the Clark County Republican Party convention on June 6. But Fiore said she stepped aside to focus on bridging a racial divide in the community and working to re-elect President Donald Trump as a Nevada GOP national committeewoman.
Anthony declined to address the controversy by phone Wednesday, deferring to Fiore to speak for herself.
"It's always been my attitude that I want to get along with everybody on the city council because we need to discuss and vote on things that are for the good of the city," he said.
'Pretty good working relationship'
Anthony, served as mayor pro tem during Mayor Carolyn Goodman's first term in office from 2011 to 2015, when he ran for mayor himself but lost to Goodman in the primary. After that election, the council chose then-Councilwoman Lois Tarkanian to serve as mayor pro tem.
But after Fiore's resignation from the job, Goodman said Anthony was her immediate choice to resume the role as her right-hand man. He said that he did not seek out the position but agreed to "step up" when the mayor inquired.
"It didn't really matter much to me," he said. "It's really the mayor's decision. She has to select somebody that she knows she can work with and that she can trust to get things done with."
Anthony believed that his prior experience serving beside Goodman and their "pretty good working relationship" led to him being the pick. The mayor pro tem fills in for the mayor when she is absent or unavailable, and takes over as mayor if the office were to become vacant.
Anthony said he is comfortable running a council meeting and being well-versed in not only district issues but citywide affairs as required in the role.
Lacking leadership?
The expected appointment was unanimous among council colleagues, including Councilman Cedric Crear who had called upon Goodman to remove Fiore for "racist and inflammatory" statements. But not everyone is convinced that Anthony is suited to be the successor necessary to move the city forward amid social unrest over racial injustice nationwide and locally.
"You have some excellent candidates on your council and I'm surprised madam mayor that you have not conducted a more robust survey of those candidates," said Dan Rolle, a progressive activist and former congressional candidate, at Wednesday's meeting.
Rolle, who was castigating Fiore last month when she walked out of the council meeting, then said he had a list of reasons why Anthony would make a suitable mayor pro tem and followed that declaration with roughly 30 seconds of silence.
During a council meeting June 17, a day after Fiore stepped down as mayor pro tem (she remains on the council), Roxann McCoy, the president of the Las Vegas chapter of the NAACP, criticized Anthony, Fiore and Councilwoman Victoria Seaman for their planned participation in a since-canceled Blue Lives Matter march organized by controversial conservative radio host and former Review-Journal columnist Wayne Allyn Root.
"Time after time we continue to see the inability and unwillingness of some of our elected officials to unify this city when we our under duress," McCoy said, calling the planned rally "disrespectful" and a "reckless response" given the present climate.
She said Anthony, a retired Metropolitan Police Department captain, showed a lack of leadership, professionalism and sensitivity, and has failed to mention in his criticism of violent protests that agitators have infiltrated demonstrations.
'Always open to that'
Furthermore, she said the NAACP would fight against Anthony's bid for Clark County Commission in District C, where he is the Republican candidate running against former Democratic Secretary of State Ross Miller in November.
Anthony said Wednesday that he routinely attends pro-police rallies.
"Obviously people got pretty worked up over it. Maybe the timing was off, maybe we could have held it a little bit later," he said. "But we canceled it because we heard there might be some counter protests and we didn't want anybody to get hurt."
When asked how city lawmakers could unify behind mounting calls to address social injustice, he replied: "I guess it depends on the definition of what social justice issues are."
In nearly 30 years on the police force, Anthony said the department adopted community-oriented policing and boards for civilian review and use of force. Now he said he sits as one of 25 volunteer commissioners on the Commission on Accreditation of Law Enforcement Agencies board.
"So policing is constantly changing and adapting to what is happening in the community and specifically what is happening here," he said, highlighting that the department responds to local issues.
To the extent that the council is involved in making Las Vegas a better place to work and live and addressing issues that affect the Black community, Anthony said, "I'm always open to that."
Contact Shea Johnson at sjohnson@reviewjournal.com or 702-383-0272. Follow @Shea_LVRJ on Twitter.