Tina Quigley, CEO of Southern Nevada transportation agency, to retire
Updated September 12, 2019 - 8:49 pm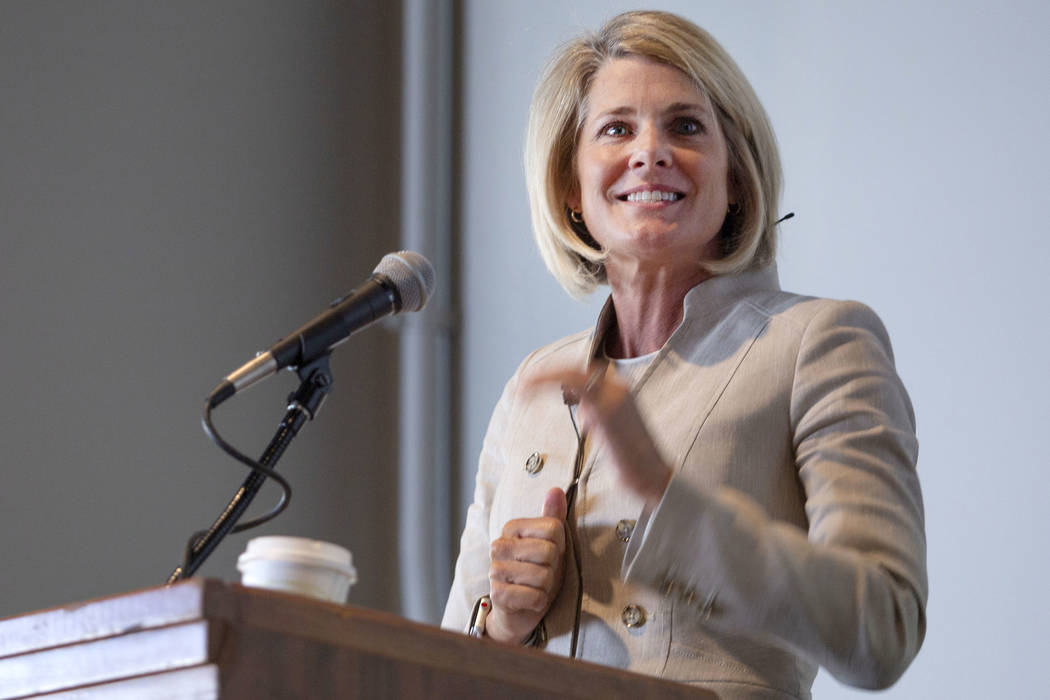 After 14 years with the Regional Transportation Commission of Southern Nevada, CEO Tina Quigley announced Thursday that she is retiring from the transportation agency effective Nov. 14.
Quigley, 52, joined the RTC after 15 years at McCarran International Airport. She spent seven years as general deputy manager of the RTC before being named general manager of the agency in 2012. Her title was changed to CEO earlier this year.
Quigley said she will remain in Las Vegas Valley as she is leaving to join an undisclosed new venture in the transportation realm.
"I am in negotiations with another project that I believe very much in, that will be good for Southern Nevada," Quigley said. "That's the only reason I would ever consider leaving."
Quigley said she could not disclose what the new venture is yet, but expected an announcement to roll out sometime in the next several months.
Of her more than 14 years with the RTC, Quigley is most proud of the work by her team spearheading some groundbreaking transportation projects, including a partnership with Waycare, which uses artificial intelligence to predict where accidents will occur, and the Keolis autonomous shuttle pilot program in downtown Las Vegas.
"Over the past few years we've made several advancements in tying technology in with transportation," Quigley told the Las Vegas Review-Journal. "Very proud of the Waycare initiative, very proud of working with the city on that first autonomous shuttle that operated in the downtown area, the first to operate in active, mixed traffic."
Quigley also pointed to the building of the first 15 miles of Interstate 11, opening the Bonneville Transit Center in downtown and helping get the fuel tax revenue ballot measure passed as some of the highlights during her tenure.
It all started with her first day on duty with the RTC in 2005 when Quigley helped unveil the Deuce buses on the Strip, a day she remembers fondly.
"We had a parade of Deuce vehicles up and down the Strip, and it was clear to me that this was something very new and exciting as it related to transportation," Quigley said. "Bringing in those double-deckers — it's hard to think of a bus as being sexy, but these were some sexy vehicles. As they paraded around the Strip and I saw the excitement and the coverage and subsequently the ridership that came along with that, I was hooked in realizing that how you present transit and create transit in a way that it is desirable and attractive really reframes the national conversation on transit."
Las Vegas Mayor Carolyn Goodman, who serves on the RTC board with Quigley, had high praise for the outgoing CEO.
"Words fail to express our gratitude to your long superior service to the people of Southern Nevada," Goodman said at Thursday's RTC board meeting. "It's been an honor for me and my predecessor from the city to serve with you, knowing your work at the airport prior to your service here. You're one outstanding woman and talent."
The RTC board will be in charge of naming Quigley's successor, but she recommended Deputy CEO M.J. Maynard take her place when she steps down.
"We've been talking about succession planning for a long time, and I can speak confidently on behalf of staff as we endorse and recommend to consider M.J. Maynard as the successor," she said. "
Many members of the board, including Goodman, supported that idea, and it will be discussed at the RTC's October board meeting and then again at the Nov. 14 meeting, Quigley's last day.
Quigley will look forward to closing out her time over the next couple of months as she prepares for a new career journey.
"I feel really comfortable looking back on the things that we accomplished, but I am ready for personal growth," she said. "I am ready to try something new that is out of my comfort zone, but in transportation."
Contact Mick Akers at makers@reviewjournal.com or 702-387-2920. Follow @mickakers on Twitter.