Turnout fails to hit 10 percent for municipal primaries in Clark County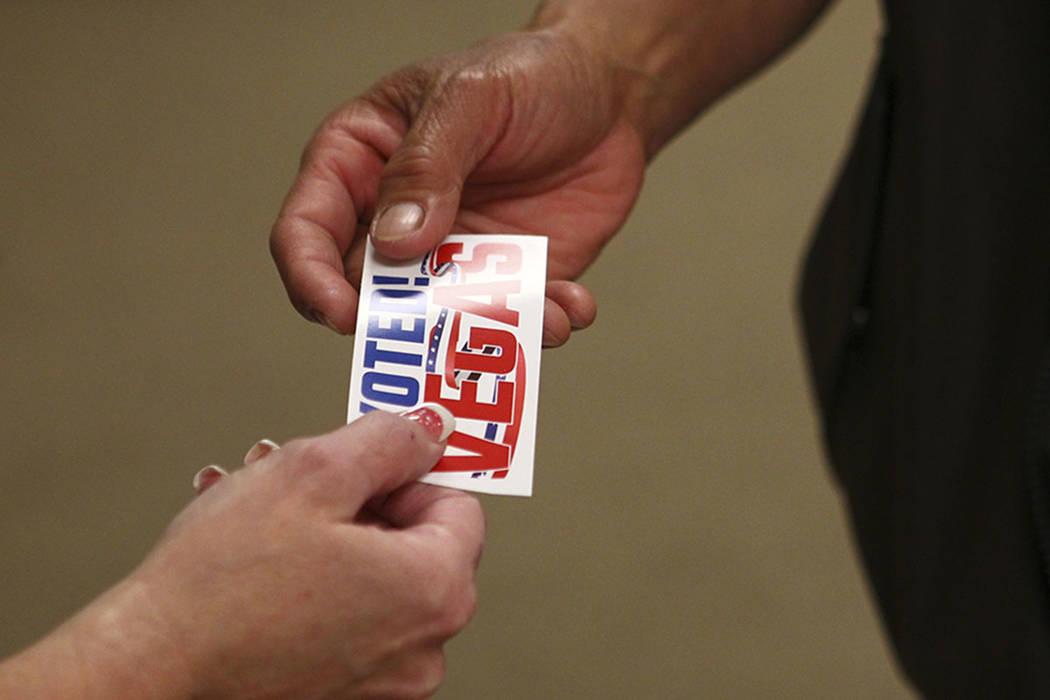 Tuesday's primary municipal elections drew 55,867 voters, fewer than 10 percent of those who are registered to vote in Clark County.
In the 2013 municipal primary, the most comparable recent election, voter turnout was 11.38 percent.
"Under 10 percent is not good turnout," said Joe Gloria, the Clark County registrar of voters.
Gloria said odd-year municipal elections not only have low turnout rates, but cost cities extra to conduct.
"We have been trying to encourage cities to move to even year elections," he said.
Gloria cited the city of Mesquite's switch to holding municipal elections in an even year, beginning last year, as an example of improving voter turnout. From the mayoral race in 2011 to the mayoral race in 2016, the vote count more than doubled, Gloria said, although there was an increase in registered voters between the elections.
The election was the first in Las Vegas and North Las Vegas used voting centers throughout the city rather assigned polling places.
"It gave more access to voters but did not increase turnout," he said in an email.
Gloria said the process went smooth, although the Sahara West Library polling location was later than expected in delivering ballots to the clerk.
"There were no issues with reporting and results," Gloria said of the location, but, "It took longer to process their paperwork last night."
All results were received by 10:37 p.m.
Voting results will likely be certified next week, Gloria said.
Many of the contests appeared to be decided Tuesday night, although candidates in Las Vegas City Council wards 2 and 6, North Las Vegas City Council Ward 3, a Las Vegas judge race and the Henderson Ward 1 council race will be det
Contact Brooke Wanser at bwanser@reviewjournal.com. Follow @Bwanser_LVRJ on Twitter.
VOTER TURNOUT
Turnout for municipal primary elections in Las Vegas, North Las Vegas, Boulder City and Henderson:
Election Day Turnout: 19,257 votes, 3.27 % of registered voters
Early Vote Turnout: 28,489 votes, 4.84 % of registered voters
Mail Turnout: 8,121 votes, 1.38 % of registered voters
Total: 55,867 votes, 9.48 % of registered voters
Source: Clark County