Lawmaker hopes Yucca Mountain tour puts pressure on Congress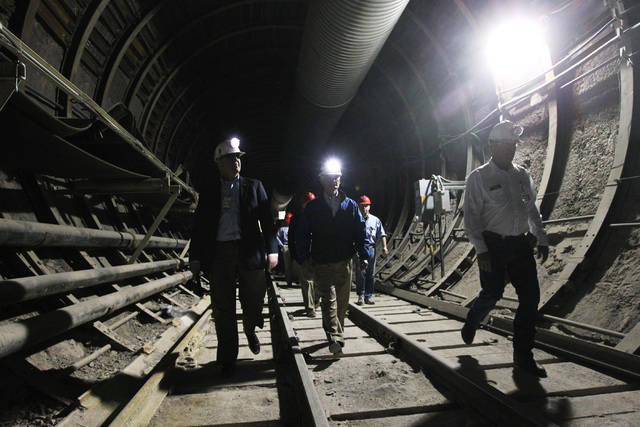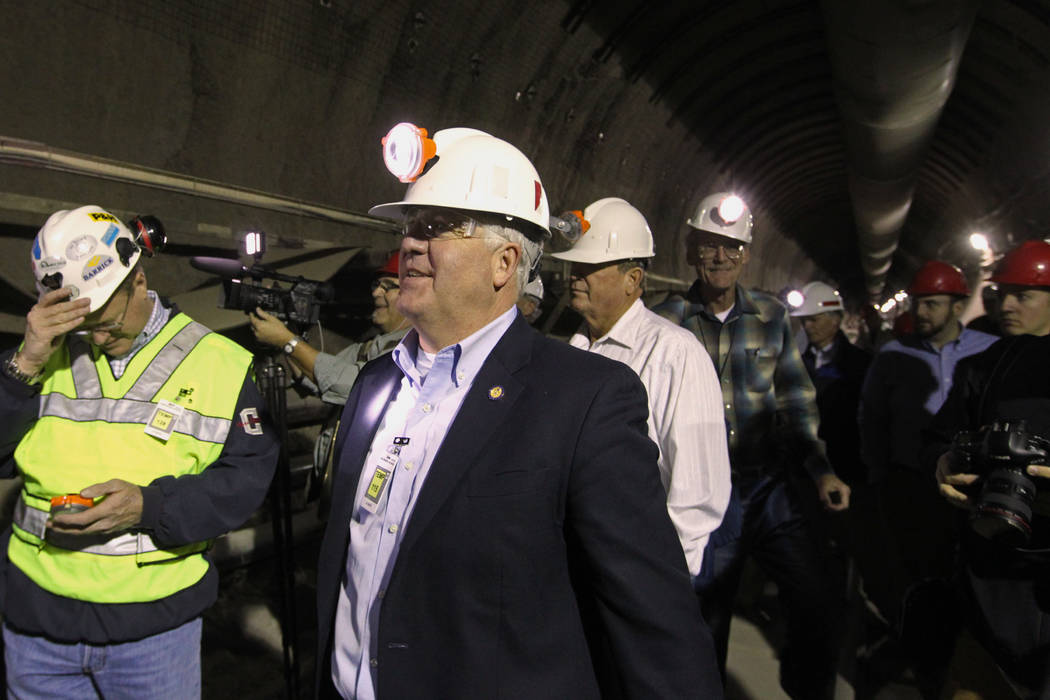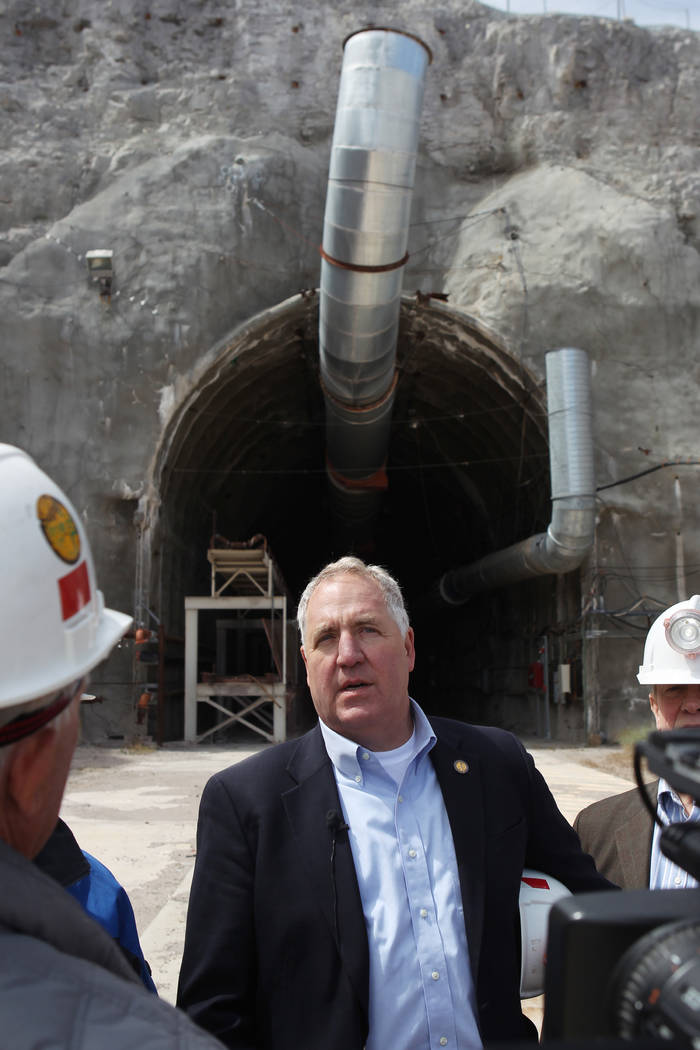 WASHINGTON — In an effort to spotlight congressional inaction on long-term nuclear waste storage, House lawmakers from states with power plants that produce and store the highly radioactive material will tour the mothballed Yucca Mountain repository in Nevada on Saturday.
The dozen or so congressmen expected to visit the 5-mile exploratory tunnel support storing nuclear waste in Nevada and are frustrated with the federal government for failing to dispose of spent fuel rods and radioactive materials as required by federal law.
No opponents of the project 95 miles northwest of Las Vegas will be on the tour led by Rep. John Shimkus, R-Ill., chairman of the House Energy and Commerce subcommittee on the environment.
Rep. Ruben Kihuen, D-Nev., whose congressional district includes Yucca Mountain, was belatedly invited to attend, but his office said he already had made plans by that point. Shimkus then asked Reps. Dina Titus and Jacky Rosen, both Democrats, if they would like to attend. Both declined.
"I have been to Yucca Mountain and am well-acquainted with this issue," Titus, who represents Las Vegas, told the Review-Journal. "I am not interested in giving legitimacy to his taxpayer-funded junket to my district."
'Obvious political stunt'
Rosen expressed similar sentiments: "This is an obvious political stunt from Congressman Shimkus, and I'm not going to be a part of it," she said.
It is the first tour of the undeveloped site since April 2015, when Shimkus led a half-dozen lawmakers underground to see the proposed repository for themselves.
Shimkus informed the Nevada congressional delegation in a July 12 letter that he would be visiting the state again with other lawmakers and would tour the Yucca Mountain site. Shimkus said the delegation would be accompanied by Department of Energy staff, customary for trips to DOE facilities or sites.
Shimkus introduced legislation that was approved by the House in May on a 340-72 bipartisan vote to streamline the licensing process on the DOE's application to build the repository to store 110,000 cubic tons of nuclear waste at the site.
Licensing hearings by the Nuclear Regulatory Commission were defunded in 2011 by the Obama administration at the behest of then-Senate Majority Leader Harry Reid, D-Nev.
President Donald Trump has proposed restarting the licensing process and included funding in his budget for fiscal year 2019, which begins Oct. 1.
Although the House has authorized and appropriated funds for licensing, the Senate has not.
Senate Republican leaders are unlikely to resume the licensing process in an election year where Sen. Dean Heller, R-Nev., faces a tough re-election battle in a state won by Democrat Hillary Clinton in 2016.
A dogged advocate
Shimkus, though, has remained a dogged and tireless advocate for the Yucca Mountain project, which he maintains was illegally halted by the Obama administration, costing taxpayers billions in liability and legal costs for the government's failure to secure and dispose of the waste.
Congress in 1987 passed legislation designating Yucca Mountain as the nation's sole site to permanently store nuclear waste. The government has spent $15 billion to study the site in Nye County, including drilling of the exploratory tunnel.
Local officials support the project. The state does not.
Reid used his political clout as a Senate leader to delay and derail Yucca Mountain plans.
Nevada Gov. Brian Sandoval, a Republican, has waged a continuous battle with the federal government over nuclear waste storage. The state has over 200 legal challenges to the DOE application for a construction license. Many of those challenges deal with groundwater concerns.
In the Senate, Sen. Dean Heller, R-Nev., and Sen. Catherine Cortez Masto, D-Nev., have opposed legislative efforts to revive the licensing process. Heller was instrumental in having legislative language to fund licensing taken out of a Senate spending bill and defense authorization bill.
House hearings on Yucca Mountain have featured testimony from scientists and engineers that the volcanic ridge where the radioactive waste would be stored underground would be safe. One estimated that it could be stored there for 1 million years without a problem.
All four of Nevada's representatives — Republican Mark Amodei and Democrats Kihuen, Rosen and Titus — voted against the Shimkus bill this year.
Bipartisan support
But the lopsided House vote shows the bipartisan support for nuclear waste policy to address long-term storage of material being stockpiled at power plants and military sites in 34 states.
An annual DOE financial report found taxpayer liability for litigation over the federal government's failure to permanently store nuclear waste has grown by $3.3 billion over last year.
"Taxpayers in all 50 states are now liable for $34.1 billion because the federal government has not even begun to consolidate the spent nuclear fuel stranded around our nation," Shimkus said when the report was released.
While supporters continue to highlight the need for Yucca Mountain to store nuclear waste, opponents continue to spotlight concerns about using the Nevada site.
The Las Vegas Metro Chamber of Commerce, which will be in Washington next week to meet with lawmakers on various issues, argues that if Yucca Mountain were opened, nuclear waste shipments would travel through 329 congressional districts in 44 states to reach Nevada.
In a July 11 letter to House leaders, the Las Vegas business leaders said "the transport and safety of these shipments need to be part of a national conversation."
Contact Gary Martin at gmartin@reviewjournal.com or 202-662-7390. Follow @garymartindc on Twitter.
Lawmakers attending tour
House lawmakers expected to tour the Yucca Mountain site as of Thursday include: Reps. John Shimkus, R-Ill.; Greg Walden, R-Ore.; Joe Barton, R-Texas; Larry Bucshon, R-Ind.; David Valadao, R-Calif.; Donald Norcross, D-N.J.; Steve Womack, R-Ark.; Jeff Duncan, R-S.C.; Neal Dunn, R-Fla.; Doug LaMalfa, R-Calif.; Brett Guthrie, R-Ky.; Mark Sanford, R-S.C.
Related
NRC member rejects Nevada request to sit out Yucca Mountain proceedings
Heller, Rosen tangle over who can stop Yucca Mountain revival
Las Vegas officials vote against reviving Yucca Mountain
Nevada wants recusal from NRC member on Yucca Mountain decisions
Move to strip Yucca Mountain funds from Energy spending bill fails
Appeals court throws out lawsuit over Nevada's Yucca Mountain