Lombardo opposes proposal to let noncitizens become cops
Updated January 25, 2023 - 8:34 pm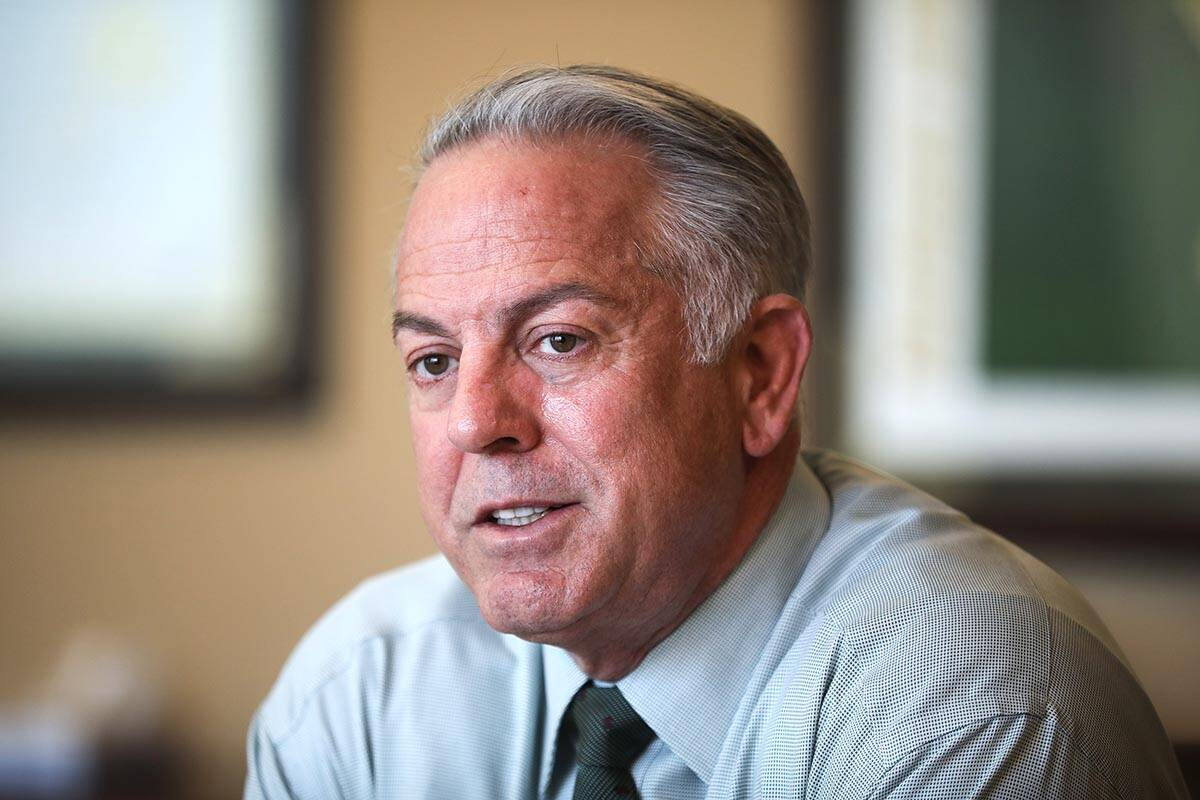 Gov. Joe Lombardo would not sign legislation that would allow noncitizens who are legal residents to become police officers, he told the Review-Journal on Wednesday.
The proposed Assembly Bill 30, which the Legislature will take up when the session starts in February, would allow people legally authorized to work in the United States under federal law to apply to become peace officers, rather than only citizens of the U.S. The bill was requested by the city of North Las Vegas.
"I haven't seen the language of that, but from what I know at face value, I could not support that," Lombardo said.
"It's very hard to understand how you could enforce violations of the Constitution and take away people's freedom when in turn you are not a citizen enforcing those particular laws," Lombardo said.
School choice
The Review-Journal had a 10-minute phone conversation with the governor Wednesday afternoon — his first post-election interview with the news organization — two days after his State of the State Address in Carson City, where he laid out his goals for the state.
One such goal is pushing school choice, which gives parents more alternatives to the public school closest to them. But that is a lofty goal for Lombardo, a Republican who must work with a Democrat-majority Legislature that has historically opposed the idea.
Lombardo said he wouldn't use the "big hammer of veto" to force the Legislature to approve school choice legislation but rather will work on communication and compromise.
"Outside of presenting the challenge to the Supreme Court, we do it through the budgeting process and available resources, such as Millennium Scholarships and opportunity scholarships, and those types of programs to take a bite out of the apple," Lombardo said. "In other words, you're going to have to take small bites, until we can all get on the same shoes."
During his State of the State address, Lombardo said if he did not see improvements from schools in two years, he would consider changing the leadership and governance in K-12 education.
But that does not mean he would oppose legislation brought to his desk sooner that requests a restructure of governance. Senate Bill 64 seeks to give boards of county commissioners authority to appoint a school trustee that will serve as president of the board of trustees.
Other issues
Legislation he would support, he said, is Assembly Bill 31, which would make Juneteenth a state holiday.
Although the Republican and Democratic governors from Wisconsin, Kansas and Mississippi have banned or announced plans to ban TikTok on state cellphones because of concerns about data privacy, that issue isn't on Lombardo's mind right now, he said.
"I'll look at the negative effects of TikTok, you know, how it can be engaged with government process before I make that decision," Lombardo said.
Lombardo was also asked about plans regarding carpool lanes, which has been a hot topic among Southern Nevada motorists when stretches of the lanes became open to all motorists last year. Lombardo left that topic up to his lieutenant governor, Stavros Anthony, who has been a vocal opponent of the high-occupancy vehicle lane restrictions and has said he will work to open all freeway lanes to drivers.
The Review-Journal also asked about the Republican electors who submitted fake electoral certificates in 2020 falsely declaring Donald Trump the winner of Nevada. When asked if he thinks Attorney General Aaron Ford should investigate those Republicans, Lombardo said he leaves it up to Ford to make that decision.
"I'm not familiar with all the intimate details and possible criminal violations," he said. "That falls under his space, and I rely on his research in the matter to make that decision."
Ford has declined to say whether he is investigating that issue, although he has said his office would cooperate with the Department of Justice, which is looking into it.
Sports subsidies
Lombardo's predecessor, former Gov. Steve Sisolak, a Democrat, was a staunch advocate of bringing sports teams to Las Vegas and played a large role in the deal that landed the Raiders $750 million in public funds for the construction of Allegiant Stadium. But Sisolak and Clark County officials have said they would not make a similar deal with the Oakland Athletics as the baseball team looks to possibly relocate from Northern California.
Would Lombardo ever consider using taxpayer money for a sports team? Right now, he said his answer is no. But he understands it could be up to public sentiment.
"I know there's a quandary associated with welcoming athletics, whether they're gonna put roots down in the Las Vegas Valley or not," he said. "But my position, what I have expressed, is no public money for that endeavor."
His communications director, Elizabeth Ray, clarified after the interview that while Lombardo will not raises taxes to bring a sports team to Nevada, there are existing economic development programs that the Oakland A's or any other team may or may not be eligible for.
Democratic Treasurer Zach Conine co-signed a letter on Wednesday urging Republican House Majority Leader Kevin McCarthy to take up increasing the federal debt limit, saying that failing to do so would have disastrous effects on the economy and working people. But Lombardo says he doesn't think the federal government should increase the debt limit.
"There's a certain level of fiscal responsibility to take place," Lombardo said, adding that he thinks there is a direct correlation to the inflation the country is experiencing with the spending of the federal government over the last few years.
Raising the debt limit would not increase future spending; it would simply allow the government to pay for spending that has already been authorized and avoid defaulting on the government's obligations.
Contact Jessica Hill at jehill@reviewjournal.com. Follow @jess_hillyeah on Twitter