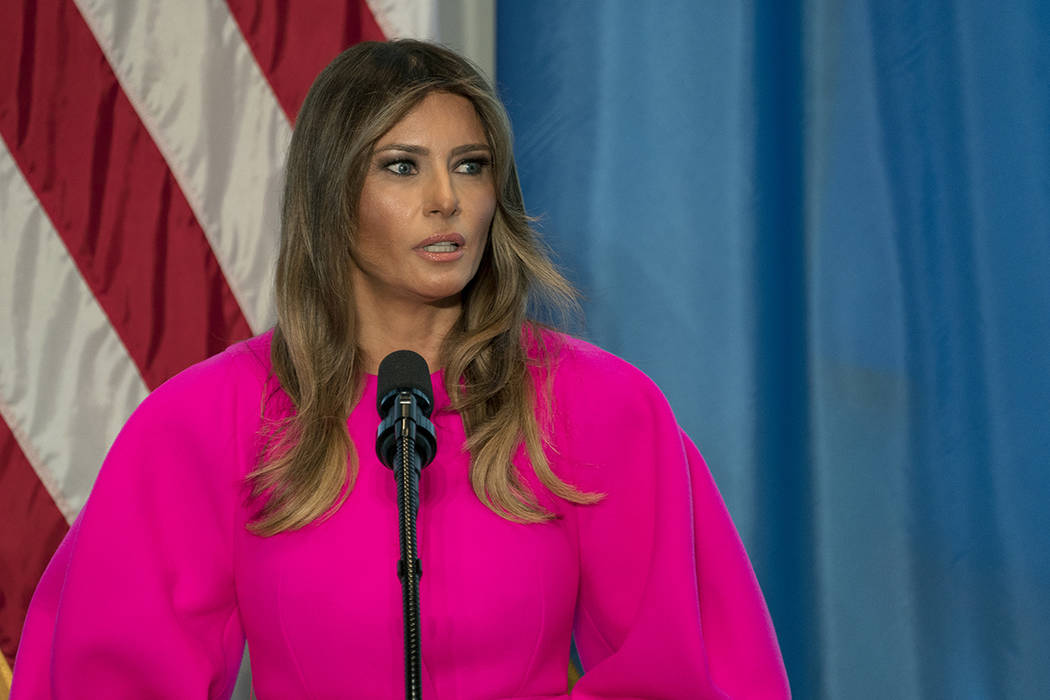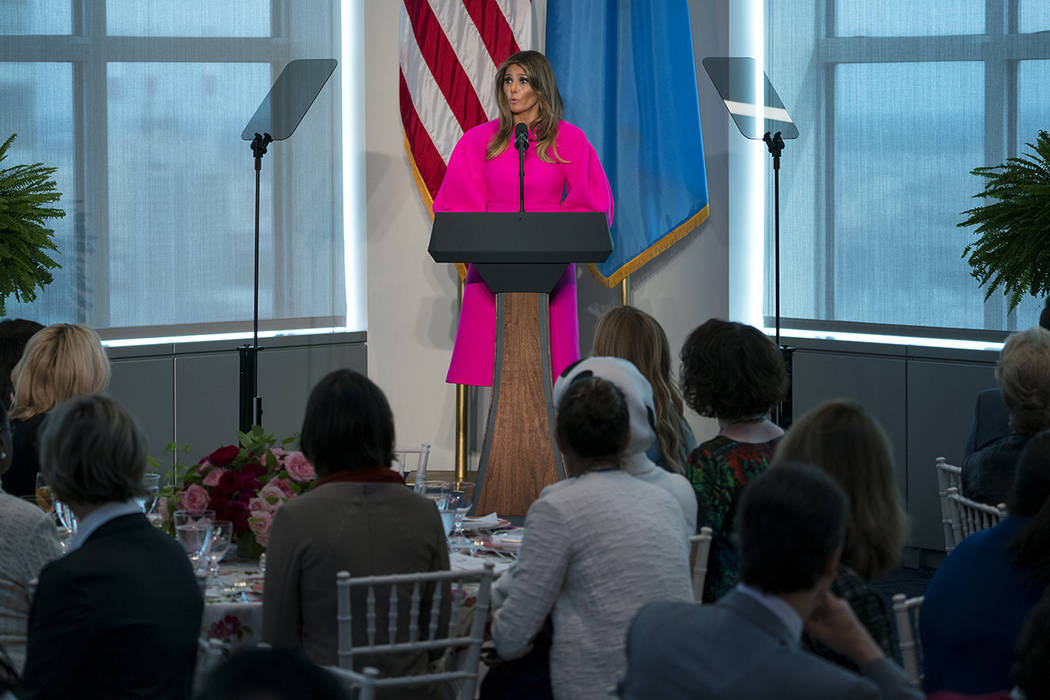 NEW YORK — First lady Melania Trump resumed her rhetorical campaign against bullying Wednesday as she delivered remarks at a luncheon for spouses of world leaders at the U.S. Mission to the United Nations.
"It remains our generation's moral imperative to take responsibility for what our children learn. We must turn our focus right now to the message and content they are exposed to on a daily basis," she said.
The first lady also extolled the values of empathy, "kindness, mindfulness, integrity and leadership, which can only be taught by example."
In November, Mrs. Trump had indicated that she wanted to make anti-bullying her signature issue, just as past presidential spouses have adopted pet causes. Michelle Obama put a vegetable garden in the White House grounds to promote healthy nutrition. Nancy Reagan championed the "Just Say No" to drugs campaign. Lady Bird Johnson went after littering as part of her goal to beautify America's highways.
An all-out campaign against bullying, particularly cyberbullying, would put the first lady in a difficult position, given her husband's penchant for calling critics names on Twitter.
On the day the first couple flew to New York, President Donald Trump retweeted a doctored video that showed him hitting a golf ball that slammed Hillary Clinton in the back, causing her to fall forward as she entered a plane. "Donald Trump's amazing golf swing #CrookedHillary," the tweet said.
As a candidate, Trump used Twitter to enrage his GOP primary rivals, as well as Clinton. For example, Trump used his wife's super model good looks to humiliate the wife of GOP rival Sen. Ted Cruz last year when he sent out a tweet with head shots of Mrs. Trump all dolled up, but Heidi Cruz with an unflattering expression. "The images are worth a thousand words," read the caption.
When news of the first lady's focus hit Twitter, Trump's critics started typing. "You can't condemn bullying without addressing your husband's," wrote Scott Dworkin of the Democratic Coalition on Twitter.
The hashtag is an apparent reference to Mrs. Trump's status as an immigrant who was born in Slovenia. As a naturalized citizen, she cannot be deported.
Caroline Knorr of the nonprofit Common Sense Media, which tries to promote smart family media choices, lauded Mrs. Trump. "Politicians and celebrities think they're only talking to other adults," without realizing that children are paying attention as well, Knorr said. "We really support anyone who's trying to make a positive influence on kids."
Knorr said that women married to alpha males sometimes discover "the way to get your message across is to assert your own values and your own positions responsibly and respectfully. And I think that's what Melania is doing."
Stephanie Grisham, the first lady's spokeswoman, explained that "Mrs. Trump has made it clear in both actions and words that the overall well-being of children is a priority for her. … That being said, she will not avoid doing what she knows is right, because others think it is a bad idea. This is not about politics. This is about using her role as first lady to help as many children as she possibly can."
"The most important and joyous role I ever had is to be a mother to a young son," the first lady told those attending the luncheon.
Contact Debra J. Saunders at dsaunders@reviewjournal.com or 202-662-7391. Follow @DebraJSaunders on Twitter.