Nevada Dems slam Trump, GOP after weekend of mass shootings
Updated August 4, 2019 - 7:50 pm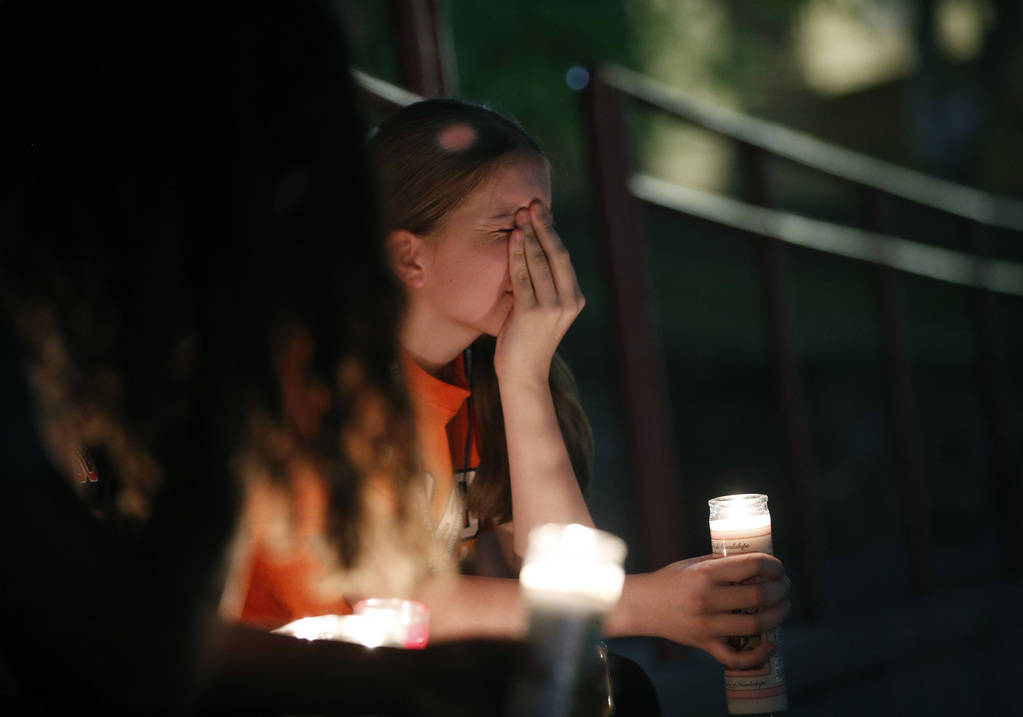 WASHINGTON — Sadness shifted to rage on Sunday after a second weekend mass shooting escalated Democrats' political, policy and personal differences with President Donald Trump to new levels of hostility.
Democrats blamed Trump for the attack in El Paso, Texas, alleging he fans the flames of white nationalism with hard-line immigration rhetoric. Democratic presidential candidates eviscerated Trump and called for immediate action on policies they claim will prevent mass shootings, while lawmakers urged Senate Majority Leader Mitch McConnell, R-Ky., to call the Senate back from recess and pass a House-approved gun background check bill.
Trump, who ordered flags flown at half-staff, spoke briefly to reporters Sunday while traveling back from his New Jersey golf resort to the White House. He said he would address the issue of gun violence Monday in Washington.
He offered "condolences to all" and praised law enforcement in El Paso and Dayton, where the weekend mass shootings occurred. He said he had spoken to the governors of Texas and Ohio, as well as Attorney General William Barr.
"A lot of things are being done right now as we speak," Trump said, without offering specifics. "We've got to get this stopped. This has been going on for years in our country."
"Hate has no place in our country," Trump said.
The mass shootings in El Paso and Dayton, Ohio, less than 13 hours apart, left 29 dead and followed a similar tragedy at a Gilroy, California, garlic festival that claimed three lives a week earlier.
'No more words'
"I have no more words. I only have anger," said Gabrielle Giffords, a former Arizona congresswoman who became a gun control advocate after she was shot in the head while meeting with constituents at a Tucson strip mall in 2011.
Giffords, a Democrat, helped push for Nevada gun control measures after the Oct. 1, 2017, mass shooting that left 58 dead and hundreds wounded in Las Vegas.
The Nevada Legislature passed several gun control laws that were signed by Democratic Gov. Steve Sisolak this year.
National Rifle Association spokesman Andrew Arulanandam said the organization was "committed to the safe and lawful use of firearms by those exercising their Second Amendment freedoms."
"We will not participate in the politicizing of these tragedies but, as always, we will work in good faith to pursue real solutions that protect us all from people who commit these horrific acts," he said.
It wasn't clear Sunday whether new laws could have prevented any of the three recent mass shootings.
Dayton Police Chief Richard Biehl said the AR-15-style rifle used in the Ohio shooting was purchased legally, and that the drum magazine used also was legal. El Paso police said the AK-47-style assault rifle the gunman used in Saturday's attack was purchased legally. And the Gilroy gunman purchased his rifle legally in Nevada before illegally bringing it across the state line into California.
"There's nothing in this individual's record or history that would've precluded him from purchasing this firearm," Biehl said of the Dayton gunman, 24-year-old Connor Betts.
Action sought
Nevada lawmakers demanded immediate action on the background check bill.
"I stand ready to pass the common-sense, House-passed bill that closes background check loopholes," said Sen. Jacky Rosen, D-Nev. "I hope my colleagues join me."
Rep. Susie Lee, D-Nev., called McConnell a coward for not bringing up the background check bill.
"The House has passed smart gun safety bills, but Mitch McConnell is a coward. Plain and simple. He won't act unless we force his hand," Lee said.
McConnell was recuperating from a broken shoulder at home in Kentucky and did not respond to Democratic lawmakers' requests to call the Senate back in session.
Sen. Catherine Cortez Masto, D-Nev., said that "in less than a week we've had three communities forever scarred by mass shootings. It doesn't have to be this way."
Rep. Beto O'Rourke, D-Texas, told CNN on Sunday that he believed Trump is a white nationalist because of his divisive rhetoric and actions.
Another Democratic presidential hopeful, former Housing Secretary Julian Castro of San Antonio, said a president should rise to the challenge of protecting Americans in times like these.
"Instead, Donald Trump fans the flames of bigotry and white supremacy," Castro said. "From Day One, calling Mexican immigrants 'rapists and criminals,' he made the choice to divide people for his political benefit. Now we see the result."
Rep. Dina Titus, D-Nev., said the country owes the people of Dayton, the victims and their families, "more than this."
"Gun violence is a public health crisis in this country. It's far past time we start acting like it," Titus said.
Contact Gary Martin at gmartin@reviewjournal.com or 202-662-7390. Follow @garymartindc on Twitter.