Nevada Poll: Nevadans support measure to expand firearm background checks
October 26, 2016 - 3:51 pm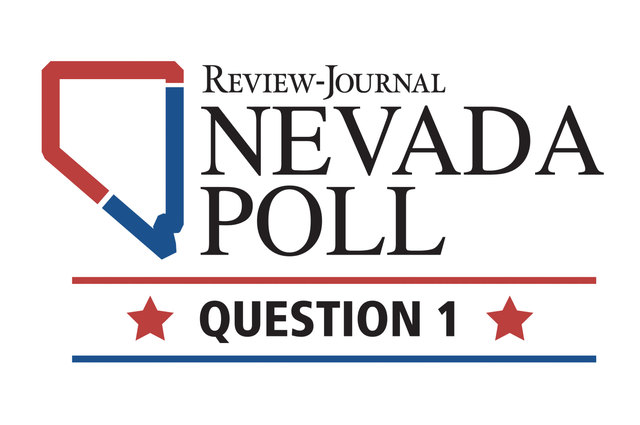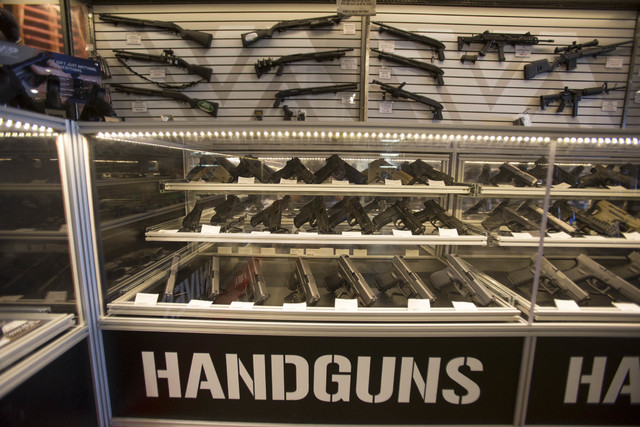 Support has narrowed to a slim majority among likely Nevada voters for a ballot measure to expand background checks for private-party firearm sales and transfers, according to a poll commissioned by the Las Vegas Review-Journal.
Question 1 would require both parties involved to appear before a federally licensed firearms dealer, who would conduct a background check on the person receiving the firearm.
The measure is on the Nov. 8 ballot.
Fifty-four percent of 800 likely voters polled support the measure, while 38 percent are opposed in the poll conducted by Bendixen & Amandi International. Eight percent were undecided or didn't answer.
The poll surveyed 800 likely voters in interviews conducted in English and Spanish between Oct. 20 and 23. It has a margin of error of plus or minus 3.5 percentage points.
The results show that support for the measure has dipped while opposition has increased since the Review-Journal's September poll. The earlier poll showed 58 percent in support and 32 percent opposed. Eight percent were undecided.
Anthony Williams, the polling firm's special projects director, noted that the level of voters who oppose the measure has increased by 6 points.
"I wouldn't say the change has been dramatic, but there has definitely been a change in that direction," he said.
The increase in opposition comes as opponents are making their final arguments in a bid to kill the measure.
"You're starting to see the opposition gain some ground and if that trend were to continue over the course of the next couple of weeks it could be very close either way," Williams said. "I wouldn't call this a slam dunk to pass or a slam dunk to fail at this point."
Nevadans for Background Checks, the state political action committee leading the charge to get the ballot measure passed, has received much of its financial support from Everytown for Gun Safety Action Fund, a national gun violence prevention group tied to former New York Mayor and billionaire Michael Bloomberg.
"The enthusiasm we saw for Question 1 at early voting locations this weekend is reflected in poll after poll that shows Nevadans see through the misinformation by the opposition and support common sense gun safety laws," said Yes on 1 Campaign Manager Joe Duffy in a statement. "Polling continues to reflect overwhelming support for Question 1 because Nevadans know that closing the background check loophole will improve public safety and save lives."
Robert Uithoven, campaign manager of NRA-Nevadans for Freedom, has a different take on the measure's reception among voters.
"We believe that as Nevada voters take to the polls early and through Election Day, they will take time to understand the consequences of Bloomberg's Question 1 gun-control initiative," he said in a statement. " This poorly-written law, financed by an out-of-state billionaire, will land many law-abiding Nevadans in jail and it won't keep our communities safer, which is why Governor (Brian) Sandoval, Attorney General Laxalt and 16 of 17 elected sheriffs are urging all Nevadans to oppose Question 1."
A large majority of Democratic voters support the measure – 70 percent. Just 21 percent of Democratic voters oppose the measure and 9 percent are undecided.
Thirty-three percent of Republican voters support the measure, with 62 percent opposed. Only 5 percent of GOP voters didn't know or didn't answer.
Among independent voters, 57 percent support the measure and 34 percent are opposed. Another 9 percent don't know or didn't answer.
Bendixen & Amandi International, based in Miami, has done projects for clients including The Washington Post, Clinton's 2008 presidential campaign and President Barack Obama's 2008 and 2012 campaigns.
Contact Ben Botkin at bbotkin@reviewjournal.com or 702-387-2904. Follow @BenBotkin1 on Twitter.
2016 Nevada Poll by the Las Vegas Review-Journal: Question 1 by Las Vegas Review-Journal on Scribd
RELATED
Question 3: Likely voters still overwhelmingly favor energy competition question
Question 2: Likely voters narrowly support legalizing recreational marijuana
Question 5: Likely voters favor Clark County fuel tax boost by almost 3-1 margin
RJ poll shows Clinton adding to lead over Trump in Nevada
Joe Heck, Catherine Cortez Masto Senate race too close to call