Abortion seekers gain protection under new law in Nevada
Updated May 31, 2023 - 5:15 pm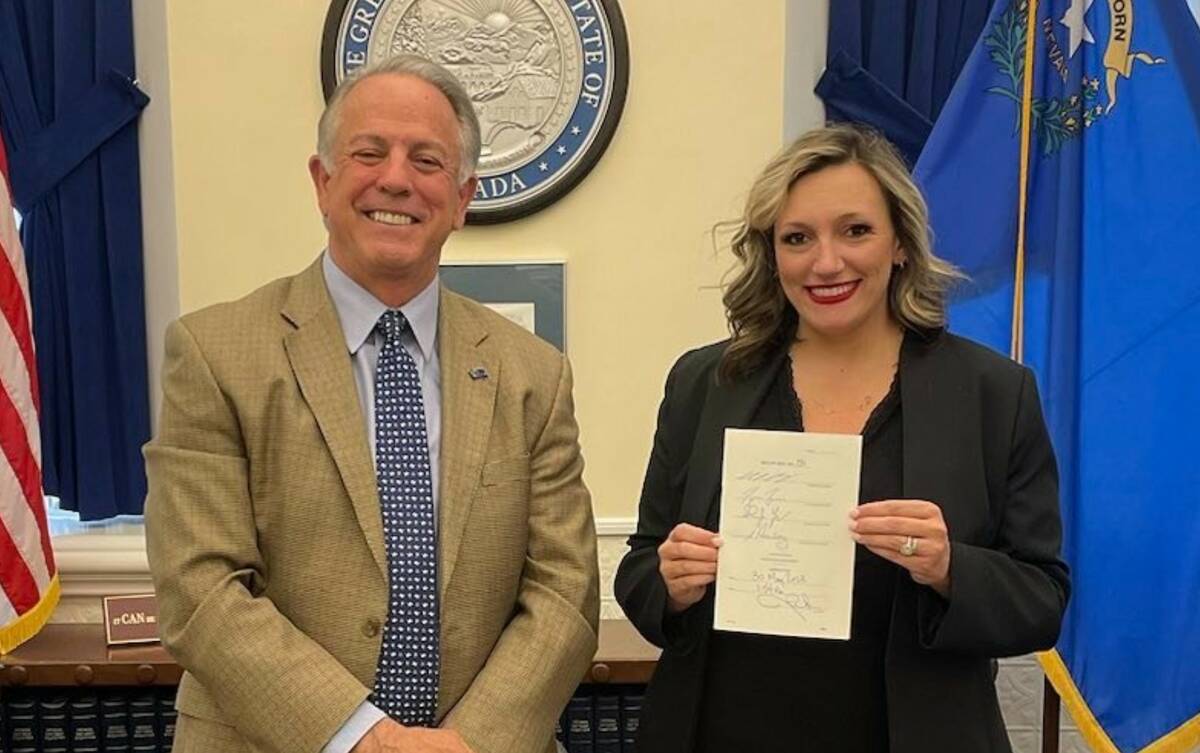 CARSON CITY — Individuals who come to Nevada seeking an abortion will now have greater protections against out-of-state authorities hoping to prosecute them under a bill signed into law Tuesday by Gov. Joe Lombardo.
Senate Bill 131, sponsored by Senate Majority Leader Nicole Cannizzaro, D-Las Vegas, bars state agencies from cooperating with authorities seeking to prosecute women who live in anti-abortion states for traveling to Nevada to get an abortion.
In a tweet, Cannizzaro thanked the first-term Republican for signing the legislation.
"I want to thank (Lombardo) for following through on his commitment to ensure that Nevada won't participate in prosecutions of women who come here to exercise their reproductive rights," Cannizzaro said.
The bill was sent to Lombardo's desk last week after being approved in the Senate. The legislation codifies an executive order issued by Gov. Steve Sisolak just days after the U.S. Supreme Court overturned Roe v. Wade last year.
Lombardo's approval of the measure comes after he flip-flopped on whether he would repeal the order. After first vowing to repeal it, Lombardo later committed to leave the order intact after news that Alabama's attorney general said individuals who help with out-of-state abortions would be prosecuted under state laws.
In a statement, Lombardo spokesperson Elizabeth Ray said the governor "kept his commitment" by signing the bill into law.
"Gov. Lombardo made a campaign commitment to sign a law ensuring that Nevada would not participate in prosecuting those seeking legal medical care in the state," Ray said in a statement.
Protecting election workers
During a more public ceremony earlier in the day, Lombardo, joined by Secretary of State Cisco Aguilar, signed Senate Bill 406.
The legislation would make it a crime to threaten, harass or intimidate election workers. It was amended to also bar the secretary of state, the treasurer, the controller and the attorney general from raising money immediately before, during and after legislative session. (Current law prohibits the governor and members of the Legislature from fundraising around a session.)
"It's important that we are protecting the integrity of our elections and to protect our employees across the board, and hopefully this will help in that endeavor," Lombardo said.
Aguilar and Lombardo were joined by more than two dozen election workers from counties across the state and the secretary of state's office.
"Fear and intimidation will not be tolerated," Aguilar said. "Election workers, you are our heroes."
The bill's approval makes good on a campaign promise made by Aguilar, who vowed to introduce the policy following reports of violence against election workers across the country.
Lombardo vetoes bills
While two bills made it past Lombardo's desk, two other bills with broad legislative support were sent back to lawmakers with the governor's veto Tuesday.
Lombardo vetoed Assembly Bill 265, which would have created a statewide mental health consortium with the purposes of promoting children's mental health.
Lombardo said that while the bill's intent is noble and that children's mental health should be a priority, it includes an unfunded mandate on the executive branch.
In his veto message to Speaker Steve Yeager, Lombardo argued that it is inappropriate to ask overworked state agencies to do more without providing additional funding and that it adds an "unnecessary layer of bureaucracy to state government."
"Since AB265 does little to address the primary issue plaguing our mental health crisis — that we do not have enough beds to adequately serve those struggling with mental health issues — I cannot support it," Lombardo wrote.
He also vetoed the bipartisan Assembly Bill 223. The bill — passed unanimously by the Senate and a 38-2 Assembly vote — would have required a collection agency to provide payoff letters upon request of a person who is in debt.
Lombardo called the bill "problematic" because it creates a private right of action, while there are already established complaint processes in place.
"While debtor protection is an important goal, the policy changes contemplated in this bill should instead be deliberated and executed upon through the Department of Business and Industry's regulatory processes," he wrote.
The Nevada Democratic Party called Lombardo's striking down bipartisan legislation a "rampage" after "failing to control lawmakers," referring to his refusal to sign budget-related bills until the Legislature agrees to address his legislative priorities.
"Lombardo is making one thing clear: If he doesn't get his way, he'll make sure everyone suffers the consequences — including the families he was elected to serve," Nevada State Democratic Party spokesperson Mallory Payne said in a statement.
Contact Jessica Hill at jehill@reviewjournal.com. Follow @jess_hillyeah on Twitter. Contact Taylor R. Avery at TAvery@reviewjournal.com. Follow @travery98 on Twitter.