Adjournment means A's ballpark doesn't have the votes — yet. What's next?
Updated June 9, 2023 - 12:31 pm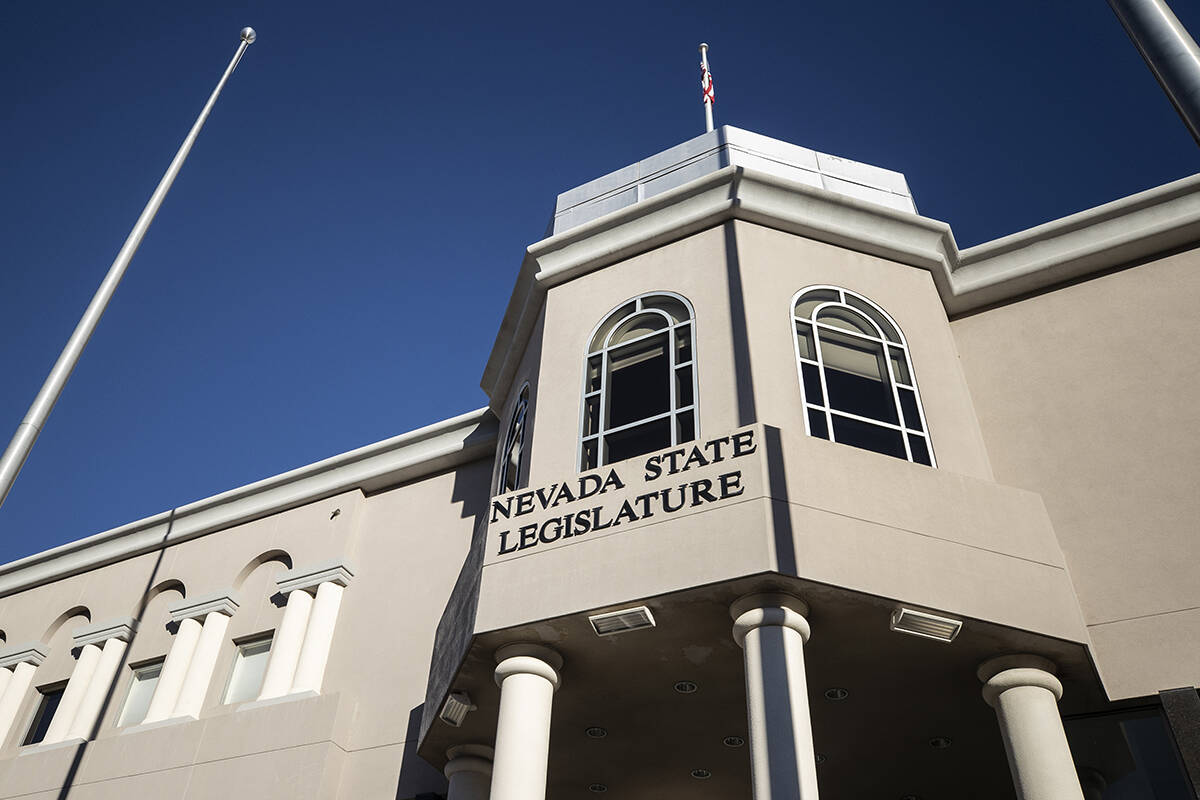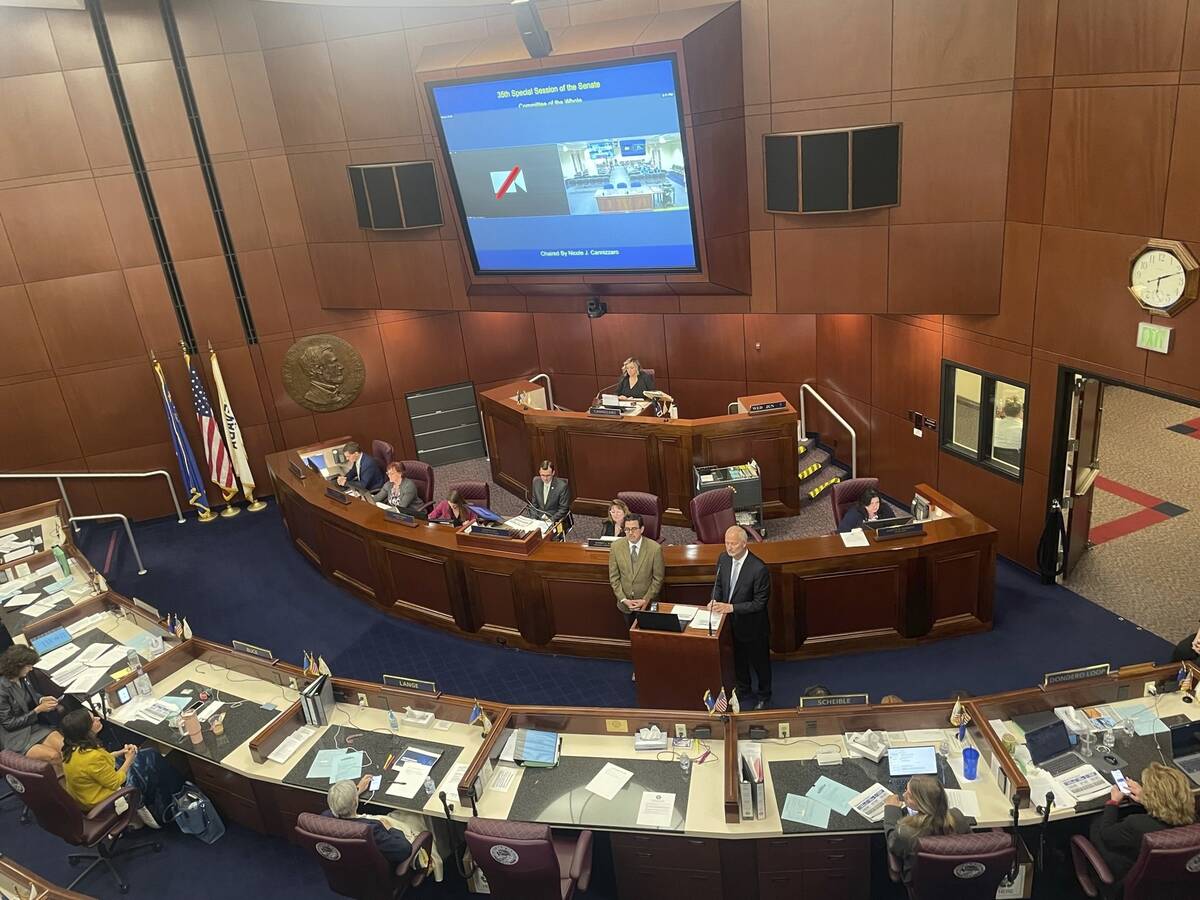 CARSON CITY — After an entire day waiting for a Senate session to consider the Oakland A's stadium proposal, lawmakers instead adjourned until Monday.
It was a clear sign there weren't enough votes in the Senate to pass Senate Bill 1, the $380 million public funding package for a $1.5 billion ballpark on the Tropicana Las Vegas site.
According to one source, management of the Oakland A's met with Senate Democrats on Thursday morning to discuss the bill after a contentious hearing on Wednesday.
But the Legislative Building remained eerily quiet all day Thursday, with few lawmakers visible. There were just two lawmakers in the Assembly chamber when it adjourned for the weekend, and a handful of state senators were missing from its brief session as well.
What comes next? After a weekend break, the proposal will come before the Senate for a vote, which could determine the fate of the entire idea. If senators can muster 11 votes for the idea — a bare simple majority — it heads to the Assembly, which will hold hearings and a vote of its own.
If the Senate can't get that number, however, the bill is lost, and the special session ends.
As Nevada waits for action, a few things to consider:
■ The history: If the A's bill were to fail, either in a vote or a session scuttled because Democratic leaders realized they could not muster the votes, it would be a mark against freshman Gov. Joe Lombardo. First, Lombardo took ownership of the stadium idea during the regular session when he sent his chief of staff, Ben Kieckhefer, to introduce the matter during its only hearing. Second, he called a special session with the stadium as the only item, focusing all of the bleary eyes left in Carson City on that single topic.
A failure would haunt his young administration, raising the key question of why the governor would call a special session unless he was sure in advance that he had the votes to get the project passed.
That doesn't mean Lombardo is powerless: He is still considering a stack of bills from the regular session that he has 10 days to sign or veto — bills that lawmakers want him to sign and over which deals may still be made.
There are only a few parallels in state history of a governor calling the Legislature into special session to get a priority matter passed but failing to get it done. In 2003, then-Gov. Kenny Guinn called two special sessions to get a gross receipts tax for education passed — one special session lasted for nearly a month. In the end, a tax package was passed, albeit not the one Guinn requested.
In 2021, then-Gov. Steve Sisolak in his State of the State address called for the creation of innovation zones, essentially counties initially run by private blockchain corporations. The bill had a hearing during the regular session, but no bill was introduced and the idea collapsed amid acrimony.
Most of the time, however, governors get what they want. Gov. Brian Sandoval called a successful special session to approve the Allegiant Stadium deal in 2016, as well as sessions for tax breaks for Faraday Future in 2015 and Tesla in 2014.
■ The players: A failure also would be a blow to the powerful coalition that is standing behind the A's stadium plan. That includes labor unions, including the politically powerful Culinary Local 226, the casino industry, chambers of commerce from around the Las Vegas Valley, and the Republican governor. It's rare to see these forces align and fail to get what they want. That's one of the key factors that make Legislative Building regulars believe that the proposal may be stalled, but is not totally dead.
■ The fatigue: Another factor might be the growing list of projects approved in Nevada during the past 15 years that have received subsidies or tax breaks of some kind, prompting constituents to lash out at their representatives about the latest plan. That includes $1.3 billion for Tesla in 2014 and an additional $330 million in March, nearly $90 million for Apple in 2012, more than $200 million for Faraday Future (a project that failed to materialize), $750 million in room taxes for Allegiant Stadium, a cut-rate deal on land for the Las Vegas Raiders headquarters in Henderson and $42 million in Henderson city money for the Dollar Loan Center.
And this session, there was another plan to approve tax credits designed to build film studios in Las Vegas, a plan initially pegged at more than $4 billion. That appears to be dead, at least for now.
Those are the kind of numbers that can get regular folks fired up, maybe even enough to tweet or call in to a hearing to protest. But whether those calls from voters, who don't usually make big political donations, outweigh the voice of casinos, unions and business groups, which do, remains to be seen.
■ The debate: Although several Democratic senators — including Dallas Harris, Rochelle Nguyen, and Fabian Doñate, all D-Las Vegas — questioned the prioritization of the stadium, the benefits associated with it and the math underpinning the idea, others indicated their support. That list includes Minority Leader Heidi Gansert, R-Reno, and Jeff Stone, R-Henderson. Gansert specifically pointed to the success of Allegiant Stadium — which has exceeded economic projections — as an example of Las Vegas' ability to attract visitors with sporting events.
Also underpinning the debate: Democratic anger at Lombardo for a veto of the capital projects budget during the regular session that required additional negotiations over some of the governor's priorities, and a quick special session immediately following the regular session but preceding this one. And some Democrats expressed dismay that Lombardo would veto their bills during the regular session citing cost, only to call a special session to ask for millions in tax funds for the ballpark.
Contact Steve Sebelius at SSebelius@reviewjournal.com or 702-383-0253. Follow @SteveSebelius on Twitter.