Cannizzaro bill would protect out-of-staters seeking abortions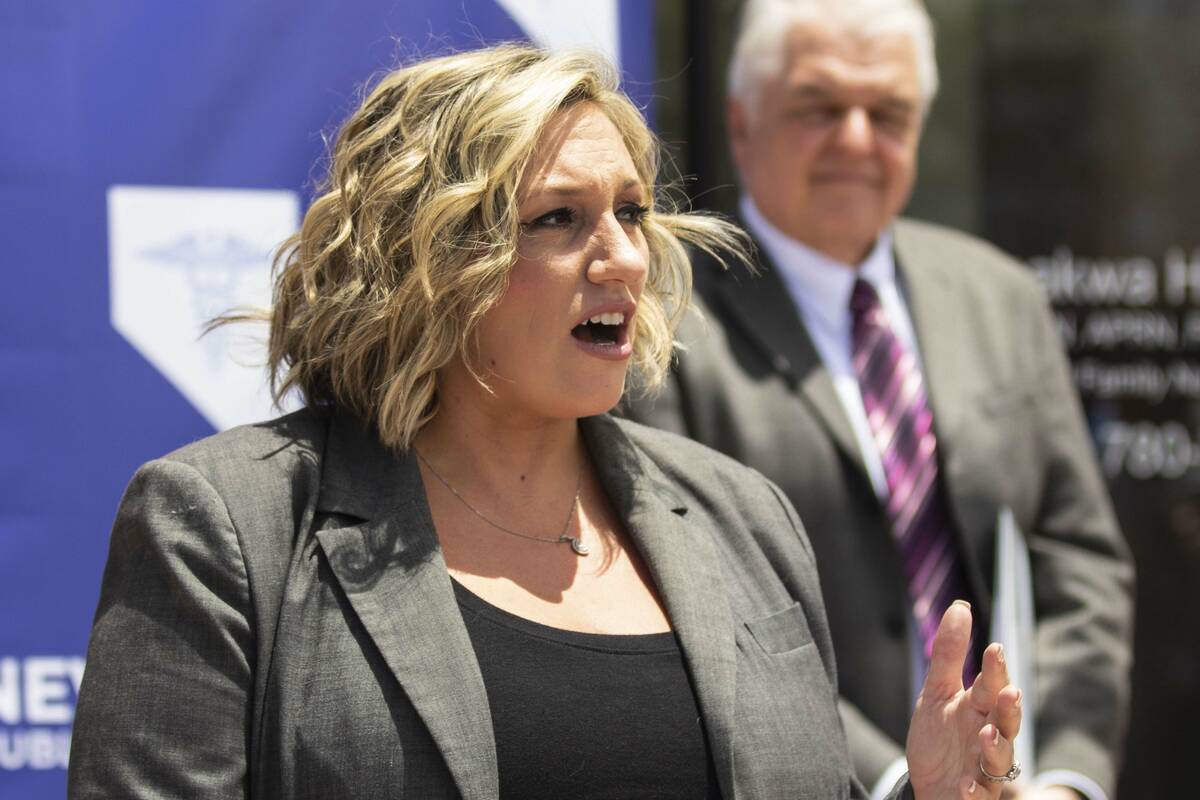 RENO — Senate Majority Leader Nicole Cannizzaro is set to introduce legislation that would codify former Gov. Steve Sisolak's executive order protecting out-of-state abortion patients and health care providers who provide abortions.
Cannizzaro, D-Las Vegas, said Wednesday that she would introduce the bill during the upcoming legislative session, which begins Feb. 6.
"The reason for a piece of legislation is that an executive order is not something that is written into statute," Cannizzaro said during an interview with the Review-Journal. "It's subject to change. It's subject to potentially not existing any longer. We want to make sure that those protections are reliable.
The executive order, which was signed by Sisolak in June, blocks any Nevada agency from providing information or using resources to assist out-of-state authorities investigating individuals who seek an abortion in the state and the providers who perform the procedure. The order also protects health care professionals from being disciplined by medical boards for performing abortions.
Sisolak signed the executive order just days after the U.S. Supreme Court overturned Roe v. Wade in June and gave individual states power to regulate abortion. Abortion is protected in Nevada by a more than three-decade old voter referendum, but more than a dozen states have banned or severely limited access to abortion since the decision.
Governor to review
Elizabeth Ray, a spokesperson with Gov. Joe Lombardo's office, said the new governor "looks forward" to reviewing the bill.
"Governor Lombardo has encouraged the Legislature to send a clean bill codifying that executive order to his desk, and he looks forward to reviewing the proposed legislation," Ray said in an emailed statement.
During his campaign for the state's top spot, Lombardo waffled on whether he would try to remove the order. He first vowed to repeal the order, but backtracked days later after Sisolak said he would work with the Legislature to codify the protections, saying he would "have to evaluate it."
The former Clark County sheriff later committed to not repealing the order in a letter published on his campaign website in mid-September and again in a voter guide published by the Reno Gazette-Journal.
The change came after Alabama's attorney general announced that people who assist with out-of-state abortions could be prosecuted under the state's conspiracy and accessory laws, a spokesperson with Lombardo's campaign said at the time.
"I hope a bill like that is sent to my desk, so that we can make clear that we are never going to prosecute women for having an abortion in Nevada," Lombardo said in the voter guide.
During Lombardo's first week in office, the newly-elected governor's chief of staff Ben Kieckhefer said repealing the executive order was not in the administration's immediate plans.
Passing the Legislature
Before the bill can be sent to the governor's desk, it must pass through the Senate and the Assembly, where it would "likely be favorably received," Assembly Speaker-designate Steve Yeager said.
"Access to abortion was a key issue for many Nevada voters in the most recent election. Assembly Democrats will continue to work to ensure meaningful access to abortion in the Silver State. Thus, the Senate Majority Leader's anticipated bill would likely be favorably received by the Democratic super majority in the Assembly," he said.
Cannizzaro said she was hopeful the new governor would sign the bill.
"I'm hopeful that if this makes it to his desk, he sees there's an opportunity to build trust with Nevada women, to send a message to providers that you are welcome here in Nevada, and to women that you can make your own health care decisions, and he can protect that right and that choice for women," Cannizzaro said.
The proposed legislation was applauded by Planned Parenthood Votes Nevada spokesperson Alexa Solis, who called it "a necessary step."
"We know that attacks on reproductive health care including abortion care will continue as state legislatures across the country go into session, but this bill further protects patients and providers in Nevada moving forward," she said in a prepared statement. "It's a necessary step in continuing to ensure that our legislature upholds Nevadans' values of reproductive freedom and commitment to abortion rights in a fractured national abortion access landscape."
Caroline Mello Roberson, who serves as NARAL Pro-Choice America's Southwest Regional Director, said the members of the organization in Nevada would be working alongside Cannizzaro to "expand reproductive freedom."
"As we face the fallout of the Supreme Court's decision ending Roe v. Wade, we must take a critical look at our current laws and dream big to expand reproductive freedom—including by protecting people seeking care and providers from out-of-state actors who wish to criminalize them," Roberson said in a statement. "NARAL Pro-Choice Nevada and our 48,000 members will be working hard this legislative session alongside Majority Leader Cannizzaro and our allies in the legislature to do just that."
But not everyone applauded Cannizarro's efforts, including Nevada Right to Life Executive Director Melissa Clement.
"I haven't seen the bill language, so I cannot comfortably comment on its contents," she said. "Our failed previous governor tried to solve a problem that did not exist and he did so for political purposes. Nevadans saw through it and sent him packing. I'm hopeful the Senate leader chooses to address actual issues that affect Nevadans, not play politics with the lives of women and unborn babies," she said.
Contact Taylor R. Avery at TAvery@reviewjournal.com. Follow @travery98 on Twitter.