Coming up in Carson: Horses, stoles and cameras in classrooms
Updated March 6, 2023 - 5:38 pm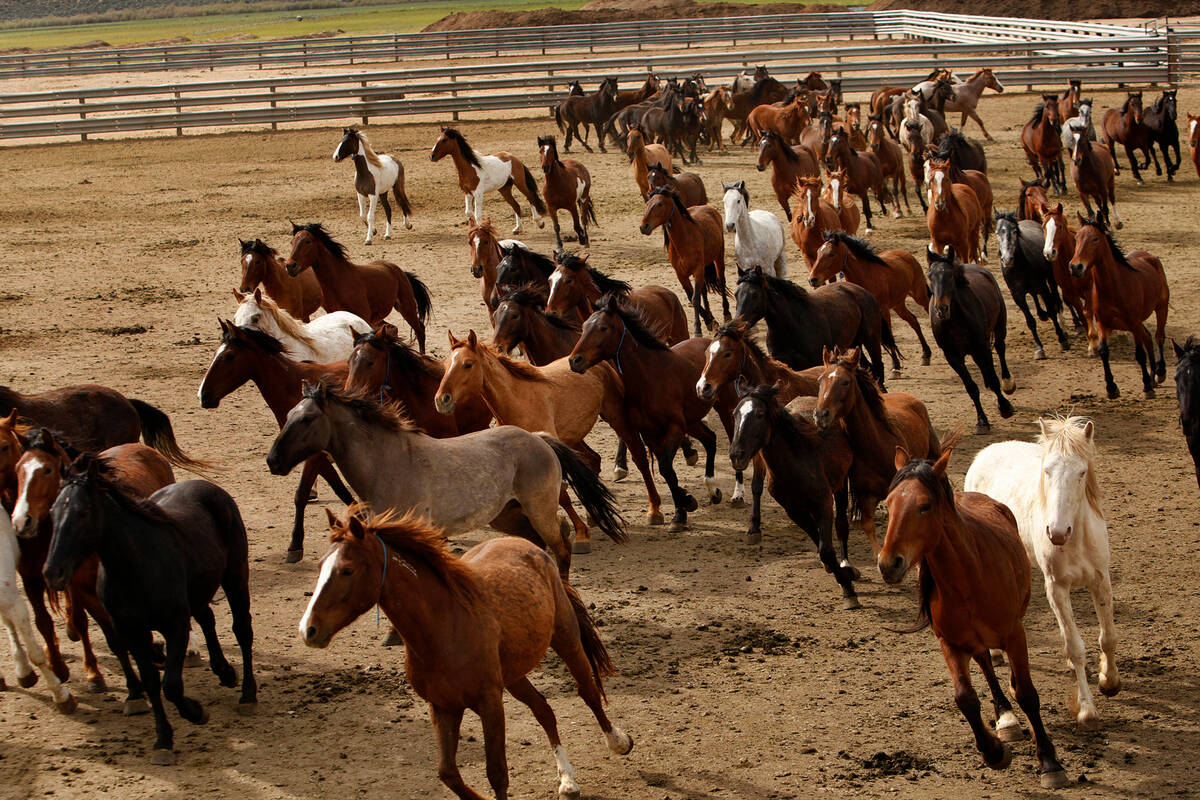 The Nevada Legislature enters its fifth week on Monday in Carson City, where the weather forecast calls for some snow. But inside the legislative building on Carson Street, things will heat up a bit.
Here's a look at a few of the things lawmakers plan to tackle this week.
State horse, of course
Nevada already has a state metal (silver), two state trees (single-leaf pinyon and bristlecone pine), state element (neon), state flower (sagebrush), state bird (mountain bluebird), state insect (vivid dancer damselfly), state reptile (desert tortoise), state animal (bighorn sheep) and a state fish (Lahontan cutthroat trout), but it may soon have an official state horse. Senate Bill 90, set for a hearing in the Assembly Natural Resources Committee on Tuesday, would designate the wild mustang as Nevada's official state horse. Sadly, the designation will not protect the majestic animals from regular Bureau of Land Management roundups on the range.
Express yourself, students!
Last year, some Clark County students got pushback from school administrators when they tried to wear stoles that represented their cultural or national identity. (One depicted the national flags of Mexico and Guatemala, another was green and represented Hispanic heritage.) But they were told that individual schools could regulate what students wear at graduation, and the only stoles allowed were those related to school-based clubs. But now, under Assembly Bill 73 — set to be heard in the Assembly Education Committee on Tuesday — students would have the right to wear tribal regalia or objects of cultural or religious significance at graduations. But don't worry: The bill still prohibits "… an item that is likely to cause a substantial disruption of, or material interference with, such a ceremony."
The official state tartan is still cool, however.
No shaming!
Speaking of clothing, Assembly Bill 17 — up for debate in the Assembly Judiciary Committee — would repeal a requirement (that is actually in the law) requiring those sentenced to community service after a conviction on DUI charges from being forced to wear "…distinctive garb that identifies the person as having violated the provisions…" of the state's DUI law. The bill was requested by the Nevada Supreme Court. No, students, don't get any ideas: You probably can't wear the distinctive DUI garb at graduation.
Smile, you're on camera
And speaking of schools, state Sen. Scott Hammond, R-Las Vegas, has a bill that would require cameras in special education classrooms. Senate Bill 158 comes after allegations of abuse in classrooms where nonverbal students can't tell parents what happened to them at school. Lawmakers didn't pass similar bills in the 2017 and 2019 sessions.
Controversial bills
Two bills set to be discussed are sure to generate controversy. Senate Bill 68 in the Revenue and Economic Development Committee Tuesday would raise the real estate transfer tax to fund a new Critical Needs Fund to pay for very low-income housing. It would require a two-thirds vote in both houses to pass, but Gov. Joe Lombardo has pledged that he will sign no new tax bills during his term. And Senate Bill 172 in the Judiciary Committee Thursday would allow a minor to give consent for treatment for the prevention of sexually transmitted diseases — including contraceptive drugs or devices — without a parent's consent.
You can see all the events happening at the Nevada Legislature, and tune in to watch hearings, on the Legislature's website.
Contact Steve Sebelius at SSebelius@reviewjournal.com or 702-383-0253. Follow @SteveSebelius on Twitter.