3 apply for Ruben Kihuen's vacant Senate District 10 seat
November 30, 2016 - 4:49 pm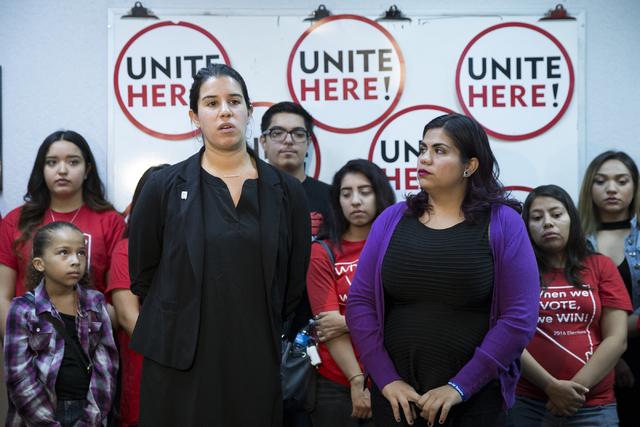 A former political director for the Culinary Union, a Department of Veterans Affairs project manager and a Las Vegas-based law firm's director of marketing and technological services have applied to Clark County in hopes of filling Ruben Kihuen's recently vacated state Senate seat.
The most-prominent applicant is Yvanna Cancela, 29, who led political outreach for the Culinary Union's 57,000 members from November 2010 until she resigned earlier this month. She is now executive director at the Citizenship Project, a local nonprofit working to increase the number of immigrant families that naturalize.
"There is more work to do now than ever to make sure regular people have a voice in this country," Cancela said. "I know what it takes to represent people and their families, and I don't take that responsibility lightly."
Commissioners are expected to vote on who will fill the Senate District 10 seat at their Tuesday meeting. Applications were due earlier this week.
The appointee will serve until the November 2018 election.
Kihuen, 36, had held the seat since 2010. He vacated it last month when he was elected to the U.S. House of Representatives.
Another applicant, 34-year-old Melissa Clary, has spent six years working for the VA.
Since June 2013, she's been a project manager for its office of information technology and has, in addition to other projects, overseen the design, procurement and installation of IT infrastructure for a 2.2 million square foot, $800 million hospital campus in Denver.
"As a bureaucrat, I've had to work with everyone over my career, so I'm confident in my ability to reach across the aisle to work with members of the other party," Clary said. "I want to have a hand in improving (Senate District 10) and I think my academic background, combined with my professional background, would get the job done."
The Las Vegas Review-Journal was not able to immediately contact the third applicant, Justin Campese.
According to his application, the 36-year-old works as Anderson Business Advisors' director of marketing and technological services. Before that, he was general manager of the Fortune Hotel and Suites.
If chosen, Campese wrote in his application that he'd advocate for partnering with large technology companies, allocating more funding for education and raising the minimum wage to $15 an hour.
"Legislation needs to be passed to bring Nevada together, whether it's mending the trust between police and citizens, transparency of government or helping with social services," he wrote.
As required by state law, all applicants are Democrats — as was Kihuen — and live in District 10.
Some 122,000 people reside in the district, which encompasses the Strip, McCarran International Airport and the UNLV campus. A potential site for a planned $1.9 billion stadium is also inside the district.
The 2017 session of the Nevada Legislature will begin Feb. 6 with Democrats in control of both the state Senate and Assembly.
LEGISLATIVE GOALS
During her time with the Culinary Union, Cancela served as a lobbyist at three sessions of the Nevada Legislature.
She worked with issues including healthcare transparency, education funding and raising the minimum wage. Cancela called Kihuen an "essential component of the Democratic caucus."
"I want to be a team player in the same way that he was," she said. "I think Democrats have an opportunity to really take advantage of having the majority in both houses again and working with the governor to pass meaningful legislation."
Cancela graduated from Northwestern University in 2010 with a bachelor's degree in communication studies. During the summer of 2009, she interned for U.S. Senate Democratic Leader Harry Reid's office, writing daily briefings for the senator's Spanish language website and social media accounts.
She moved to Las Vegas in summer of 2010 to work as a field organizer for Reid's re-election campaign.
Cancela was named a White House Champion of Change in 2013 and the American Civil Liberties Union of Nevada's 2014 Civil Libertarian of the Year for helping coordinate a statewide campaign for comprehensive immigration reform.
"I'm interested in talking about things like healthcare affordability, education…" she said. "You have to understand what your constituents need and want, and know how to fight for those things through the legislative process."
A resident of Nevada since 2005, Clary worked as a business specialist for the city of Las Vegas' parks and recreation department until 2010. In 2013 she completed Nevada Emerge training for Democratic women interested in running for office.
Citing her experience in federal and municipal government, Clary said she would aim to find more funding for expanding public services inside her district.
"Senate District 10 is ground zero for homeless and mental health (issues) and addictions," she said. "We need to be working with the experts in mental health much more."
Clary graduated from UNLV with a master's degree in public administration in 2008 and holds a paralegal certificate in business and environmental law from University of San Diego. She said she would also focus on increasing resources for college students and universities.
Clary said she would fight to bring economic development to the least wealthy areas of District 10 and raise the state's minimum wage.
"The district has a lower median household income by approximately $20,000 less than the rest of the state and a below poverty level of 25 percent compared to the state's 15 percent," she said. "We cannot look the other way on the systemic issues leading to poverty here."
Contact Michael Scott Davidson at sdavidson@reviewjournal.com or 702-477-3861. Follow @davidsonlvrj on Twitter.