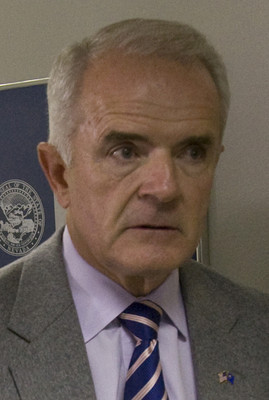 CARSON CITY — In 12 hours Friday we got a daunting glimpse into the future of the state's health.
Lawmakers toiled over how to cut another $275 million from a budget already sliced by nearly $1 billion.
From time to time a lone senator would voice support for some type of tax or the revocation of a tax break, but Friday's discussion largely centered only on cutting into programs.
Public employees still get a raise and no state jobs were officially cut during the 24th special session. But projected budgets for prisons, health and human services, transportation, higher education were reduced 3 percent on top of previous reductions that have led to some layoffs.
"These are all terrible cuts," said Speaker Barbara Buckley, D-Las Vegas.
Lawmakers decided against picking up $1 million in savings by limiting the type of prescription drugs available to Medicaid patients with diabetes, HIV or mental problems.
The money had to be cut elsewhere in the already gutted health division.
Prior to the special session, most Nevadans heard about budget choices involving cost-of-living raises for public employees and potential state layoffs.
But the reality played out in a more sobering fashion.
The choice in education became whether to cut $47 million from a fund to purchase new textbooks or whether to cut the money from a fund the Legislature previously established for remediation of poorly performing schools.
Assemblyman Garn Mabey, R-Las Vegas, noted the irony of the 2007 fight over whether empowerment schools or full-day kindergarten was a better model. "We've blown it all up now," Mabey said.
Nevada's growth makes it nearly impossible to ever catch up.
Lawmakers who grumbled in recent years about the low per-pupil funding allocation saw the state drop even further behind Friday even as costs to school districts — from bus diesel to food to electricity — are soaring.
Gamers got another break in the abbreviated session — this one taking off the table a measure that sought to clarify existing law to enable the state to recover taxes that should have been paid on comped meals casinos give to their patrons.
When Senate Majority Leader Bill Raggio did a complete 180 on the bill in a matter of moments, and when you see gaming lobbyists using his office as their own, you can draw your own conclusions.
The saddest thing Friday wasn't necessarily all of the sundry cuts, the draining of the state's rainy day fund and all the steps backward. The most disheartening thing during this short-term solution is that there still appears to be no long-term solution in sight.
The Democratic leaders all said the state is in desperate need of a major fiscal overhaul. Raggio insisted something has to change.
But Gov. Jim Gibbons kept his flat earth … er, budgeting … mind-set.
In 2009, he said, he will produce a no-growth budget. Since there will be more kids to put into school, more people who qualify for Medicaid and more prisoners in the system, the state will have to pay for those essential services.
So if K-12 spending must rise 4 percent, something else must be reduced,
"Services are going to have to be cut," he said. "Spending is going to have to be reduced."
Gibbons hasn't played well with the Legislature, angering the leaders of both houses and both parties during this process.
When he says "the leadership," he means Raggio. Then he doesn't listen to Raggio and lumps him into a broad accusation that the state has overspent. Buckley? Who's she? "My staff talks to her staff," he said.
Gibbons insists he will not support any tax increase or new tax in 2009 and finds the solution is simply to have government "live within its means" and "tighten its belts."
Even if, by some legislative miracle, lawmakers are able to reach consensus on a tax or revenue or spending plan in 2009, it will have to stand up to a veto.
And who knows what the Legislature will even look like next session, given the current term limit challenges? In a final session, will lawmakers finally make choices free of fear, or will they all be running for something else and still running scared of taking a stand?
And then there's Gibbons. On Friday while he was nowhere near the session, the Carson City paper published photos of him embracing a former Playmate during the recent Reno Rodeo.
Even more disturbing was his explanation to a reporter that the relationship is merely a friendship.
"What troubles me is all these people speculating every time I bump into somebody that happens to be of the opposite sex," Gibbons said. "You can talk to Leslie, but I think she will tell you if (there's something that) takes the romance out of a friendship it's being there when her child is born. I held her hand when her child was born."
As depressing a spectacle the special session was, we haven't seen anything yet. And certainly haven't seen any leadership.
Contact Erin Neff at (702) 387-2906, or by e-mail at eneff@reviewjournal.com.