Aaron Ford goes on the attack in first ad of election cycle
Updated September 13, 2018 - 4:22 pm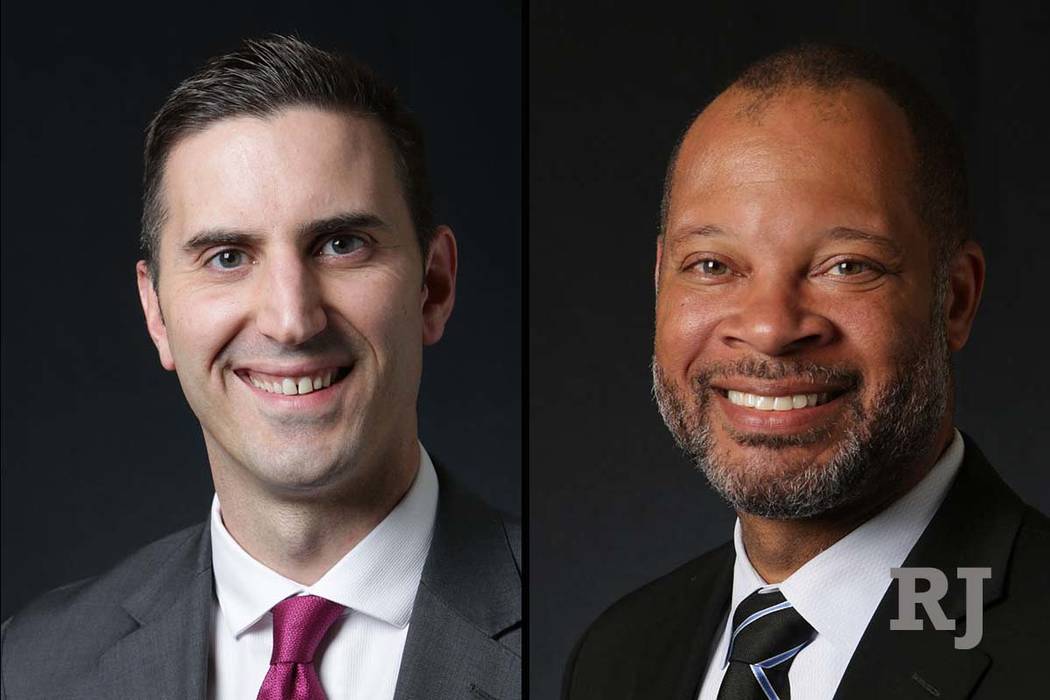 The ACLU of Nevada announced it will spend $1.1 million to back a November ballot measure that would automatically register people to vote when they change their address.
Nevadans for Secure Elections, or Question 5 on the ballot, proposes updating voter registration automatically when citizens change addresses or move to Nevada. Backers say automatic voter registration is convenient, fair and adds a layer of security against voter fraud, human error, hacking or outside interference.
The ACLU is spending $10 million nationally in the 2018 midterms to expand voting rights in multiple states. Question 5, the group said, would modernize the Silver State's voter registration processes at the DMV and expand voting access for Nevadans.
"The right to vote is essential for a thriving democracy and it's essential that that right extends to every eligible voter," said Tod Story, executive director of the ACLU of Nevada. "AVR will further secure our voter registration system at the DMV and simplify the registration experience for first-time voters, members of the armed forces, communities of color, young people, and improve participation in our elections."
New attorney general ads
A new ad airing in Northern Nevada is hoping to tie Republican attorney general candidate Wes Duncan to a controversial rural sheriff who has been accused of sexual assault.
The ad comes from Democrat Aaron Ford and is his first foray onto Nevada airwaves in this election. The ad will run in the Reno market, and the ad buy came out to just under $50,000 according to Federal Communications Commission records.
Ford's ad goes after Duncan for seeking and promoting an endorsement from Storey County Sheriff Gerald Antinoro, who over the years has been accused of sexual assault and sexual harassment, with the ad's narrator saying that Duncan "bragged that he was proud to be endorsed by an alleged sexual predator."
John Vick, Duncan's campaign manager, called the ad a "dishonest dive into the political gutter."
"Wes Duncan has received the endorsement of every sheriff in Nevada and has rejected only one: Sheriff Antinoro. Aaron Ford knows that," Vick said. "Duncan has helped prosecute terrorists in Iraq and has prosecuted hundreds of criminal cases in Nevada. Aaron Ford has never touched a criminal case, has zero endorsements from Nevada sheriffs, and lacks a positive vision to make Nevada a safer place to live. Nevadans are smart people and we're confident that they will see right through this."
Duncan, an Iraq War veteran, on Wednesday also released a new TV ad highlighting his military experience and legal career. The ad is Duncan's second of this election cycle.
Duncan's campaign announced last year that he had been endorsed by 16 of Nevada's 17 current sheriffs, including Antinoro. The endorsement also was listed on Duncan's campaign website until this summer, when it was removed amid an outcry from progressive groups.
"Wes Duncan bragged that he was proud to be endorsed by an alleged sexual predator," Ford's campaign manager Jessica Adair said. "As deputy attorney general, Duncan had an opportunity to stand up to Sheriff Gerald Antinoro; instead he sold out our safety. How could we ever let a man who protected a predator like this become attorney general?"
Duncan's 30-second ad starts with an announcer saying, "Wes Duncan served his country in Iraq, helping prosecute terrorists in Baghdad and still serves today as a JAG officer."
It goes on to say Duncan is the only candidate who served as a criminal prosecutor, handling "hundreds of criminal cases" and "delivering justice for victims."
OT study blames Nevada leaders
A new study found that 104,000 Nevadans lost overtime pay protections because of a lawsuit led by Attorney General Adam Laxalt to block revisions to federal overtime rules.
The study, commissioned by progressive groups NELP Action and PLAN Action, also found workers in every Nevada county were impacted, including the rurals. It said Nevada workers are losing $8 million in overtime raises.
In 2016, the U.S. Department of Labor called for restoring overtime pay protections to workers earning less than $48,000 a year. But that order was effectively blocked by a lawsuit filed by 21 states, led by Laxalt. Other states such as California, New York and Pennsylvania responded to the blocked overtime pay expansion by passing state laws to deliver the protections.
"Nevada's governor and legislature should follow those states' lead and act quickly to deliver this badly needed overtime raise for the state's workers," the study said.
News and notes
— After agreeing in general terms to debate her opponent, Congressional District 3 candidate Susie Lee turned down a candidate forum for seniors because of one of the moderators, Republican Victoria Seaman. GOP businessman Danny Tarkanian had agreed to the debate hosted by The Vegas Voice, a newspaper for seniors.
"We trust that sooner or later Susie Lee will realize that if she actually wants to be congresswoman, she needs to speak with the senior community," said publisher Dan Roberts. "It's beyond disrespectful to all senior voters that Susie refuses to appear."
— Lee launched her first TV ad in the general election cycle, touting her work to increase high school graduation rates.
— Congressional District 4 candidate Cresent Hardy released his first TV ad, focusing on his construction business.
— The Las Vegas Metro Chamber of Commerce endorsed Laxalt for governor, as well as Duncan for attorney general, Michael Roberson for lieutenant governor and Barbara Cegavske for secretary of state.
— New Jersey Sen. Cory Booker endorsed Ford in his campaign for attorney general.
Contact Capital Bureau Chief Colton Lochhead at clochhead@reviewjournal.com. Follow @ColtonLochhead on Twitter. Contact Ramona Giwargis at rgiwargis@reviewjournal.com or 702-380-4538. Follow @RamonaGiwargis on Twitter.
OT Data Brief Nevada Draft by Las Vegas Review-Journal on Scribd