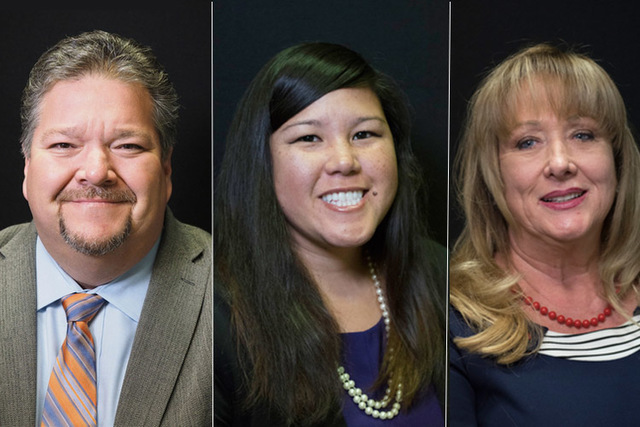 Richard Carrillo is eyeing a fourth term in Assembly District 18 where Democrats hold a 2-to-1 advantage.
In 2014, Carrillo faced fellow Democrat Amy Beaulieu in the general election because no other parties ran. He won with 54.9 percent of the vote. This year, he's fending off a first-time candidate within his own party and two Republican first-time candidates.
In a Review-Journal candidate survey, Carrillo did not specify whether he supports proposals that would legalize the recreational use of marijuana or expand background checks for gun purchases, saying it's up to the voters. Both proposals will appear on Nevada's November ballot.
Carrillo has served as Transportation Committee chairman and in 2015 opposed a bill that sought to change the makeup of the Public Employees Retirement System board to include three public members with pension plan expertise.
According to Nevada Secretary of State records, Carrillo raised $8,000 last year and spent about $32,300. Most of the spent money was for a paid staff member. Carrillo did not return calls seeking comment.
Erica Mosca, a fifth-grade teacher, founded Leaders in Training, an educational nonprofit that helps prepare K-12 students for college.
Mosca supports the legalization of recreational marijuana and said that it could decrease the number of minority arrests for nonviolent offenses and generate new sources of income for the community.
She said her family enjoys shooting for recreation but that she supports expanding background checks for gun purchases through private sales and gun shows.
She also wants to build a "K-20 pipeline" to better prepare students for college.
Mosca said she has raised more than $18,000 and spent about $6,000.
REPUBLICAN CANDIDATES
Christine DeCorte said she would stand behind voters if they decided to legalize recreational marijuana, adding that it could free up jails for violent criminals.
"I don't think it should be a criminal offense," DeCorte said.
Past gun reforms haven't done enough to stop criminals from accessing weapons, DeCorte said. She added that more gun laws would likely be ineffective as well.
On education, DeCorte said she believes the Clark County School District is too large and needs to be broken up. The Legislature has ordered such a breakup, which district officials are working to enact.
DeCorte said her campaign has raised between $1000 and $1,500 and spent about $15,000 to date.
Matt Sadler said that as owner of a "mom and pop" bail bonds company, he hasn't been affected financially by the tax hike approved by the 2015 state Legislature, but believes it's only a matter of time before more taxes come. It's been called the biggest tax increase in state history. If elected, he said he would work to repeal some taxes and prevent future taxes.
Referencing a recent Obama administration order for public school districts to allow transgender students to use restrooms matching their gender identity, Sadler said he's also interested in crafting legislation that would protect private businesses and faith-based organizations from having to comply with issues that compromise what they believe.
For his campaign, Sadler said he has raised $1,440 and spent $1,242.
Mosca, Sadler, and DeCorte said they support education savings accounts, which were approved by the 2015 Legislature but have been stalled because of challenges in court.
Contact Alexander S. Corey at acorey@reviewjournal.com or 702-383-0270. Find @acoreynews on Twitter.
Richard Carrillo
Party: Democrat
Age: 48
Occupation: Heating, ventilation and air conditioning contractor.
Christine DeCorte
Party: Republican
Age: 61
Occupation: Managing member of financial planning company
Erica Mosca
Party: Democrat
Age: 29
Occupation: Founder of education nonprofit and 5th grade teacher with Clark County School District
Matt Sadler
Party: Republican
Age: 38
Occupation: Bail Bonds company owner and agent.