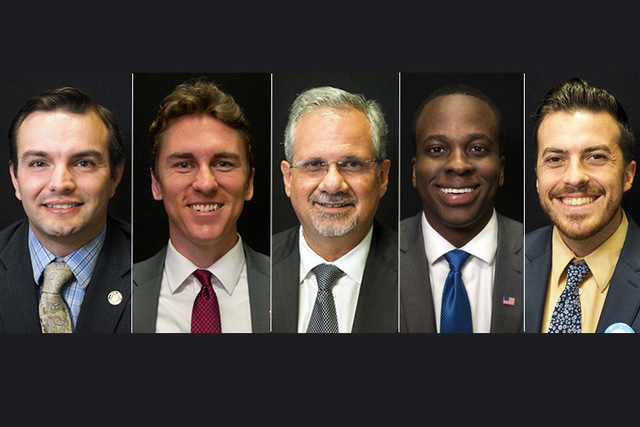 A longtime attorney, a 21-year-old college student and a former member of U.S. Sen. Harry Reid's staff are fighting for the Democratic nomination for Assembly District 21.
The district, which has a Republican incumbent and a nearly 8 percent Democratic advantage in active voters, could become significant as Democrats seek control of the Legislature.
Democrats account for 41.3 percent of active voters while Republicans comprise 33.8 percent.
DEMOCRATS
Former Reid energy and lands manager Vinny Spotleson said he'll emphasize public lands, water and energy in his campaign.
He said some voters he's spoken with are upset by "bad regulations" that have damaged the state's rooftop solar energy industry.
Spotleson, who counts Reid among his supporters, also said he supported the tax package proposed by Gov. Brian Sandoval and passed by the Legislature in 2015 — it's been called the biggest tax hike in state history — saying it was a step forward in funding Nevada education.
"That was just a first step in what was really a marathon," he said.
Opponent and Las Vegas-area attorney Ozzie Fumo also backed the tax package, emphasizing its role in funding education.
"I think it was a good start. I think what the governor's tax package did is bring teachers back to where they were in 2007," Fumo said of staffing levels.
Fumo, whom the Assembly Democratic Caucus has endorsed, mirrored Spotleson's concerns on energy and water issues, and both emphasized the importance of working family issues such as the minimum wage.
Meanwhile, Texas Tech senior Ben Nakhaima entered the field as an unknown and hopes to make a splash.
The 21-year-old Democrat, who would transfer to UNLV to finish out one or two semesters of college if elected, said he brings a different skill set to the race.
"What voters want is not your typical cookie-cutter politician," he said.
Nakhaima said his top priorities include government transparency, better school lunches and opposing the use of public funds for the proposed Las Vegas Sands Corp. stadium.
He also took a swipe at Fumo, saying the attorney's past defense of imprisoned former football player O.J. Simpson in connection with kidnapping and armed robbery charges in Las Vegas could become an issue in the general election.
"We Democrats need to take back the Assembly, and we're not going to do that with a weak candidate," Nakhaima said.
As to whether the Simpson case could be a campaign issue, Fumo said voters haven't expressed concerns about it.
"Everyone who is charged with a crime deserves their day in court," he said.
REPUBLICANS
On the Republican side, incumbent Derek Armstrong is already dodging criticism from his opponent, Blain Jones, over Armstrong's support of the tax package in the 2015 legislative session.
Jones, who calls himself the "true conservative Republican choice," is pushing for the elimination of Common Core in public schools and strongly opposes additional business taxes, which he says hurt small businesses.
"That just wasn't OK with me that someone would make those promises and then do the opposite," Jones said.
Armstrong, a freshman assemblyman, defended his vote, saying he has heard positive reactions about money flowing into the education system and other sectors.
"I work my butt off and I learned about the issues, and I'm more than willing to defend any vote that I cast," he said.
Armstrong said he's proud of the work he's done, including pushing for additional funds for veterans courts, and he has an interest in developing the UNLV School of Medicine.
Blain Jones, the son of District 35 Assemblyman Brent Jones, supports school choice and repealing the commerce tax, according to his website.
He has recently faced scrutiny because of a widely publicized federal discrimination lawsuit against his family's business, Real Water.
The lawsuit, filed by a former employee, claims the company offered pay raises to workers who watched videos based on Church of Scientology teachings and that the employee was terminated based on her religious views.
Blain Jones, the company's executive vice president, denied the wrongful termination allegations and said he doesn't believe it will hurt his campaign.
"We don't promote Scientology throughout my business. We don't require people to be Scientologists," he said.
Contact Pashtana Usufzy at pusufzy@reviewjournal.com or 702-380-4563. Find @pashtana_u on Twitter.
Derek Armstrong
Party: Republican
Age: 35
Occupation: Business adviser for The JABarrett Company
Blain K. Jones
Party: Republican
Age: 29
Occupation: Executive vice president of Real Water
Ozzie Fumo
Party: Democrat
Age: 50
Occupation: Attorney at Pitaro and Fumo
Vinny Spotleson
Party: Democrat
Age: 29
Occupation: Consultant with Spotleson Technical Consulting
Ben Nakhaima
Party: Democrat
Age: 21
Occupation: Student, not employed