Assembly OKs sales tax bill
April 24, 2013 - 12:40 pm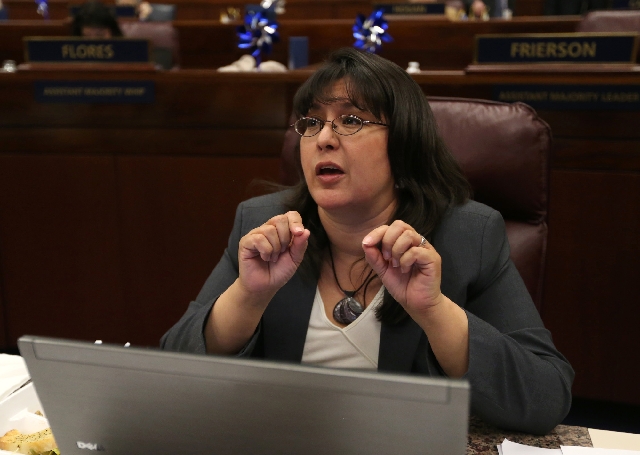 CARSON CITY — A bill that could increase the sales tax rate in Clark County to 8.25 percent — with the extra money generated going to hire more police — won approval Tuesday with a 32-9 Assembly vote.
Under Assembly Bill 496, the Clark County sales tax rate, now 8.1 percent, would be increased by 0.15 percentage points. Because the More Cops tax plan was approved by Clark County voters in 2004, Gov. Brian Sandoval has agreed to sign the bill.
For a new car costing $28,000, the tax increase would amount to $42.
Clark County Sheriff Doug Gillespie has indicated that 400 more police could be hired with the revenue, but the exact amount to be raised by the increase wasn't discussed in session. Before any money is raised, the Clark County Commission would have to approve the tax increase by at least a two-thirds majority.
Assembly Taxation Chairwoman Irene Bustamante Adams, D-Las Vegas, said police from all departments in Clark County would have to prepare periodic reports to show the money is spent only to hire and equip more police.
She added they will propose some changes to the bill which now will be referred to the Senate, particularly a requirement that some of the money be used to purchase body cameras for police. The Las Vegas NAACP had requested that expenditure. Body cameras could show whether police behaved appropriately in dealing with people.
"This bill will reduce crime," said Assemblyman Lynn Stewart, R-Henderson. "Our neighborhoods need protection, my grandchildren need protection, your grandchildren need protection, our tourists on the Strip need protection."
Back in 2004, Clark County voters approved a 0.5 percentage point increase in the sales tax rate to hire police under a program dubbed More Cops. The Legislature approved half of that increase in 2005 but required police to come back when they needed the rest.
Gillespie and other chiefs testified that crime has been rising and they have been unable to fill positions of police who quit or retire because of the loss of revenue from the recession.
The Taxation Committee agreed to support the 0.15 percentage point sales tax rate increase. Police will have to seek the remaining 0.1 percentage point increase in a future session.
Five of the 26 Democrats and four of the 15 Republicans voted no. Assemblywoman Peggy Pierce, D-Las Vegas, cast a no vote.
She also opposed the bill when it was heard in the Taxation Committee. At the time, she said sales taxes are regressive, and she would not support a sales tax increase until the Legislature first approves a broad-based tax on business.
The bill goes to the Senate, where it also is expected to pass overwhelmingly.
Another tax bill, Assembly Bill 413, that would allow Clark County to index, or increase gas taxes to the rate of inflation in the highway building industry, did not come up for a vote. Instead it was referred to the Assembly Ways and Means Committee for further discussions on its costs.
The bill would allow the Clark County commission to increase gas taxes on fuel between three cents to four cents a gallon per year. The money would be used by the Regional Transportation Commission to create an $800 million bond to work on necessary construction projects in Clark County. Washoe County has been allowed to index gas taxes for several years.
Contact Capital Bureau Chief Ed Vogel at evogel@reviewjournal.com or 775-687-3901.