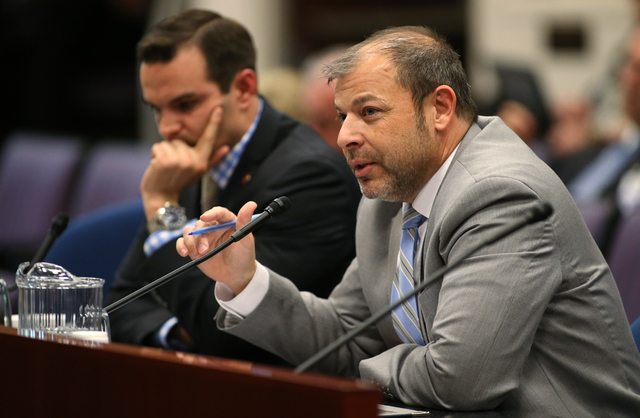 CARSON CITY — The Assembly Republican caucus named Paul Anderson, R-Las Vegas, minority leader for the 2017 legislative session.
The 15-member caucus made its leadership decisions Sunday.
Anderson, who served as majority leader in the 2015 session, when Republicans controlled the 42-member Assembly, said he is "proud and humbled" at his colleagues' show of support.
"We will work with Gov. Brian Sandoval, our Republican colleagues in the Senate and the Democrat leadership to ensure that the education reform package passed last session will be fully adopted along with the economic development policies that have led to the creation of tens of thousands of new, high-paying jobs in Nevada," Anderson said.
Other leadership choices include Jim Wheeler of Minden as northern co-assistant minority leader and James Oscarson of Pahrump as co-assistant from the south. Melissa Woodbury of Henderson is the minority whip, and John Ellison of Elko is the rural minority whip.
Republicans are in the minority in the Assembly after losing 10 seats in last week's general election. Democrats now have a 27-15 majority.
Contact Sean Whaley at swhaley@reviewjournal.com or 775-461-3820. Follow @seanw801 on Twitter.