Attorney named to spearhead probe of Assemblyman Brooks
February 26, 2013 - 8:54 pm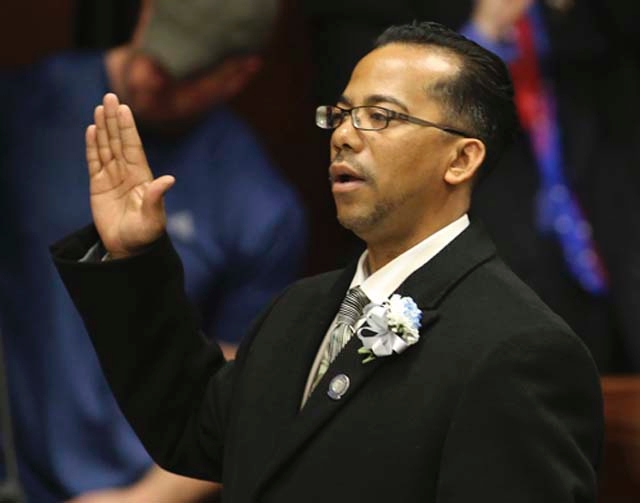 CARSON CITY — Las Vegas attorney Mark Ferrario has been picked as the independent counsel to investigate troubled lawmaker Steven Brooks and report on whether he is fit for office, Assembly Majority Leader William Horne said Tuesday.
Horne, D-Las Vegas, made the announcement after meeting with other members of the seven-member Assembly Select Committee to discuss the independent counsel appointment, which will be presented to the Republican and Democratic lawmakers in caucus meetings today.
Horne said he will ask his Democratic colleagues to cooperate with the investigator. Brooks is a Democrat.
Details of Ferrario's contract, including the cost, have not been disclosed.
Ferrario, with the firm of Greenberg Taurig, has focused his practice on complex civil litigation and is an experienced trial attorney.
Horne, who is chairman of the Select Committee, said he would like the Brooks matter resolved in the next 2½ weeks. If the Brooks matter is not resolved before legislative deadlines for passage of bills between the two houses occur, it would be a nightmare, he said.
Horne said an investigator with an FBI background will be hired to help Ferrario in preparing the information on Brooks to present to the panel. Horne said he did not know the investigator's name.
Once the committee makes its recommendation, it will be up to the full Assembly to vote on whether to remove Brooks from his seat. It would be an unprecedented action in Nevada.
Ferrario will be able to interview Brooks if the North Las Vegas lawmaker agrees to do so, Horne said.
"They are going to compile this data for us and present it to the Select Committee with an analysis of the information that is provided to us," he said. "At that time we will invite Mr. Brooks to participate in the process. He gets his due process rights on being able to answer, for lack of a better term, charges that we will be considering."
In a related development, both Assembly Speaker Marilyn Kirkpatrick and Horne acknowledged Tuesday that they have obtained temporary restraining orders against Brooks.
The orders came before Brooks tried to buy a gun at a Sparks sporting goods store Thursday.
The state Department of Public Safety on Monday denied Brooks the ability to buy a firearm from a licensed dealer for one year after a background check was completed.
Officials from the department refused to say why, citing confidentiality rules.
Horne said the order was prompted by heightened security concerns.
The order involves distance, not the possession of a weapon, and was obtained about Feb. 14, he said. Horne said he does not recall the precise distance involved in the order.
"Just from various reports there was a heightened concern for our safety and we were advised that it might be a good idea," Horne said.
Kirkpatrick, D-North Las Vegas, said the temporary restraining order she has does not address firearms.
"I don't believe it is a factor at all," in the decision to deny Brooks the ability to purchase a gun, she said.
Horne said the restraining orders will be waived so Brooks can attend the Select Committee hearings if he chooses to do so.
"A TPO is a restriction that has to be enforced," he said. "He'd have an invitation to come and participate. Obviously we're not going to ask him to be arrested when we invite him to come."
Brooks was banned from the Legislative Building after two recent arrests, including one on Jan. 19 involving allegations he threatened Kirkpatrick over his committee assignments. According to police, he had a gun in his car and dozens of rounds of ammunition.
Ferrario was named a 2009 "Mountain States Super Lawyer." During the course of his 28-year career, he served as lead counsel in numerous jury and bench trials and arbitrations as well as appeals in matters involving construction law, contract disputes, civil rights, election law and tort litigation.
Before joining the firm, Ferrario worked in the hotel-casino industry in several capacities, practicing law since 1981.
Contact Capital Bureau reporter Sean Whaley at swhaley@reviewjournal.com or 775-687-3900.