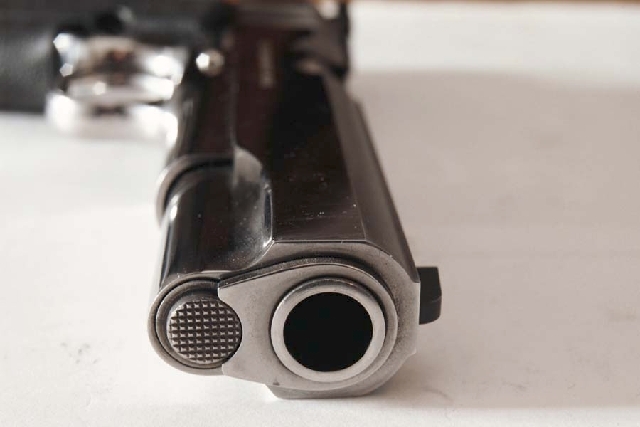 CARSON CITY — Nevada Parks Division employees violated a state law by purchasing 22 of their agency's 61 surplus weapons that were supposed to be forwarded to the weapons manufacturer as part of a trade for new staff weapons, a legislative audit has discovered.
The purchases were hidden from the state Purchasing Division by falsifying of records, the audit states.
The audit, released this week, shows that employees had submitted documents to the state Purchasing Division that weapons would be shipped to the manufacturer. But 22 weapons were purchased by staff members and the other 39 that should have been shipped to manufacturers were found by auditors unsecured in cardboard boxes in an office.
The circumvention of law was reported to management. State Parks Administrator David Morrow said in his official response that it resulted in "appropriate disciplinary action."
Eric Johnson, the deputy administrator, said Thursday the problem was caused by a single employee.
He would not disclose the punishment administered to the employee.
Johnson said the firearms were purchased by multiple employees. Traditionally surplus weapons are sold to employees, he said, but added that such a sale should have been administered by a third party not affiliated with the state. Steps have been taken to prevent a recurrence, he said.
The 61 firearms were supposed to have been traded for 37 new pistols. State law forbids selling surplus property to state employees. While the employees paid $4,500 for the 22 weapons, the auditors found many of their checks never were cashed.
Auditors also discovered that in the parks division's annual inventory of equipment and property, the 39 weapons in the cardboard boxes were not reported.
Johnson said the weapons should have been placed in a secured place. He added he did not know the weapons were in cardboard boxes.
He said no one tried to hide what happened from administrators, but it was not properly reported to the Purchasing Division.
"Purchasing did not know about the sale," said Johnson, adding the employee who worked on the inventory was not aware that the 37 weapons should have been listed on the inventory list. He added the check problem was resolved and the checks properly deposited.
Auditors also reported that the parks division did not have appropriate control over sales at retail outlets at the Valley of Fire, Spring Mountain Ranch and Sand Harbor state parks.
Valley of Parks' total sales were short by more than $3,000 in one quarter, Sand Harbor lost $7,000 in unbilled concession fees during its Tahoe Shakespeare Festival, and Spring Mountain Ranch did not receive required consumer price index increases from the concessionaire for four years.
State parks officials had told legislators in 2011 that the sale by retail outlets and venders would generate $629,000 but those sales during the 2012 fiscal year actually brought in $228,000.
Spring Mountain Ranch received $7,752 in sales, compared to the projected $42,921, while Valley of Fire brought in $202,128, not the projected $382,000.
Much of the problems, staff members told auditors, was due to software and vending machine problems and the transfer of retail sales operations from nonprofit groups to state employees.
The auditors also said merchandise inventory counts were conducted unsupervised at Sand Harbor by a seasonal employee and that employee's family member. Procedures require two supervisory employees to make these counts.
In his response to the audit, Morrow said neither the seasonal employee nor the retail storekeeper "understood the need to have at least two people present during an inventory. There is no evidence of wrongdoing, but it was clearly a breach of inventory controls."
Contact Capital Bureau Chief Ed Vogel at evogel@reviewjournal.com or 775-687-3901.