Bernie Sanders wins Nevada caucuses, takes national lead
Updated February 22, 2020 - 10:46 pm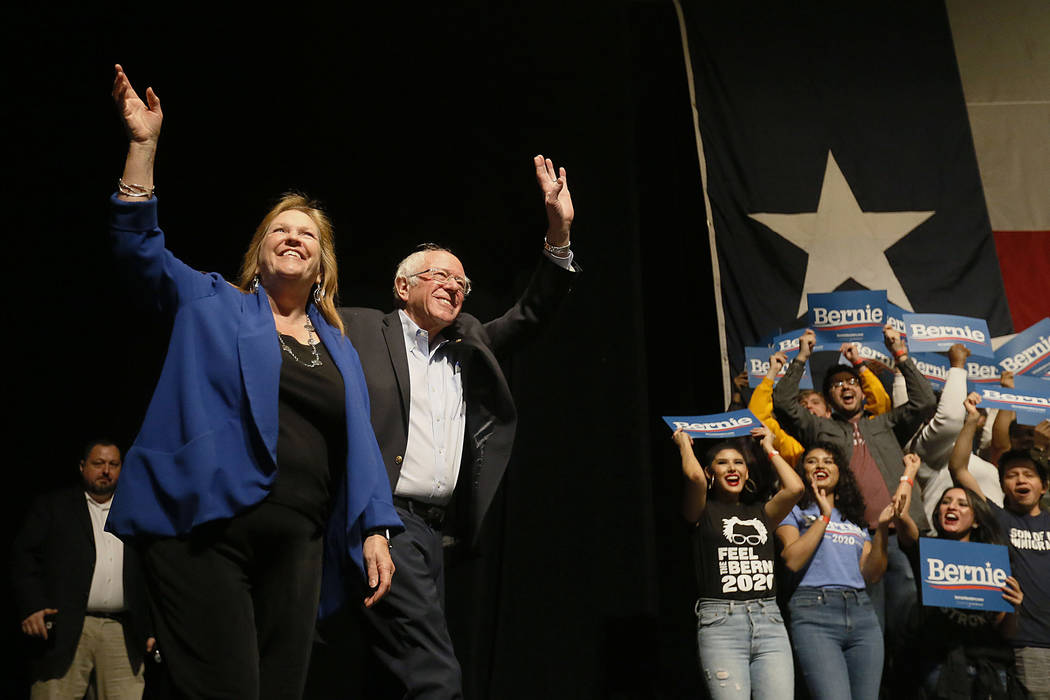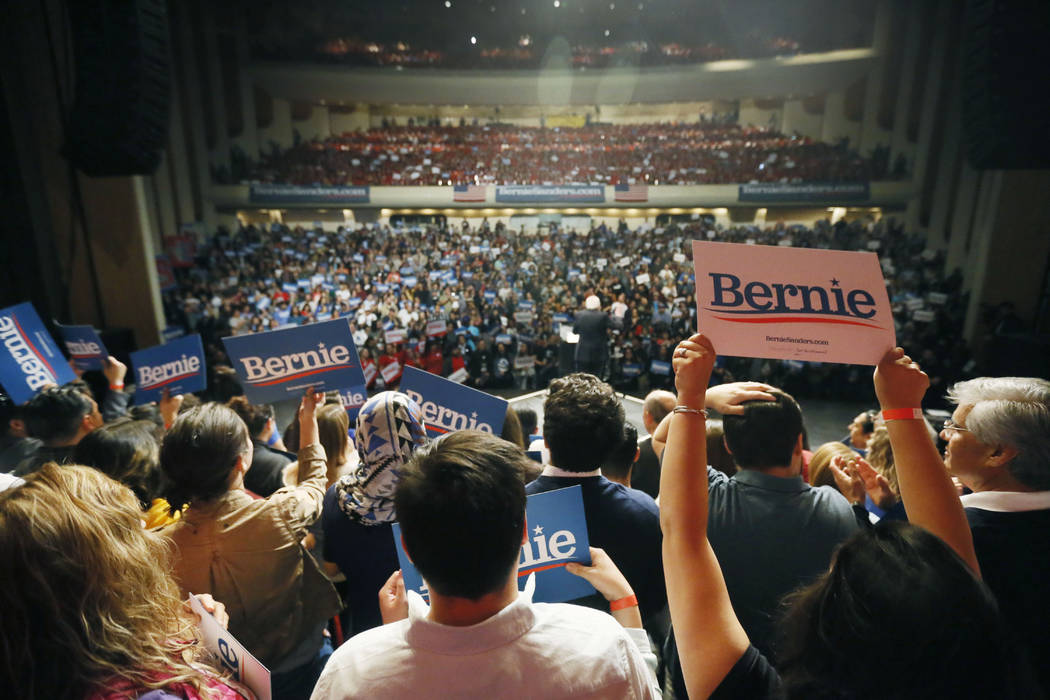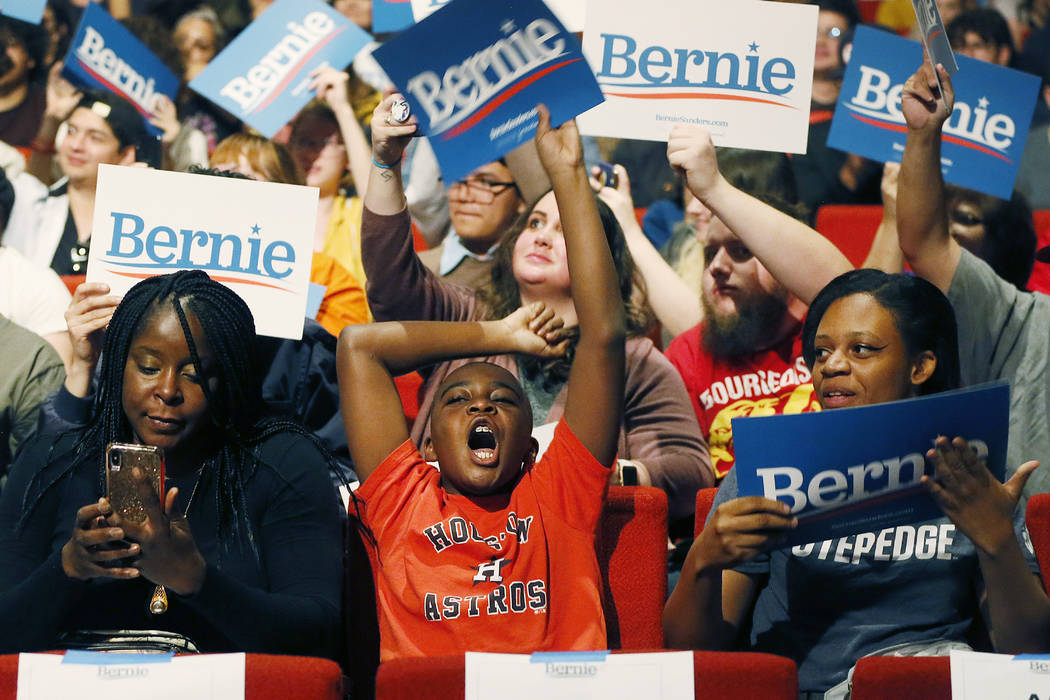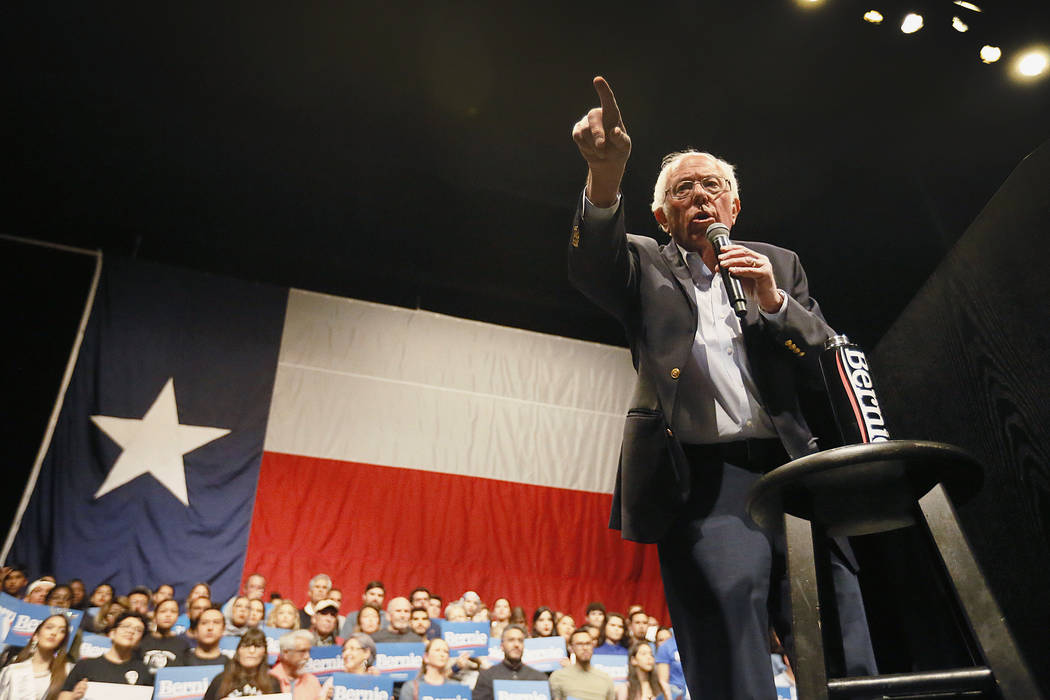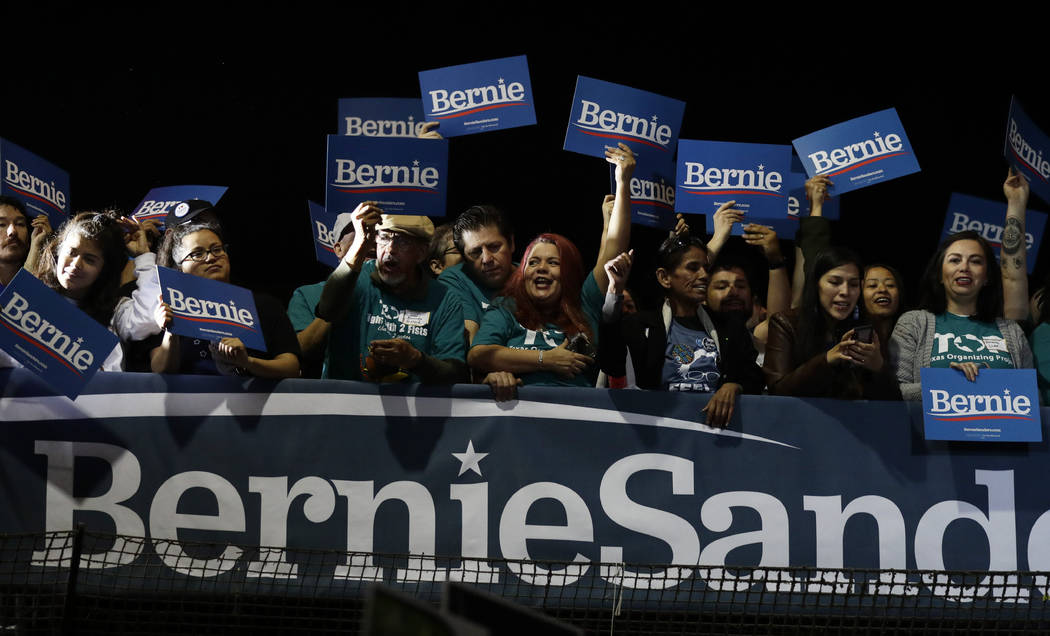 Vermont Sen. Bernie Sanders cruised to a commanding victory Saturday in the Nevada Democratic caucuses, cementing his status as the front-runner for the Democratic presidential nomination heading into next week's primary in South Carolina.
As the liberal Sanders surged, the race to determine his moderate alternative became even more muddled, with the campaigns of former Vice President Joe Biden and former South Bend, Indiana, Mayor Pete Buttigieg each claiming second place and a moral victory.
Sen. Elizabeth Warren was running fourth, followed by Minnesota Sen. Amy Klobuchar and businessman Tom Steyer.
With 60 percent of precincts reporting as of 9:30 a.m. Sunday, the results, according to The Associated Press, were: Sanders (46 percent of delegate equivalents), Biden (20 percent), Buttigieg (15 percent), Warren (10 percent), Klobuchar (5 percent) and Steyer (4 percent).
The Associated Press and other major news networks called the race before 5 p.m. for Sanders, who held a large lead despite only a small fraction of results having been reported by the Nevada State Democratic Party.
Party adviser Jon Summers said the slow trickle of results was due to the party's quality control measures and not because of any problems at caucus sites.
All results must be phoned in by a caucus leader, who also must text in a photo of the final caucus sheet. That physical caucus sheet then must be delivered to the party and checked against the other two sets of results. All the results posted have gone through this process, Summers said.
Summers said the party had 200 operators taking calls on the hotline, which initially experienced delays as more than a thousand caucuses reported.
There was no timetable for final results, Summers said.
Most caucuses throughout the Las Vegas Valley appeared to run smoothly Saturday. The rare exceptions included Desert Oasis High School, which started its caucuses 90 minutes behind schedule because of the late arrival of a packet of early voting materials.
Sanders victory
During a Saturday evening rally from San Antonio, Sanders cited the early results from news media to declare victory.
"Let me thank the people of Nevada for their support," Sanders said. "In Nevada, we have just put together a multigenerational, multiracial coalition which is not only going to win in Nevada, it's going to sweep this country."
Sanders narrowly lost Nevada to former Secretary of State Hillary Clinton in the 2016 Democratic caucuses. In the years since, he has worked to make inroads with Latino voters in Nevada and throughout the country.
By February, Sanders had deployed more than 200 staff members and recruited more than 1,000 volunteers for the final push into Nevada. His team put a considerable focus on east Las Vegas, which has a high Latino population.
Sanders coupled his resource advantage with momentum from strong showings in Iowa and New Hampshire to vault past Biden in recent polls. The former vice president had led nearly all polls since before becoming an official candidate in April.
President Donald Trump tweeted a congratulations of sorts for Sanders.
"Looks like Crazy Bernie is doing well in the great state of Nevada," Trump said. "Biden and the rest look weak, and no way Mini Mike (former New York City Mayor Michael Bloomberg) can restart his campaign after the worst debate performance in the history of presidential debates. Congratulations Bernie, and don't let them take it away from you."
Biden the runner-up?
For Biden, Nevada represented a proving ground for his strength with union workers and black and Latino voters. For months, top surrogates earmarked the state as one in which Biden's presidential bid would take off.
His campaign downplayed sluggish finishes in Iowa and New Hampshire, playing up the early states' lack of diversity. Nevada, Biden and his surrogates agreed, would be where his momentum returned.
As results continued to pour in, Biden addressed his supporters in the early evening from IBEW Local 357 in Las Vegas.
"Y'all did it for me," Biden said. "Now we're going on to South Carolina (to) win and take this back."
Although the race for second appears to be close, Biden's campaign said internal numbers showed him in a "strong second" place.
"I think we're in a position now to move on in a way that we haven't been until this moment," he said.
Buttigieg hits Sanders
Buttigieg addressed his supporters shortly after Biden at a watch party at Springs Preserve.
Although he opened by congratulating Sanders, Buttigieg used his speech as an attempt to paint Sanders as an extreme figure bent on revolution rather than bringing voters together.
He also marketed himself as "the only Democrat to beat Bernie" this year, a reference to his position in the Iowa caucuses, which have not been called by The Associated Press. Sanders captured the most votes in Iowa, but Buttigieg won the delegate war.
The odd caucus math that helped Buttigieg in Iowa may hurt him in Nevada. Although Biden held a delegate lead Saturday night, Buttigieg had received more votes.
Buttigieg's campaign also touted early internal figures that had him finishing second.
Warren brief
Warren congratulated Sanders to open a rally in Seattle. She briefly mentioned Nevada's results during her speech.
"Thank you for keeping me in the fight," she said to Nevadans.
Warren was the first campaign on the ground in Nevada, with staffers first arriving in January 2019. She had the support of several elected officials and Democratic National Committee members.
However, former 2020 challenger Julián Castro did more campaigning in Nevada on behalf of Warren in recent months than she did.
Steyer, Klobuchar still in it
Klobuchar was the first candidate to speak after results began to trickle in.
"As usual, I think we have exceeded expectations," Klobuchar said. "I always note a lot of people didn't think I would still be standing at this point."
Klobuchar campaigned far less in Nevada than her opponents and only recently hired a measurable staff.
In an email to supporters sent at 6:40 p.m. Saturday, Steyer doubled down on his candidacy, saying "I believe that we can win."
"We can't fix this broken system of government — a system that puts big corporations and Mar-a-Lago country club members ahead of working families — by putting someone in charge who's been at the center of that system for nearly 30 years," his email stated.
Steyer had campaigned harder in Nevada than anyone over the past two months, often choosing to skip Iowa and New Hampshire events in favor of owning the Silver State spotlight.
He also spent big, pouring $12 million into TV ads alone.
Turnout?
According to the party, about 75,000 Democrats caucused early from Feb. 15 to Tuesday. That included 10,000 new Democratic registrants. Nevada caucuses are closed, meaning all participants must be a registered member of the host party.
The party did not release an update on the number of voters who participated on caucus day, so it's unclear exactly what the final turnout was.
Contact Rory Appleton at RAppleton@reviewjournal.com or 702-383-0276. Follow @RoryDoesPhonics on Twitter.