Big test for Nevada's conservatives still to come in Assembly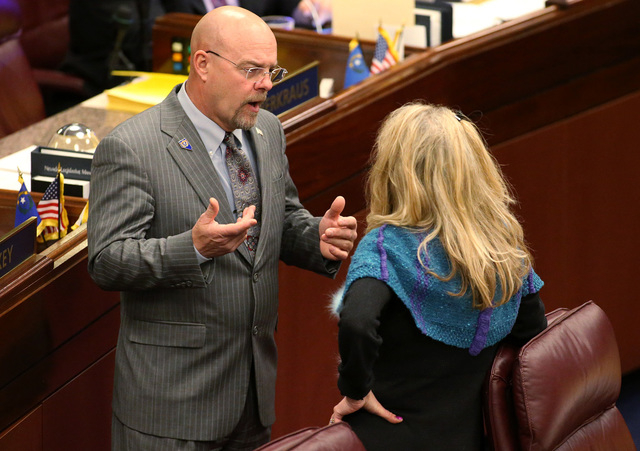 CARSON CITY — From campus carry to parental notification for minors seeking abortions, the ultraconservative element of the Nevada GOP Assembly caucus is taking advantage of its newfound power to set policy in the 2015 session.
With support also from more moderate members of the 25-member caucus, bills exempting school construction from the prevailing wage, reforming construction defect law and pushing forward with changes to collective bargaining statutes have all made headway this session, the first since 1929 with Republicans in control of both the Legislature and the governor's office.
GOP Gov. Brian Sandoval already has signed several bills into law.
But a subset of about a dozen very conservative Republican Assembly members, led by Jim Wheeler, R-Gardnerville, and Ira Hansen, R-Sparks, are seeking what critics say are more extreme policy changes, such as a measure that would prohibit transgender public school students from using a restroom other than that designated for their gender on their birth certificates.
Assemblywoman Michele Fiore's controversial campus carry bill, which would allow concealed- weapons permit holders to take their guns onto college campuses, has also generated a huge wave of opposition but stands a good chance of reaching Sandoval's desk.
The overall success of the conservative Assembly members' agenda has yet to be determined with less than 50 days remaining in the session.
The big test — on whether the moderate Sandoval can win support for a $7.3 billion general fund budget that requires $1.1 billion in new or extended taxes — has yet to come.
CONSERVATIVE EFFORTS
Hansen, the Judiciary Committee chairman, resurrected the school restroom and parental notification bills after it appeared they would not get hearings. They were both heard April 10, the deadline for committee passage, and were passed out on party-line votes the same day in a contentious hearing.
"I'm getting beat up for it, but I did the right thing," he said of hearing the bills. "We're going forward with them come hell or high water."
Polls show strong support for the parental notification law, for example, Hansen said.
"There was a universal agreement amongst our party, and all of a sudden we get some cold feet," he said of the measures.
Parental notification passed the Assembly Friday on a party-line 24-17 vote.
The restroom gender bill is controversial but only because opponents have blown it out of proportion, Hansen said.
"I didn't realize when I was growing up that I was a horrible segregationist because boys went to the boys bathroom and girls went to the girls bathroom. We want to maintain that," he said. "It has nothing to do with the other issues opponents were bringing up."
The measure will come to the full Assembly for a vote this week.
Hansen said he would have gladly heard the religious freedom bill that would have prevented the state from interfering with a person's exercise of religion. The bill was dropped by Assemblyman Erv Nelson, R-Las Vegas, because of the potential consequences to Nevada's gaming and tourism industry if the bill was passed, as has happened elsewhere, including Indiana.
Hansen acknowledged that taxes will be the big issue for conservative Assembly Republicans.
"We'll have some very big debates on how big the budget should be and what taxes we will or won't raise," Hansen said.
Assemblyman Elliot Anderson, D-Las Vegas, a Judiciary Committee member, said conservative Republicans have surely made an impact this session. Whether it will be a long-lasting difference remains to be seen, he said.
"They have certainly made their voice heard and their presence heard for better or for worse," Anderson said. "I think it is a reminder for those who fall more on my side of the aisle … that if you don't vote there are consequences."
PLAN SEES BENEFITS
Stacey Shinn, a lobbyist for the Progressive Leadership Alliance of Nevada, a coalition of labor and social groups, is on the other side in most of the debates on the conservative bills making their way through the Legislature this session.
But she sees some benefits from the "extreme perspectives" being given a voice in the 2015 session.
"A lot of what's being proposed doesn't align with the people and our communities, and I think that's something they are going to remember in 2016," Shinn said. "We haven't seen a Republican-controlled Legislature with a Republican governor in ages. So now seeing what actually happens when they have control is going to show voters what their agendas really are."
Despite the divergent views, there are some issues where agreement can be found, such as opposition to further incarceration, she said. The alliance opposes it from a racial justice and humanist perspective, while many conservatives are concerned about the fiscal implications, Shinn said.
But the combativeness and contentiousness of many of the hearings on these conservative measures, from rolling back union and voting rights and women's reproductive rights, are bringing more focus to Nevada nationally, she said.
"Because of the drama in Carson City, people are paying more attention and it may engage more voters than we had in 2014," Shinn said. "But a lot remains to be seen yet this session."
MUTH WANTS MORE
Conservative political activist Chuck Muth, president of Citizen Outreach, said he is disappointed that Republicans have not pushed an even stronger conservative agenda since gaining full control of the process in the surprising Nov. 4 general election.
Part of the reason is the fractured Assembly GOP caucus, where there aren't even two clear camps of conservatives and more moderate members, he said. There are fractures within the conservative group, too.
"There is no real unity; there isn't a strong leader at all," he said. "There is a lot of hostility. So if they get anything out of this, they are going to be lucky."
There will be some accomplishments when the session is said and done, but Muth pointed to the school choice bill signed into law last week by Sandoval as a halfhearted effort.
The new law will give businesses tax credits for donating to a fund to provide scholarships to low-income students to attend private schools, including religious schools.
The new program is very modest, he said.
"It's better than nothing," Muth said. "But they should have done more. They went for the bare minimum on school choice. It was not a bold school choice bill.
"It's nowhere near what it could be, or should be, having this majority for the first time, and maybe the last time, in a long time," he said.
Muth, an avowed anti-tax activist, said there are at least a dozen votes in the GOP caucus against Sandoval's proposed business license fee that would raise about $250 million a year to fund his ambitious public education programs.
But there have been claims that as many as 20 members of the caucus are opposed, he said. If true, the caucus should have publicized that fact early in the session to force Sandoval back to the drawing board.
"The longer they wait to declare that they have the 15 votes against it, the stronger the governor's hand is because everybody is going to pressure them to get out of here and not have a special session," Muth said.
"There are just a lot of missed opportunities here," he said. "Our team is lousy at messaging."
CAUCUS CALLED UNIFIED
Wheeler, the caucus majority whip and Transportation Committee chairman, said the caucus is more unified than some observers suggest. Even bills that may have come from more conservative members are winning support in floor votes from the entire group, he said.
"These are Republican principles we're voting on," Wheeler said. "And in November, Republican principles won the day."
The parental notification bill, for example, ended up getting a hearing based on a caucus decision, he said.
"Everyone says this caucus is split," Wheeler said. "The fact is we got prevailing wage passed. We got construction defect. We just got three gun bills through just (Wednesday). This caucus is together."
There is a split on taxes, he acknowledged. But that, too, will be worked out in time, Wheeler said.
"I'm sure we're going to have some lively discussions," he said of the tax debate. "But when we're done I think we'll have a consensus."
Contact Sean Whaley at swhaley@reviewjournal.com or 775-687-3900. Follow @seanw801 on Twitter.

RELATED STORIES
Nevada 'tough-on-crime' bills could force Jean prison to reopen
Reno Assemblyman Randy Kirner loses cop association support
NLV mayor backs bankruptcy power for cities, counties
Nevada Senate approves minimum wage increase bill
Nevada legislators urged to restart cloud seeding amid drought
Bill to boost maximum speed limit to 80 mph advances
Court papers show legislative extortion probe includes alleged wiretap, false political finance reports
See all of our coverage: 2015 Nevada Legislature.