Bill attempts to loosen DUI law for medical marijuana users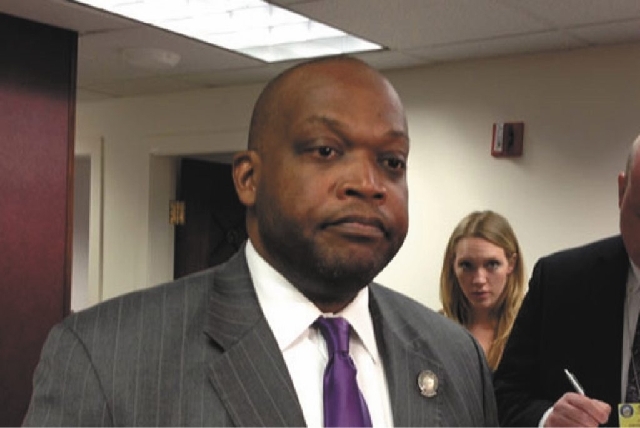 CARSON CITY — Las Vegas police and prosecutors testified against a bill Tuesday that would allow medical marijuana users to drive and not be prosecuted for impaired driving just because they have some marijuana in their blood.
For them to be successfully prosecuted, it would have to be legally determined that they were impaired.
"Marijuana is a very dangerous substance that affects users in different ways," said Brian Rutledge, a deputy district attorney in Clark County who prosecutes drivers high on marijuana who kill people. "Some effects wear off in one to three hours. Some six hours. Studies show chronic users can be impaired for days."
Rutledge said one of the vehicular homicide cases he is handling involves a man suspected of driving while marijuana-impaired when his vehicle ran into a bus stop on Spring Mountain Road near Decatur Boulevard, killing four people.
Gary Lee Hosey Jr., 23, struck the bus stop on Sept. 17. His case has not gone to trial yet.
Sgt. Todd Ray Buck of the Metropolitan Police Department said it is important to keep the current law on determining when a marijuana user is high because police often cannot detect it in the field.
"There is no proper dose or anything that says what a safe dose is before driving," Buck told members of the Senate Health and Human Services Committee.
Under state law, marijuana users are considered high, or driving under the influence, if they have 2 nanograms of marijuana per milliliter in their blood.
Colorado legislators decided Tuesday that 5 nanograms of marijuana per milliliter would be considered driving while drunk or high. State voters there legalized marijuana for all adults, not just medical marijuana patients, in November.
The Nevada committee on Tuesday took no action on Assembly Bill 351, which passed the Assembly 31-8. All eight opponents in the lower house were Republicans.
The bill's sponsor, Assembly Majority Leader William Horne, D-Las Vegas, said his bill would not stop the prosecution of medical marijuana patients driving high on marijuana but end the legal assumption they are driving impaired because they have more than 2 nanograms of marijuana per milliliter in their blood. The bill only would apply to Nevada's legal medical marijuana users, which number 3,400.
He said that under the bill, police and prosecutors would "have to work a little harder" to prove the medical marijuana card holder was driving high.
Horne noted that users of prescription drugs drive vehicles and they don't have a "per se" level such as 2 nanograms that legally indicates they are impaired. Police must show their driving was impaired, and the same standard should apply to medical marijuana users, he said.
"No one here is trying to remove responsibility if you are driving impaired," Horne said.
He also said Rutledge testified in the Assembly that in four of the five vehicular homicide cases he was handling that marijuana was one of the "components," not the sole factor that caused erratic driving.
Police said Horsey tested above the 0.08 percent blood-alcohol legal limit right after the accident, but below that level in subsequent tests.
Four parents testified against the bill Tuesday. They said their children were killed in accidents in which the other driver was high on marijuana. One said letting people drive with marijuana in their blood was a "license to kill."
Contact Capital Bureau Chief Ed Vogel at evogel@reviewjournal.com or 775-687-3901.