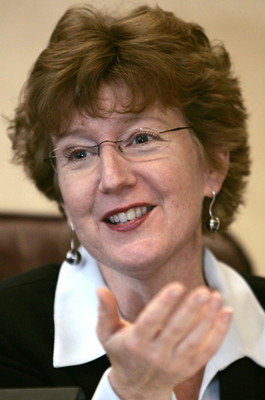 CARSON CITY — Assembly Speaker Barbara Buckley on Monday rebuked Gov. Jim Gibbons by introducing legislation that would require Nevada to accept federal stimulus funds for the unemployed.
Buckley, D-Las Vegas, said it would be "unconscionable" for the state to reject as much as $277 million in federal funds, money that would extend unemployment benefits for as long as 79 weeks for laid-off workers while providing benefits for about 4,000 who now do not qualify.
Roughly 96,000 people are receiving unemployment benefits in Nevada, which has a 9.4 percent unemployment rate.
The federal funding would increase unemployment checks, which average $300 a week, by $25 a week through 2010.
Gibbons in recent weeks has questioned whether Nevada should take the money. By accepting it, he expects that Nevada would be bound to continue paying greater benefits to greater numbers of people even after the stimulus money has run out.
"It is totally unacceptable," said Gibbons when told of Buckley's move. "The people (of Nevada) will have to pay for this change forever."
But Buckley, who is expected to run against Gibbons in the 2010 gubernatorial race, said the stimulus funds would not be exhausted for at least eight years. Eventually, the economy will recover, more employees will be hired by companies, and the program will pay for itself, she continued.
Gibbons questioned Buckley's assertion that the Legislature down the line could review whether to keep paying funds once the stimulus dollars are exhausted.
"The federal law is very clear," he said. "By doing this, we would divest our control over unemployment to the federal government."
Mae Worthey, the spokeswoman for the state Employment Security Division, said that $200 million of the $277 million would be a one-time payment to cover all costs the state might pay this year in giving 13 weeks of extended benefits to laid off workers.
Currently, the federal government covers 50 percent of the costs. If the money is accepted, then workers now qualifying for 72 weeks of payments would receive them for an additional seven weeks.
The other $77 million would provide benefits to 2,700 to 5,400 workers now ineligible for them, according to the Employment Security Division.
To secure the money, Worthey said, there can be "no sunset provision," a provision that the state could terminate enrolling such types of workers in the future.
Daniel Burns, Gibbons' communication director, said as he understands it, if Nevada accepts the $77 million, then the state forever would have to pay unemployment benefits to laid-off, part-time and occasional workers who do not qualify for them now.
Legislators who want to take the money first should consider that they might be raising the unemployment tax rate in the future for employers, he added.
As it is, state Employment Security Division officials have said they might need to secure a federal loan to continue paying benefits because the state trust fund could be exhausted by the end of the year. Its deficit is expected to be $750 million by the end of 2010.
Under a section of the stimulus law, legislatures can overrule decisions of governors not to accept the stimulus funds. They have to pass a resolution to accept the money. Resolutions do not require the signature of the governor. Democrats control both houses of the Nevada Legislature.
But they would have to pass a law to spend the stimulus money.
Assemblyman Marcus Conklin, D-Las Vegas, said that because of the "economic multiplier" effect, the money could generate about $600 million in new spending in Nevada.
"I don't want to read about our economic growth being left on the table," he said.
"When money is put in the hands of individuals, they spend it," Buckley added.
Contact Capital Bureau Chief Ed Vogel at evogel@reviewjournal.com or 775-687-3901.