Cab users alert: Buckling up might mean more than safety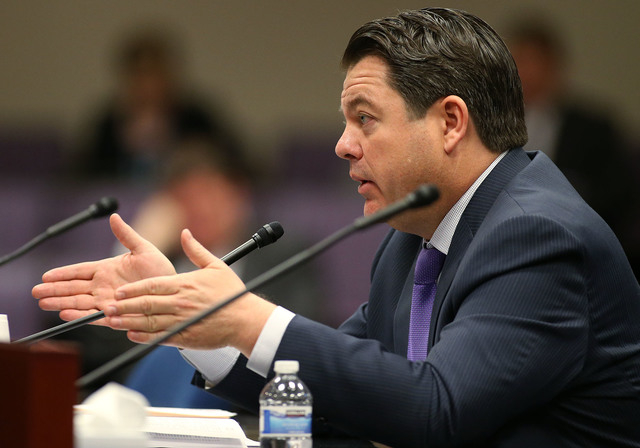 Slip into the backseat of a cab, and you're probably focused on getting to an airport or a night on the town. You might buckle up, but then again you might not.
If an insurance industry-friendly bill survives the waning days of the Legislature, you will be putting more than your safety at risk by failing to wear a seat belt. If you're injured in an accident, you could be considered legally negligent.
Current law already requires taxi passengers to wear a seat belt, but violating that statute can't be considered negligence in a civil case. SB304, forwarded by Senate Majority Leader Michael Roberson, no doubt with input from his insurance lobbyist pal Bob Compan of Farmers, makes simple but substantive changes in the law.
As the Legislative Counsel Bureau summarized, "This bill removes the preceding legal limitations and expressly allows a violation of the requirement to wear a safety belt while riding in a taxicab to be considered for those purposes."
Cab companies post signs reminding passengers to buckle up. Let's hope they make additions to those signs informing their riders they're essentially on their own if they forget to buckle up.
On its face, SB304 is no scandal, but it is a sign the power has shifted in Carson City. And it's just one of many bills benefiting the state's insurance industry that Roberson has been a primary sponsor of this session. The Republican Party's rising star at the Legislature is a partner at Kolesar &Leathem, which lists as one of its specialties insurance defense and insurance law.
Roberson appears to be writing plenty of that law himself.
MEMORIES OF B.B.: Lucille has gone silent, but the love goes on.
The recent death of blues guitar legend and proud Las Vegan B.B. King has kindled memories and stoked admiration for the man who created such great music. On May 15, The Fremont Street Experience light show featured a celebration of King's life.
Among many locals weighing in is music aficionado Ed Chapman, who observes, "Mr. King never separated himself from Lucille and his audience. Maybe that's the 'it.' The three entities became one when he sat down and picked up that guitar. That's something that cannot be taught or learned. Some musicians have 'it' part of the time. Mr. King had it all of the time. That's the genius.
"He is already missed. I am grateful for YouTube and the plastic discs."
CHANGE OF THE GUARDIAN: Former Las Vegas City councilman and prolific pain in the neck Steve Miller continues to pound away at controversies inside the local guardian's office. The mainstream press has picked up on it, and it is now on the radar of the Clark County Commission.
ON THE BOULEVARD: Adam Burke has parted company as news director at public radio station KNPR. … Derek Stevens of The D Las Vegas has scheduled another "Knockout Night at The D" boxing show on Fremont Street for tonight. The pugilism party starts at 6:30 p.m. and features fisticuffs between Richard Commey and "Baha" Mamadjonov. … Former Las Vegas mayor and mob lawyer Oscar Goodman, who once said there was no mob, is set to give a "Courtroom Conversations" talk at 7 p.m. Thursday at the Mob Museum titled "Oscar's Case of the Century: The Life and Crimes of Jimmy Chagra." Goodman provided defense for Chagra, a drug trafficker also accused of plotting to kill a federal judge. … Those feeling a little more patriotic may want to attend Monday's Memorial Day ceremony at the Southern Nevada Veterans Memorial Cemetery. The event is scheduled to start at 1 p.m.
Have an item for the Bard of the Boulevard? Email comments and contributions to Smith@reviewjournal.com or call 702-383-0295. Find him on Twitter: @jlnevadasmith