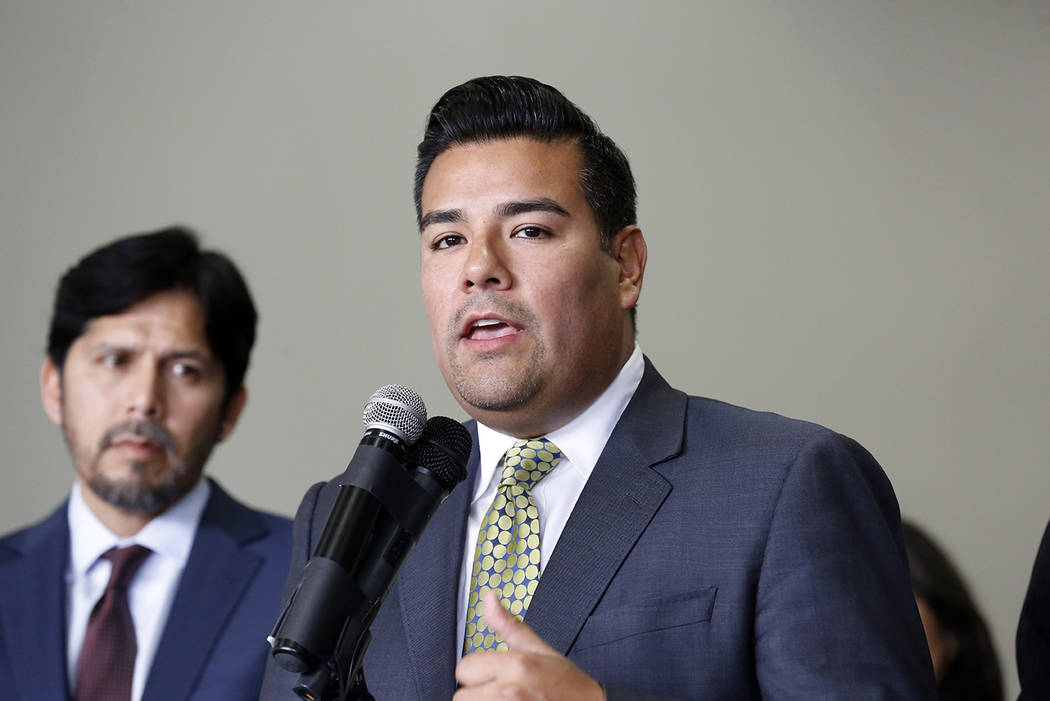 WASHINGTON — California lawmakers are considering legislation to make the Golden State's 2020 presidential primary the third in the nation after Iowa and New Hampshire, cutting in ahead of Nevada's February caucuses.
On Tuesday, a California Senate committee will consider a measure that sets the third Tuesday in March as the date of the primary, but gives the governor the authority to move it up if needed.
"The intent of our bill is to put California in the top tier of states rather than the last," explained Michael Soller, spokesman for the measure's author, Democratic state Sen. Ricardo Lara.
"California is the largest, most diverse state in the nation with one of the largest economies in the world," Lara said in a statement. "Yet Californians' voices are silenced when it comes to choosing presidential nominees."
In 2016 and 2012, California's primary was held in June.
Nevada Republican Party chairman Michael McDonald said that both parties have tried "to jump Nevada in the primaries," but "we deserve to be the first in the West."
That sentiment was echoed by Nevada State Democratic Party spokesman Stewart Boss, who said, "We're committed to ensuring Nevada maintains its important First in the West early-state status while opening up the door for more voters to get involved and participate in the next presidential cycle."
The Democratic and Republican National Committees could try to prevent California from holding a primary before Nevada, but University of Nevada Las Vegas political science professor David Damore isn't certain that would happen.
"It would be hard to say no to the biggest state that generates the most revenue," he said. As for Nevada, "Obviously, it would hurt us," Damore said. "There are so few delegates at stake here."
An early California primary could change the tone of the 2020 election nationwide. The Golden State long has been known as an ATM for candidates who raise money but rarely talk to California voters. An early primary would help big-name and establishment candidates who could afford to buy ads in the state's huge media markets.
"You can't do door to door there," said Damore. "It's too big."
An early California primary also could tilt the Democratic primary further to the left. Every elected statewide officeholder in California is a Democrat; voters have given Democrats in the state Assembly and Senate veto-proof majorities; and Democrat Hillary Clinton beat Republican Donald Trump by close to four million votes.
Nevadans have sent Republicans and Democrats to Washington and Carson City. One U.S. senator, Dean Heller, is a Republican; the other, Catherine Cortez Masto, is a Democrat. Gov. Brian Sandoval is a Republican; the state Assembly and Senate are both controlled by Democrats; and Clinton narrowly won Nevada's six electoral college votes with 48 percent of the state's vote.
"Obviously, Nevada's much more of a swing state," said Damore. The Golden State has similar demographics to the Silver State, but "we're a much better barometer."
The 2016 election was just the second time since 1912 that Nevada did not go with the winner. (In 1976, Republican Gerald Ford beat Democrat Jimmy Carter in Nevada but lost the election.)
Bill Whalen, a senior fellow with the Hoover Institution fellow, sees Democratic hopefuls "buying into the California agenda" of higher gasoline taxes and letting more convicts out of jail. "If the idea is having your candidates connect with voters in November," said Whalen, supporters might want to rethink giving California more clout in the presidential primaries. "This is one of those times Nevadans may not realize it, but they need Harry Reid, because they need a Democrat with clout."
Contact Debra J. Saunders at dsaunders@reviewjournal.com or 202-662-7391. Follow @DebraJSaunders on Twitter.
2008 primaries
In 2008, California held a national primary in February and a state primary in June. The June contest led to the highestvoter turnout since 1980, but also forced Sacramento to pay for two primary ballots. The Lara bill would combine the twoprimaries.