Campaign 2018: Another poll has Heller-Rosen race in dead heat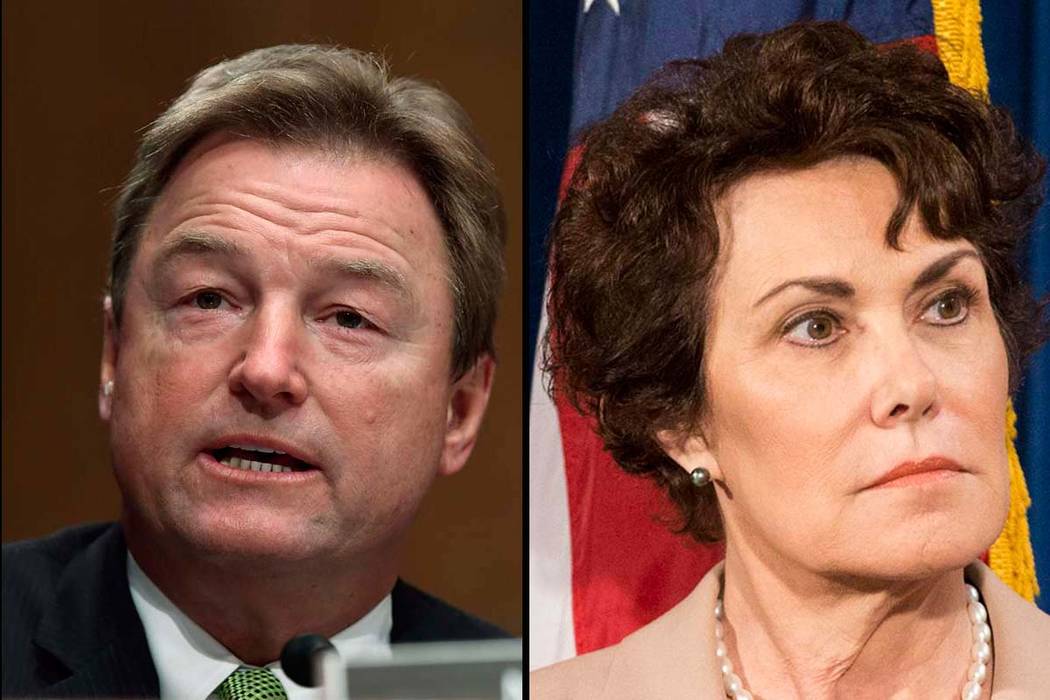 A poll released Wednesday has the race between Republican Sen. Dean Heller and Democratic U.S. Rep. Jacky Rosen in a dead heat.
The survey of 1,039 likely voters was conducted Sept. 7-17 by the research firm Ipsos on behalf of Reuters and the University of Virginia Center for Business Analytics. It found that 46 percent of likely voters support Heller, while 43 percent support Rosen, putting the two candidates in a statistical tie.
Ipsos said statistical margins of error are not applicable to these types of polls, but it does have a "credibility interval" of plus-or-minus 3.5 percentage points.
The poll, which asked questions of 465 Democrats, 444 Republicans and 99 independents, also revealed a tight governor's race. Republican Adam Laxalt led Democrat Steve Sisolak by a margin of 43 percent to 40 percent, also within the credibility interval.
Likely voters are also split on the most important issue Nevadans face. Health care and immigration were the two top choices, but voters said immigration is more important when it comes to casting a vote this November.
President Donald Trump's job performance is another topic dividing Nevada voters. Roughly 49 percent of voters said they approve of Trump's performance, while 49 percent said they do not.
The data found that 51 percent of likely voters said they would vote for a candidate who opposes Trump; 49 percent reported they would vote for a candidate who supports Trump.
Voter registration
Former first lady Michelle Obama is stopping in Las Vegas on Sunday as part of a national effort to boost voter registration.
The stop is part of a national week of action by the nonpartisan When We All Vote, an organization chaired by Obama, Tom Hanks, Lin-Manuel Miranda, Janelle Monáe, Chris Paul, Faith Hill and Tim McGraw that aims to increase engagement in American politics.
The week begins Saturday with events in Baltimore, Houston and New York and concludes Sept. 28 in Miami.
The Las Vegas event is from 4 to 6 p.m. Sunday at Chaparral High School, 3850 Annie Oakley Drive. Sign up to attend at www.whenweallvote.org/events.
News and notes
■ Former U.S. Attorney General Eric Holder endorsed state Senate Majority Leader Aaron Ford in his run for Nevada attorney general. Holder previously endorsed Sisolak and Congressional District 4 candidate Steven Horsford.
■ The campaign for Question 6, which would guarantee 50 percent renewable energy on Nevada's electric grid by 2030, launched its first TV ad. It will run through Nov. 6.
■ Republican Assembly District 15 candidate Stan Vaughan announced endorsements from state Sen. Don Gustavson, Controller Ron Knecht, Independent American Party Chairman Joel Hansen, political consultant Chuck Muth and Randy Mackie of the Nevada Firearms Coalition PAC.
■ Rosen released a TV ad this week responding to Heller's challenging her to "stack" his health care record against hers. In the new ad, Rosen says she voted against the Republican health care plan and Heller "broke" his promise.
Contact Ramona Giwargis at rgiwargis@reviewjournal.com or 702-380-4538. Follow @RamonaGiwargis on Twitter. Contact Colton Lochhead at clochhead@reviewjournal.com. Follow @ColtonLochhead on Twitter.