Campaign 2018: Big ad buys looming on heels of Nevada primary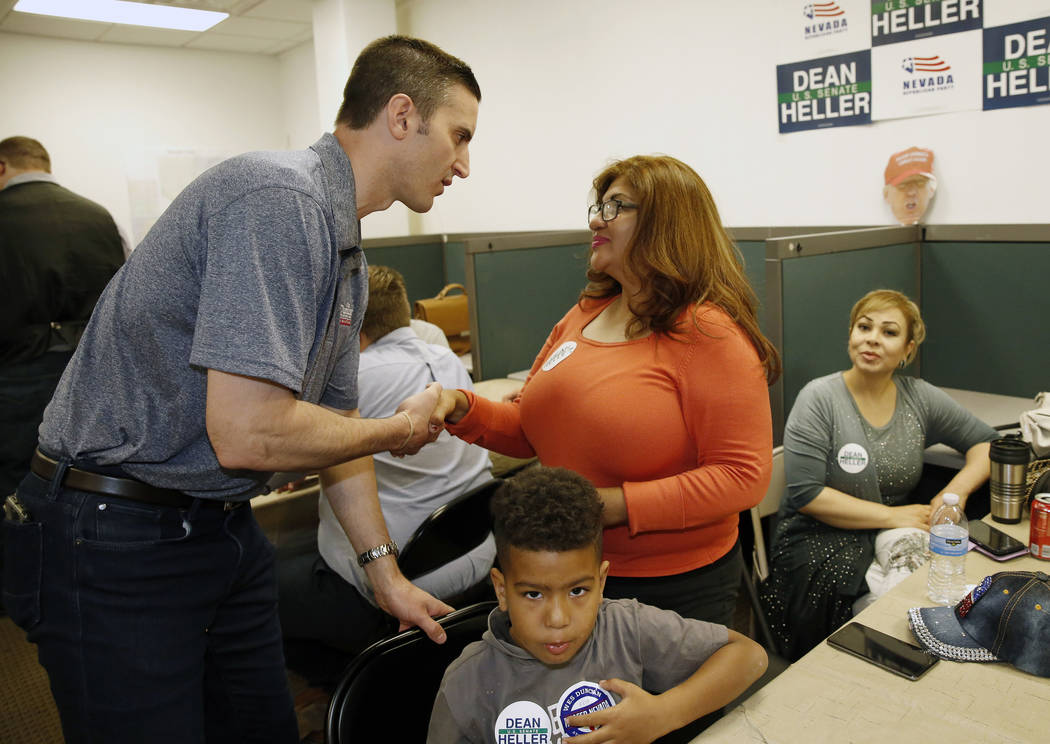 Nevada's primary election wasn't 24 hours old when political groups announced big ad buys for the November ballot.
The Republican Attorneys General Association will pour $1.4 million into TV ads in Nevada supporting GOP nominee Wes Duncan. Officials said securing Duncan's victory over Democratic challenger Aaron Ford is a priority, especially because many Republican attorneys general across the country are term-limited or running for other offices.
Duncan won Tuesday's GOP primary for Nevada attorney general on Tuesday with nearly 60 percent of the vote. Ford coasted to victory with 68 percent of the vote.
"Wes Duncan is a proven leader with the experience to keep Nevadans safe," said RAGA chairwoman and Arkansas Attorney General Leslie Rutledge, pointing to his experience in the Air Force. "He is the only candidate in the race with the experience to do the job. His 'Safer Nevada' tour puts mental health issues front and center — a key focus for Wes to get ahead of crime."
RAGA has continued to break fundraising records, officials said, including $21 million raised through March. That's $8.5 million more than the group had raised at this point in the 2014 election cycle.
Question 3
Breaking up with NV Energy — Nevada's largest energy provider — is the theme of new TV ads sponsored by the Nevadans for Affordable, Clean Energy Choices PAC, a statewide coalition supporting Question 3.
The November ballot measure, called the Energy Choice Initiative, asks voters to support a constitutional amendment to open the state's energy market. The 30-second ad features a breakup conversation with NV Energy and encourages Nevadans to support the initiative.
"I don't want to have to have this talk with you," one woman begins.
"It's not us. It's you," another man chimes in.
Others tell the energy giant that it takes its customers for granted, continually raises rates and treats rate-payers like an ATM machine. The ad ends with the announcer telling viewers that "competition means lower rates" and urges them to vote yes on Question 3.
Las Vegas Sands has been one of the biggest donors to Nevadans for Affordable, Clean Energy Choices, giving the organization more than $9 million this year.
Trump congratulates Tarkanian
President Donald Trump, who nudged Republican businessman Danny Tarkanian to drop out of the U.S. Senate race and instead run for Congress, tweeted a congratulatory note to Tarkanian on Wednesday.
"Congratulations to Danny Tarkanian on his big GOP primary win in Nevada," the president tweeted. "Danny worked hard an got a great result. Looking good in November!"
Tarkanian, who credited his friend Victoria Seaman for dropping out of the Congressional District 3 race and clearing the way for his primary win, swiftly thanked the president.
"Thank you, Mr. President! We are fighting hard to win in November because we know that #AmericaFirst STRENGTHENS our communities, our state and our country!! #NV03," Tarkanian tweeted back.
Tarkanian won 44 percent of the vote Tuesday. He will face off against Democrat Susie Lee, who won her primary with nearly 67 percent of the vote.
Voter turnout
Voter turnout for Nevada's primary election was 19.9 percent statewide, according to figures released by the Nevada secretary of state. That is slightly higher than the 18.5 percent in the 2016 primary and 19.3 percent in the 2014 primary.
About 287,273 total ballots were cast statewide, including 106,980 ballots on election day. Clark County's turnout was 18.7 percent while Washoe County's was 20.8 percent.
Democrats made up 46 percent of the total ballots cast and Republicans constituted 42 percent.
The Review-Journal is owned by the family of Las Vegas Sands Corp. Chairman and CEO Sheldon Adelson.
Contact Ramona Giwargis at rgiwargis@reviewjournal.com or 702-380-4538. Follow @RamonaGiwargis on Twitter.