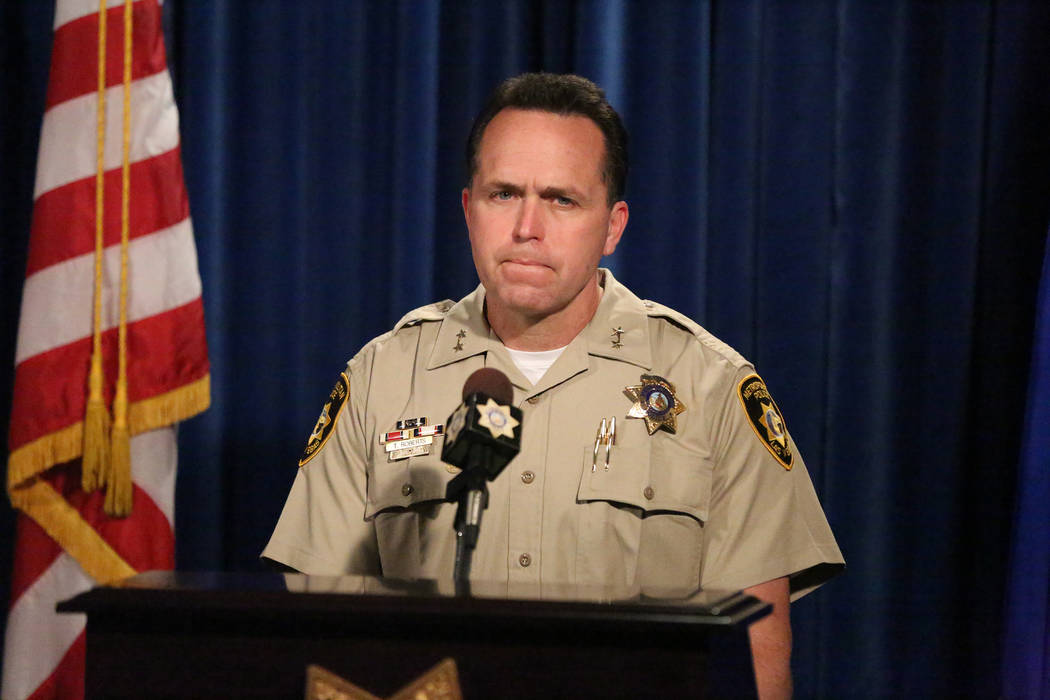 Three current and former high-ranking Metropolitan Police Department officers hope to make the jump into state politics this year.
Retired Assistant Sheriff Tom Roberts announced Wednesday that he's running for Assembly District 13 as a Republican, touting his more than three decades in public service as preparation for elected office.
"I want to continue to give back to the state of Nevada and believe my experience as both a veteran and an officer will bring a unique perspective to the Legislature," Roberts said.
Retired Deputy Chief Matt McCarthy and current Metro Capt. Rich Fletcher also are running for Assembly seats. McCarthy is running in District 23 and Fletcher in District 12. Both are Republicans.
Roberts served nine years in the U.S. Air Force and in 1993 he joined the Las Vegas police force, where he worked for next 25 years. He is running to replace former Republican Assembly Leader Paul Anderson, who left the seat to become the director of the Governor's Office of Economic Development. District 13 is in far northwest Las Vegas.
Net neutrality blowback
Lawmakers last week joined forces to urge U.S. Sen. Dean Heller to pass a resolution to overturn the FCC's decision to kill net neutrality.
"Allowing (Internet Service Providers) to take advantage of consumers and filter content while eliminating competitors' access to the Internet is as unwise as it is unpopular," wrote Senate Majority Leader Aaron Ford and Assembly Speaker Jason Frierson in a Jan. 24 letter to Heller. "That is why Governor Brian Sandoval and dozens of Nevadans rose up in opposition. While the FCC turned a deaf ear to those voices, we urge you not to do the same."
Since their establishment in 2015, net neutrality laws required internet providers to treat all data the same. It prohibited companies from slowing speeds for any apps or websites they wanted.
Repealing net neutrality, backers argue, provides an unfair advantage to large corporations.
"As Nevada's senior U.S. Senator, we urge you to fight the FCC's misguided decision by joining the bipartisan coalition seeking to preserve net neutrality," they wrote.
Marshall backs pot banking
Democratic lieutenant governor candidate Kate Marshall sent a letter to the Federal Reserve Board urging the members give legalized marijuana businesses access to banking.
Few financial institutions across the nation allow state-licensed marijuana businesses to have regular banking services because banks are federally regulated and marijuana is illegal under federal law.
This forces many of those businesses to act on a cash-only basis.
In the letter, Marshall, who was Nevada's treasurer from 2007 to 2015, touted Nevada's "gold standard of regulations" for the marijuana industry and noted that marijuana states are actively seeking ways to figure out the banking issues.
"That effort, however, cannot move forward until we reach across jurisdictional lines to solve the fiscal challenges associated with the new legalized economy of medical and recreational marijuana," Marshall wrote.
"To continue our growth I respectfully ask that you work to address these regulatory concerns, as Nevada's economy continues to prosper from the new legalized economy and recover from the Great Recession. Nevada businesses and consumers deserve as much."
News and notes
— Animal rights activist Bryce Henderson announced last week that he is running as a Democrat for state Senate in District 10. Henderson is the president of a group called No Kill Las Vegas, and his platform includes several animal rights issues such as banning the Nevada bear hunt, animal shelter reform and outlawing trapping on public lands. Democrat Yvanna Cancela was appointed to the seat for District 10 in 2016 and has said she plans to run for re-election.
— Garo Atamian, a Republican political newcomer, is running for Assembly District 21 in hopes of unseating incumbent Democrat and prominent Las Vegas defense lawyer Ozzie Fumo. Atamian, 26, works for a commercial printing business owned by his parents, who are Armenian immigrants from Ethiopia and Egypt.
— The announcement that Valerie Weber is running in state Senate District 8 means there will be a Republican primary in that race. Weber, who served three terms in the Assembly from 2002 to 2008, will face off with former state Sen. Elizabeth Helgelien. No Democrat has announced plans to run for the seat, which typically has been a GOP stronghold.
— Jeff Miller, a Republican, filed canidadacy paperwork with the Federal Election Commission last week to run for Nevada's 4th Congressional district. Republican former Rep. Cresent Hardy, who held the seat from 2015 to 2017, is also running on the GOP side. Miller finished fourth in the 2016 GOP primary for Nevada's 1st District.
— The Nevada State Education Association endorsed three Democrats: Chris Giunchigliani for governor, Ford for attorney general and Nelson Araujo for secretary of state. Araujo also was endorsed by the Nevada Law Enforcement Coalition, which represents more than 10,000 peace officers across the state.
Contact Colton Lochhead at clochhead@reviewjournal.com or 702-383-4638. Follow @ColtonLochhead on Twitter. Contact Ramona Giwargis at rgiwargis@reviewjournal.com or 702-380-4538. Follow @RamonaGiwargis on Twitter.