Campaign 2018: Nevada Dem governor primary polls in dead heat
Updated March 28, 2018 - 10:35 pm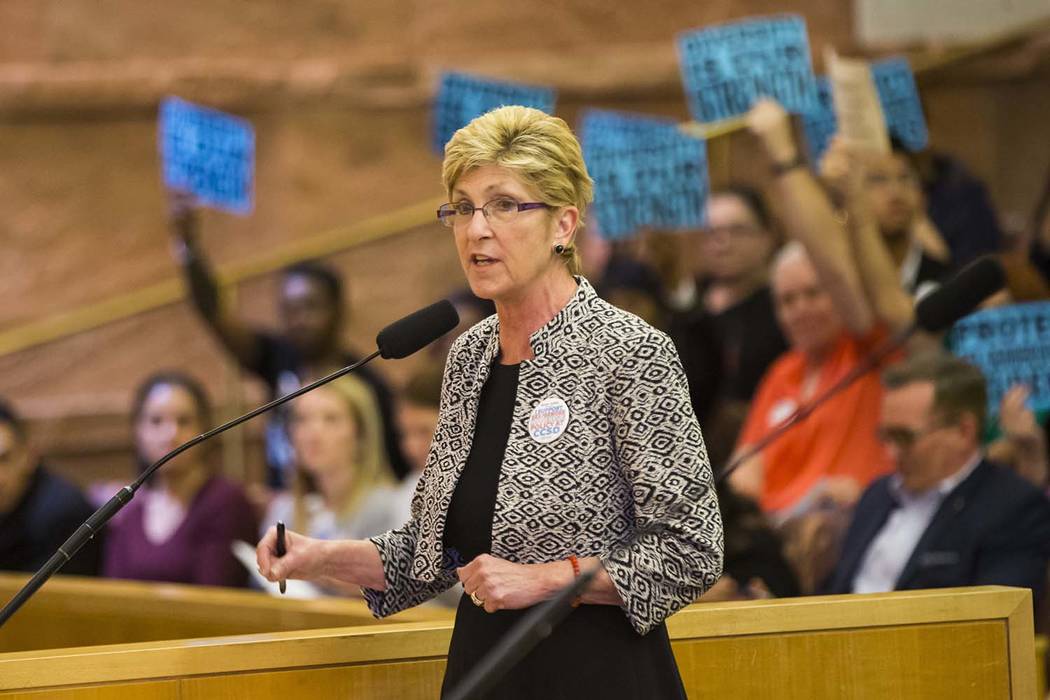 A new poll shows Chris Giunchigliani and Steve Sisolak in a statistical dead heat in the Democratic gubernatorial primary.
The poll comes from Expedition Strategies, and was paid for by the Giunchigliani campaign. It was conducted between March 17 and 19 and included responses from 600 "likely Democratic primary voters" in the June 12 primary.
When asked their pick would be, 31 percent responded that they would vote for Giunchigliani, while 27 percent said Sisolak. Eighteen percent said none of these candidates and 23 percent said they weren't sure.
That difference between the two candidates falls within the poll's margin of error of plus-or-minus 4 percent, creating a statistical tie.
Seaman announces new PAC
Fresh off of withdrawing from the race for Nevada's 3rd Congressional District, former Republican Assemblywoman Victoria Seaman announced that she was starting a political action committee aimed at electing conservative women to office.
Seaman withdrew from the race last week after Danny Tarkanian made a last-minute switch from challenging incumbent GOP Sen. Dean Heller to running for the open congressional seat — a move that was borne from a request from President Donald Trump.
"While I don't agree with the President's decision, I have always supported President Trump and his America First agenda. I know you all join me in my disappointment," Seaman said in her announcement of the PAC, which is called the BattleBorn Conservative Woman PAC
Asian Chamber forms PAC, too
The Asian Chamber of Commerce on Wednesday announced the formation of its own PAC, called the ACC-PAC.
"The ACC-PAC board will work to elect qualified candidates that will put service before self and will make prudent and timely public policy decisions in the best interest of Nevadans and additionally will support and promote Asian business and community interests," said Ashok "Ash" Mirchandani, chairman of the new PAC.
"Asians are the fastest growing race in Nevada and we contribute significantly to the economic prosperity, social, and cultural diversity of our great State and therefore it is important for us, as community stakeholders to engage and be engaged," Mirchandani added in a statement.
The members of the 2018-19 ACC-PAC include Mirchandani, Vice Chairman Sonny Vinuya and members Maggie Chen, Michelle Chen, Hae Un Lee, Robert Young, Bill Wray, Ana Wood and Lanlin Zhang.
Endorsements
— Former Nevada Gov. Bob Miller endorsed Democrat Aaron Ford in the race for attorney general.
— The National Organization for Women PAC endorsed Democratic Rep. Jacky Rosen in the U.S. Senate race in Nevada.
— Republican governor candidate Adam Laxalt endorsed Heller in his re-election bid, as well as to Heller's recent primary opponent-turned-congressional-candidate Tarkanian.
Events
— Scott LaFata, a Republican running for lieutenant governor, is hosting a fundraising event at 3:30 p.m. Saturday at Davidoff of Geneva Cigar Bar, 3200 Las Vegas Blvd. South, suite 1245. For details, go to scottlafata.com/events.
— Democratic governor candiate Giunchigliani is holding a fundraising event at 3 p.m. Saturday at 1717 S. 15th Street. RSVP at rsvpforchrisg@gmail.com.
Contact Colton Lochhead at clochhead@reviewjournal.com or 702-383-4638. Follow @ColtonLochhead on Twitter. f