Campaign 2018: Oddsmakers say Nevada's governor race will stay tight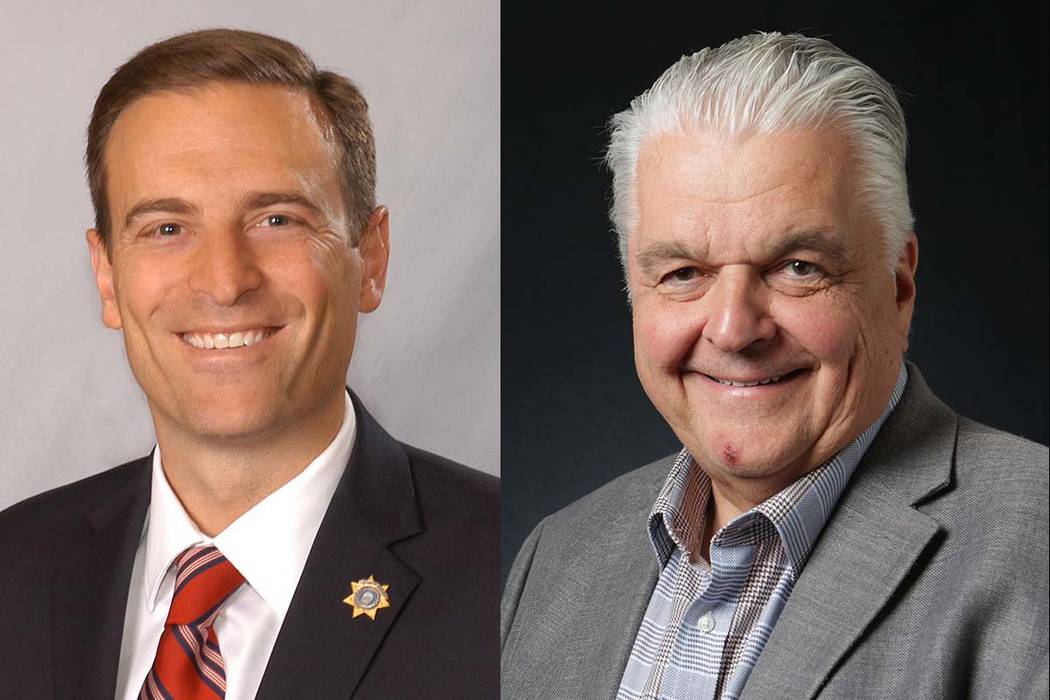 With less than three weeks until the final ballots are cast in the Silver State, has the race for governor between Democrat Steve Sisolak and Republican Adam Laxalt started tipping one way or the other?
Of course not. For the better part of a year now, most political observers have rated the race to replace term-limited Gov. Brian Sandoval as a true toss-up.
On Wednesday, FiveThirtyEight released its Governors Forecast prediction model for all 36 gubernatorial seats up for grabs this year.
Just three — in Nevada, Ohio and Georgia — were listed as toss-up elections.
FiveThirtyEight's model does give Laxalt a slight edge, predicting that the attorney general has a 4-in-7 chance of winning.
And when it comes to betting odds (because political betting is allowed outside the U.S.), the two are even closer.
BetDSI, a Costa Rica-based online sportsbook, gave Sisolak and Laxalt the same minus-130 odds of winning.
Details on Obama, Biden events
The Nevada State Democratic Party provided details about the upcoming rallies with former President Barack Obama and former Vice President Joe Biden.
Obama's event, meant to encourage turnout during early voting, starts at noon on Monday at UNLV's Cox Pavilion. Tickets are required, but free. For a list of sites where tickets are available, visit votenvdems.com/obama.
Biden's event is from 7:30 to 10:30 a.m. Saturday at Culinary Workers Union Local 226, 1630 S. Commerce St. To RSVP, go to votenvdems.com/risenvote-rally.
GOP group's lawsuit tossed
A judge has dismissed a Republican Attorneys General Association lawsuit aimed at compelling Las Vegas Police to turn over body camera footage that involved Democratic attorney general candidate Aaron Ford.
RAGA filed the lawsuit last month, claiming that police refused to release records and related body camera footage related to an incident on Nov. 13, 2017, that involved children. A RAGA spokesman said in September that the group had received a tip that Ford, the state Senate majority leader, had used "that position of authority to influence an outcome with law enforcement."
According to court minutes in the case made public Wednesday, Clark County District Judge Kerry Earley said she had reviewed the footage and concluded that all portions of it, including the parts involving Ford, were "directly related to the investigation of a juvenile involved incident."
Because everything dealt specifically with juveniles, Earley said, those records could not be released.
RAGA spokesman Zack Roday said that the "issue here remains — did Aaron Ford used his position as Senator to intimidate police officers into favorable treatment? RAGA hopes Ford will join us in calling for transparency, for the release of the body camera footage so voters know the truth before they vote."
In a statement, Ford said the lawsuit showed that his Republican opponent, Wes Duncan, is "willing to do whatever it takes to win an election, regardless of how callous and shameful it may be."
"There is nothing more shameful than targeting children for political purposes. The Republican Attorneys General Association specifically named a minor child in multiple records requests, and they cited an upcoming election as their need for records," Ford said. "I'm thankful to the Las Vegas Metro Police Department for standing up for the privacy of all the children involved in this incident, and I'm thankful to Judge Earley for her ruling today upholding the clear intent of the law protecting the rights of children."
Duncan's campaign declined to comment.
Democrats vow to support immigrant families
A slate of Democratic candidates — joined by Sen. Catherine Cortez Masto — promised to fight for immigrant families during a forum hosted by Culinary Union 226 on Wednesday.
The union, which represents 57,000 workers in Las Vegas and Reno, is one of the state's largest immigrant organizations. Members speak more than 40 languages and come from 173 countries. Wednesday's forum included questions posed to candidates by union members working legally under the government's Temporary Protected Status program, commonly called TPS. The Trump administration is taking steps to curb or eliminate TPS for most countries, citing their improved conditions.
U.S. Rep. Jacky Rosen, who is attempting to unseat Sen. Dean Heller; U.S. Rep. Dina Titus, who is running for reelection in the 1st Congressional District; Steven Horsford, a candidate for the 4th Congressional District; and 3rd Congressional District candidate Susie Lee all pledged to help protect the immigrants and their families if elected.
"Now, the only thing we know, we're going to get solutions if we have a Congress make that solution," said Culinary Union Secretary-Treasurer Geoconda Arguello-Kline. "But that's why we have to vote, and we have to be sure we get people who need to be elected be there."
News and Notes
■ Early voting begins Saturday. In the last two midterm elections in Nevada, fewer than 50 percent of the total ballots cast came during early voting. Contrast that with the last two presidential election years, 2012 and 2016, where early voting turnout made up over 60 percent of the final ballot tallies. The early voting period ends on Nov. 2. Anyone who doesn't cast a ballot by then will have to wait until Election Day, Nov. 6.
■ American First Action, a Super PAC dedicated to electing candidates who support President Donald Trump's agenda, unveiled a carnival-themed TV labeling and 3rd Congressional District candidate Susie Lee a "hypocrite." The group has invested $20 million in House races across the country, including $1.5 million in Nevada's 3rd Congressional District.
Contact Capital Bureau Chief Colton Lochhead at clochhead@reviewjournal.com or 775-461-3820. Follow @ColtonLochhead on Twitter. Contact Ramona Giwargis at rgiwargis@reviewjournal.com or 702-380-4538. Follow @RamonaGiwargis on Twitter.
Review-Journal reporter Meghin Delaney contributed to this report.