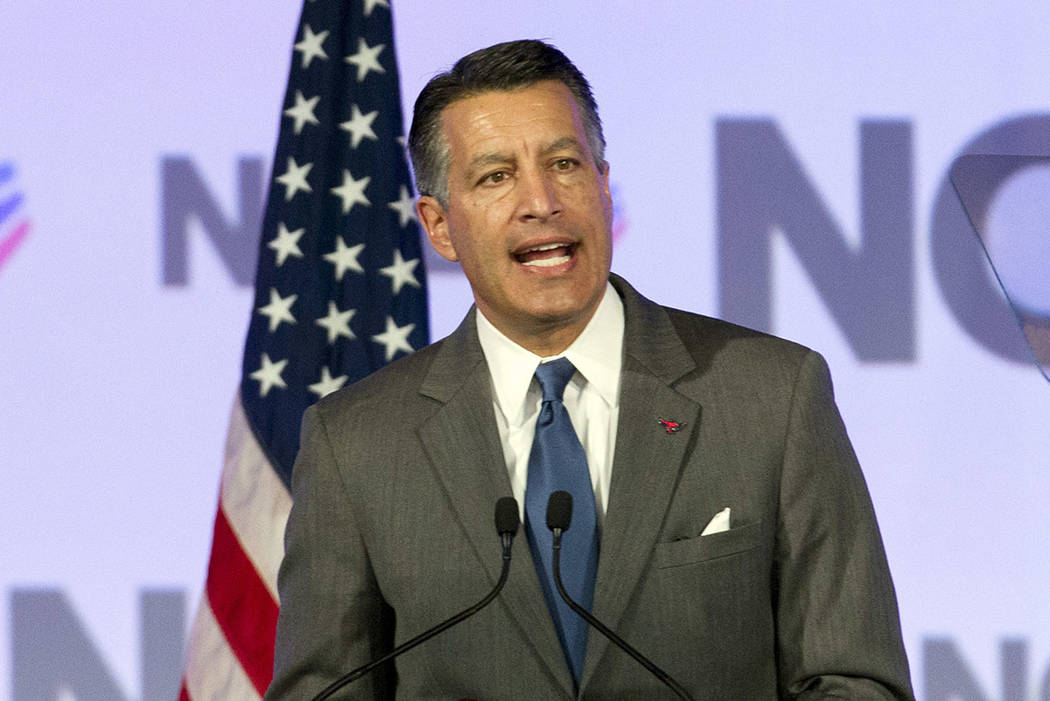 Despite speculation that outgoing Nevada Gov. Brian Sandoval would sit out the 2018 election, the governor is backing a ballot measure that aims to bolster victims' rights.
Sandoval on Wednesday announced his endorsement of Marsy's Law, or Question 1 on the November ballot, which would ensure victims have rights to full and timely restitution, information about services, notification of public hearings and privacy.
"It is time for Nevada's constitution to contain strong, enforceable rights for victims of crime," Sandoval said. "Marsy's Law for Nevada will guarantee victims have a voice in the criminal justice system and ensure they are treated with the dignity and respect that they deserve."
The effort is named after Marsalee "Marsy" Nicholas, who was killed by her ex-boyfriend in California in 1983. He was released from custody and later confronted the victim's family, who had no idea he was out of jail.
If approved, the measure would enshrine "enforceable rights" for crime victims into the Nevada Constitution.
Opponents of the measure have said it could increase taxpayer costs and lead to courtroom dismissals or delays, which could further harm victims.
Laxalt cousins back Sisolak
For GOP gubernatorial candidate Adam Laxalt, family unity it is not.
Two of Laxalt's cousins, Kristin Laxalt and Monique Laxalt, are slated to headline a fundraiser next month for Laxalt's Democratic opponent, Clark County Commissioner Steve Sisolak.
The event also includes prominent Republican Bruce James, who toyed with the idea of running for U.S. Senate in 2010 to replace Sen. John Ensign, as well as a slew of notable Democrats, such as former state Attorney General Frankie Sue Del Papa and Nevada System of Higher Education Regent Rick Trachok.
It's not the first time members of Laxalt's extended family have publicly supported his opponent.
In 2014, during Laxalt's run for attorney general, two of his aunts and five of his cousins signed onto a letter to the editor published in the Las Vegas Sun saying Democrat Ross Miller was the "most qualified candidate" in the race.
Election security
The state of Nevada is spending nearly $4.3 million in federal grants to shore up its election systems.
It's part of the $380 million Congress allocated to states last spring under the Help America Vote Act to strengthen voting systems amid ongoing threats from Russia and others.
About two-thirds of Nevada's money is targeted toward safeguarding voter registration rolls, with lesser amounts aimed at tightening cybersecurity and improving communications between state and county election officers.
Nevada plans to spend $45,000 to establish formal procedures for training local election officials with an emphasis on "cybersecurity awareness."
The state also plans to develop a single point of access for registered voters to access and manage their registration record. Access currently is spread across a variety of systems.
News and notes
U.S. Sen. Cory Booker, D-N.J., is headlining a lecture series put on by the Nevada State Democratic Party at 3 p.m. on Saturday at Place on 7th in downtown Las Vegas. The cost is free for members, $35 for non-members and $20 for students. Email Tyler Langdon at tlangon@nvdems.com for details.
Contact Colton Lochhead at clochhead@reviewjournal.com. Follow @ColtonLochhead on Twitter. The Associated Press contributed to this report.