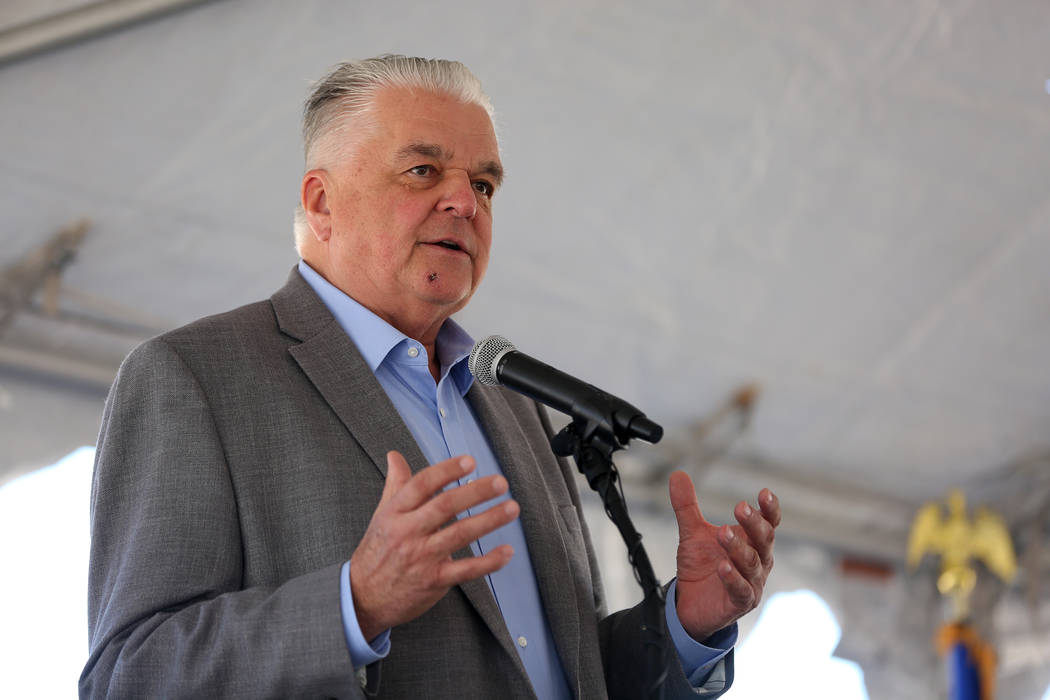 About two weeks after the Oct. 1 shooting, Democratic candidate for governor Steve Sisolak received a $2,500 donation from a gun range that specializes in letting patrons fire automatic weapons.
The company says the donation had nothing to do with Sisolak's stance on gun laws, but rather was related to his business policies.
In an interview with the Review-Journal, Sisolak said that his stance on gun-control laws has evolved, and were drastically changed after the Oct. 1 shooting.
"I walked through the Harvest 91 site with Metro. I saw the bodies that were there. I saw the blood that was puddled on the ground," Sisolak said. "I saw devastation that I couldn't ever have dreamt of."
"When I realized what one person could do with that type of weaponry. It has to stop. Enough is enough," he added.
But the campaign for Sisolak's primary opponent, fellow Clark County Commissioner Chris Giunchigliani, says it's another example of Sisolak's choppy history with progressives on gun control.
"It's become quite clear Steve is a person torn between his campaign bank account and his focus groups, so desperate to become governor that he won't let consistency get in the way," said Giunchigliani campaign manager Eric Hyers.
That $2,500 donation came on Oct. 17 from a company called The Compound LLC, which does business under the name Machine Gun Vegas — a shooting range located just off the Strip.
Sixteen days before that donation, 58 people were shot and killed at a country music festival on the Strip by a gunman armed with nearly two-dozen semi-automatic rifles. Several of those rifles were equipped with bump stocks — device that allowed the shooter to fire more than 1,000 rounds in 10 minutes.
In the days after the shooting, Machine Gun Vegas' owner Genghis Cohen became somewhat of a vocal advocate for more control.
"One guy sat in a hotel room with 23 guns and managed to kill or injure 600 people. They say he was using 60- to 100-round magazines," Cohen told The Guardian in an Oct. 4 article. "Why does a 64-year-old man, who is not in the military or in the police department, why does he need a gun that can basically fire fully automatically?"
When asked about the donation to Sisolak's campaign, the company said it had nothing to do with the candidate's position on gun control.
"The Compound, LLC has donated to number of political campaigns. These contributions are related to candidates' business policies and do not reflect their position on firearms. As a result, the owners have donated to both campaigns for Nevada Governor," the company said in a statement when asked about the donation.
The Compound LLC donated to three candidates in 2017: Sisolak, Republican governor candidate Adam Laxalt ($1,000 on Dec. 7) and Clark County Sheriff Joe Lombardo ($500 on Nov. 5), who is up for re-election. The company also donated $2,000 in 2015 and $1,500 in 2011 to Sisolak's Clark County commission campaigns.
Sisolak said in an interview with the Review-Journal that he wasn't aware of the donation. His campaign raised more than $2.5 million in 2017.
Fuel for his foe
For the Giunchigliani campaign, Sisolak's past stances on gun laws have been a prime target in the primary campaign season.
Last week, Sisolak unveiled a television ad in which he promised to "stand up to the NRA."
The Giunchigliani campaign seized on the opportunity to bash Sisolak for a "A-minus" grade the NRA gave to Sisolak in 2012. That grade came while he was running for re-election for Clark County Commission, according to the NRA's website. It appears to be the only year the group gave out grades for municipal-level elections in Nevada.
Hyers sent out a press release calling Sisolak "A- Steve," and said that "no amount of TV ads can erase an A minus from the NRA."
Sisolak said that he is firmly opposed to assault rifles, bump stocks and extended cartridges and wants to find a way to implement the voter-approved law that requires background checks on all firearm purchases and transfers in the state. Laxalt, who chose to run for governor rathern than another term as attorney general, has called the measure poorly worded and said he can't force the FBI do the background checks that the law calls for.
"The more people who support common-sense gun reforms the better, and we're glad that after years of not supporting such measures, Steve has finally come on board in recent years," Hyers said. "The fact remains that just two-and-a-half weeks after the most deadly mass shooting in American history, Steve Sisolak, who earned an A- from the NRA, took a sizable campaign contribution from a company that actively markets a machine gun experience to 10 year olds."
Contact Colton Lochhead at clochhead@reviewjournal.com or 702-383-4638. Follow @ColtonLochhead on Twitter.