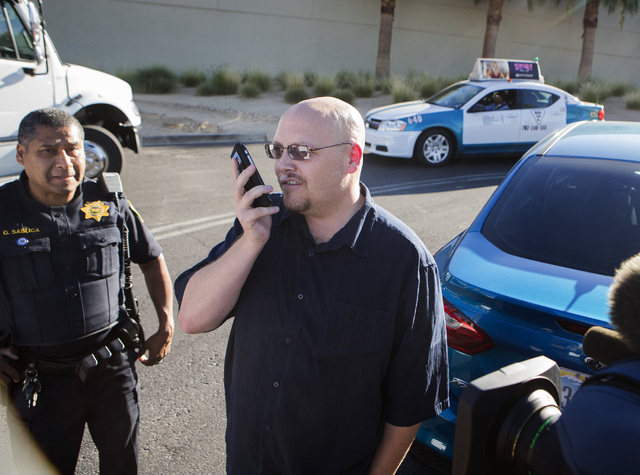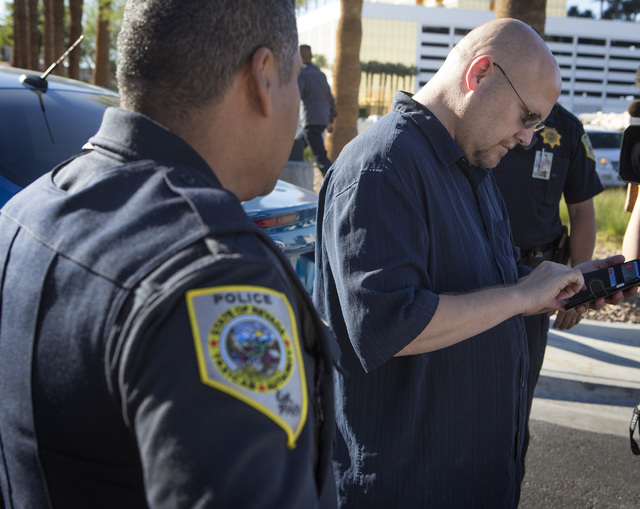 It didn't take long for Uber to enter the conversation in the state Legislature.
At Tuesday's Senate Transportation Committee meeting, scheduled to familiarize the five committee members with the operations of the Nevada Transportation Authority and the Nevada Taxicab Authority, committee Vice Chairman Don Gustavson, R-Sparks, asked about regulators' first encounter with Uber.
The San Francisco-based ride-hailing company, which is attempting to establish a foothold in Nevada, started operations in late October but shut itself down after a Washoe County District Court judge ruled that its service was illegal.
On Oct. 24, Uber's launch date, interim Taxicab Authority administrator Tom Ely said the agency received a tip about a "gypsy cab threat" in Las Vegas, and Ely, who had just been named interim director following the resignation of Charles Harvey, decided to ride along to observe the enforcement action.
"Gypsy cab" is an industry term for an illegal, unlicensed operator.
Ely said the agency had received a call from a passenger who accepted an Uber ride and provided details on the car, license plate number, driver name and the location of the vehicle.
"There were two cars that made the stop with uniformed investigators and there were also two cars that arrived which had undercover investigators, which, a lot of times, are doing our sting operations on rides to investigate long routes," Ely told Gustavson.
"Unfortunately, the news media had also been alerted by the person reporting it to us," he said.
The Uber driver said he was going to publicize the traffic stop on social media and began recording the incident, Ely said.
"The two undercover investigators decided that they needed to cover their faces because if their faces were out there, they would not be able to be as effective conducting undercover rides," Ely said. "Yes, they did put on the police-type balaclava masks and at the same time, they had already been wearing their bright-orange traffic vests that identified them and they had their credentials and badges out."
The incident was reported a few days later by Review-Journal columnist John L. Smith.
"On reflection, looking back at it, was it the best choice? Absolutely not," Ely said. "But did they technically do anything wrong? No. It just created a media frenzy which, in the long term, we did not respond to. We did not try to mitigate what we had done, but we did not try to answer all those questions because we did not want to inflame the situation. No one asked us why we did it until now."
Ely said he instructed investigators to no longer wear masks on those types of stops and that uniformed and not undercover officers would perform them.
In discussing the challenges of Uber's ride-hailing technology, Ely firmly stated the authority's view that Uber and similar operations aren't just technology companies as they say.
"The cutting-edge technology which connects persons wanting rides with vehicles ready to offer rides is exceptional," Ely said in a presentation to the committee. "Application of this type of technology will greatly improve ride accessibility and help achieve best practices for the taxi industry.
"We welcome new businesses, ideas, and technologies to Nevada. At the same time, the taxi industry is well-regulated for a reason. We believe full background checks on cabdrivers, commercial insurance, vehicle safety, and consistent, fair and stable fares and rates are essential requirements for all for-hire services. We look forward to working with those interested in entering the taxi industry."
Ely told the committee that the Taxicab Authority is requesting six additional compliance enforcement investigators to increase efforts against the illegal long-hauling of passengers, particularly from McCarran International Airport. It also wants a full-time administrative attorney and hearing officer to handle a growing caseload resulting from vehicle impounds and citations.
Currently, the agency has a hearing officer who works one day a week. Because initial hearings are required within 24 hours of an incident, the agency borrows the Nevada Transportation Authority's hearing officer.
The authority also is requesting permission to upgrade its computer system to integrate a real-time cab tracking system authorized in the 2013 session of the Legislature.
Through industry fees and fines, the Taxicab Authority is self-funded and in the 2016 fiscal year it is expected to generate more than $6.5 million.
Contact Richard N. Velotta at rvelotta@reviewjournal.com or 702-477-3893. Find him on Twitter: @RickVelotta

RELATED STORIES
Despite Uber petition, service is still illegal in Nevada
See all of our coverage: 2015 Nevada Legislature.

RELATED STORIES
Gov. Sandoval details new business fee plan to fund Nevada education reform
Say what? A guide to legislative language
6 legislative committees to watch in 2015
What a difference two years makes!
Southern Nevada to get most road funding over next 4 years, legislators told
Five (other) big issues for the 2015 Nevada Legislature
5 people to watch in the 2015 legislative session
Nevada Legislature 2015 … by the numbers
Nevada lawmakers hear about prison growth, aging woes
Sandoval proposes big boost in Nevada education funding
Sandoval proposes $7.3 billion spending plan for Nevada
New year could bring big changes in state
See all of our coverage: 2015 Nevada Legislature.