Combined bill proposes updates to Nevada laws for testing driverless vehicles
Updated March 21, 2017 - 11:04 pm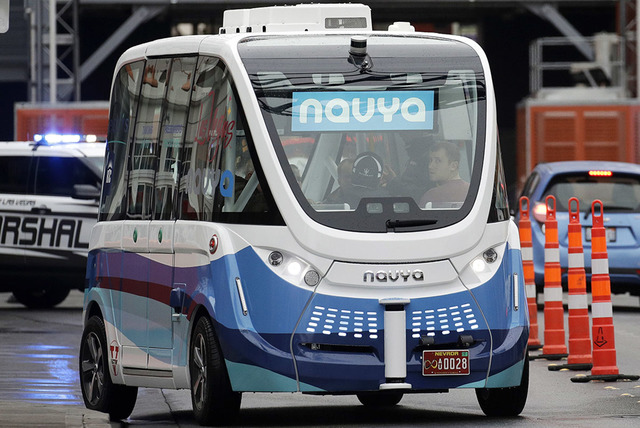 At the start of the legislative session, the Governor's Office of Economic Development and Nevada's Department of Motor Vehicles introduced overlapping bills on how to deal with the future of driverless cars.
Rather than compete, both sides spent the last couple of weeks revising Assembly Bill 69, which updates laws that allow for the testing and deployment of autonomous vehicles for commercial and personal uses in Nevada.
The amendments to the bill will be discussed when the Assembly's Transportation Committee meets Thursday.
For now, state law refers to the operator of a vehicle as a "driver," but that definition does not work for piloting an autonomous vehicle. The bill expands that interpretation, allowing a driver to be characterized as a human or a computer.
"The amendments we made with the DMV will make this more clear, more straightforward and much better understood," said Steve Hill, director of the economic development office.
"The legislation we passed in 2011 was obviously leading the way at the time, but the industry has evolved and definitions have evolved," Hill said. "This updates those definitions and updates a process that will bring Nevada back to the forefront in this industry."
The bill also sets rules for ride-hailing companies such as Lyft and Uber, including inspections, record-keeping, crash reports and electronic fare collection.
Under the proposed bill, autonomous vehicle manufacturers must file a $5 million bond for insurance for testing. Additionally, human operators must be able to take immediate control of the vehicle in case of an emergency during test runs.
The updated rules are aimed at increasing safety and potentially creating jobs manufacturing cars in Nevada, Hill said.
"There's no question that the technology is going to be disruptive to drivers over a longer period of time than what people think," Hill said. "But this is real."
Contact Art Marroquin at amarroquin@reviewjournal.com or 702-383-0336. Follow @AMarroquin_LV on Twitter.