Conversation on conservation: Lawmakers talk Lake Mead, water rights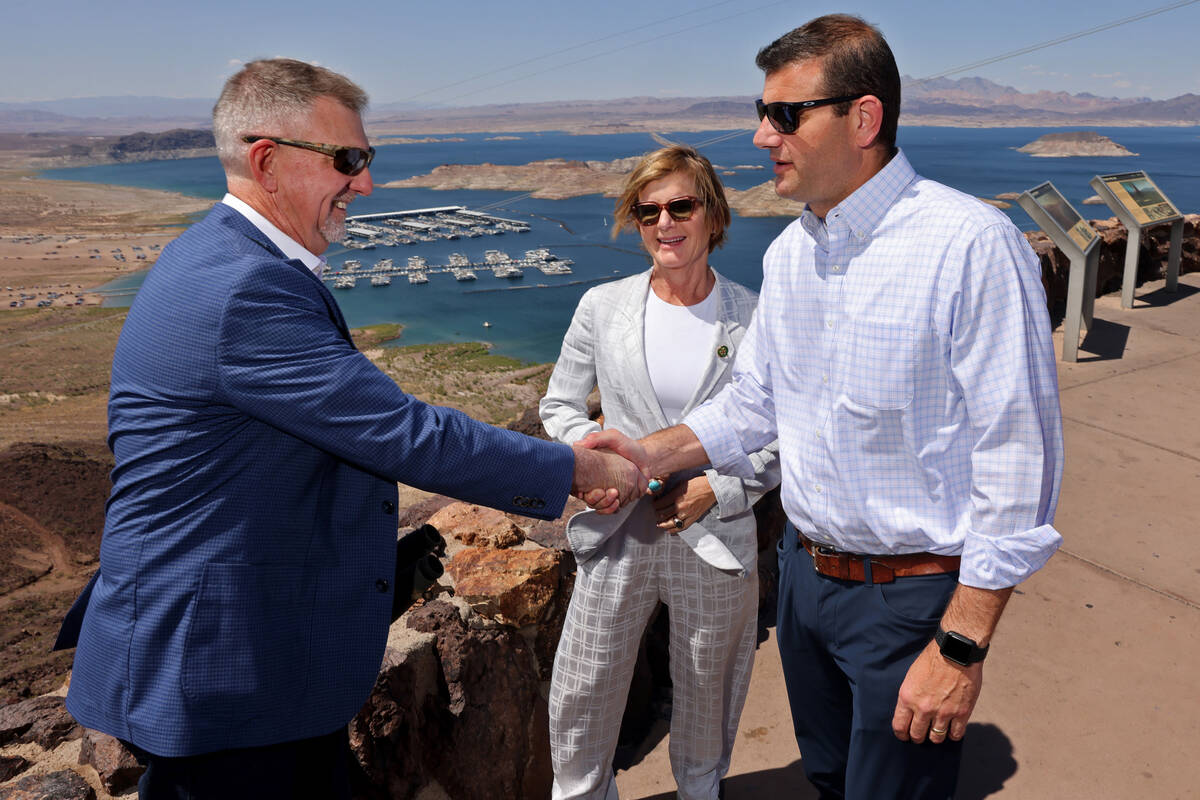 As they overlooked the depleted Lake Mead Friday, U.S. Rep. Susie Lee, D-Nev, welcomed Rep. David Valadao, R-Calif., to her district Friday for a bipartisan district visit to discuss water conservation and rights.
In the face of an agreement between Nevada, California, and Arizona to reduce water use along the Colorado River, Lee said that funding from the Inflation Reduction Act will be used to compensate and incentivize water districts and agricultural users to conserve water, with an overall goal to cut 3 million acre-feet of water use.
"What this agreement does is buys us three-and-a-half years," Lee said.
The plan still needs to be reviewed and approved by the federal government, but would bridge protections for the Colorado River's water reserves between its potential approval and for permanent guidelines to take effect after 2026.
Lee said that the ongoing debt limit negotiations on Capitol Hill may risk the project's funding, but she is optimistic it will pull through.
"It looks like the final agreement will be that spending levels would potentially be at the 2023 levels," Lee said. "In which case, I do believe we will have the resources to provide those incentives."
Valadao said that while Lake Mead's supply doesn't affect his district directly, water conversation has been a high issue for his agricultural community.
"We went with a number of years of drought, where I had communities that were clean out of water, and where we actually put in tanks and pumps and were trucking water over to these communities," the congressman said. "Now we're in a situation where I've got a lake not far from us that I hadn't seen since I was a little kid."
Lee and Valadao are both members of the U.S. House of Representatives' bipartisan Problem Solvers Caucus, and the visit was sponsored by the Bipartisan Policy Center, a D.C.-based think tank.
Valadao said the ability for the representatives to visit each others' districts was a learning opportunity to find avenues of cooperation, while Lee said it was an opportunity to explore what she said was a major pressure on the Colorado River's water supplies, the tension between urban and agricultural areas and their water needs.
Lee represents parts of Las Vegas, Henderson, and Boulder City, while Valadao largely represents rural, agricultural communities.
In addition to their meeting at Lake Mead, the representatives met with water managers at the Hoover Dam Spillway House convention center, in a meeting closed to the press.
The tour also planned for a visit to the Mountain Pass Materials Rare Earth Mine and lunch at UNLV's Black Fire Innovation, according to a press release.
Lee plans to visit Valadao's district sometime in the future.
Contact Christian Casale at ccasale@reviewjournal.com or 702-380-4551. Follow @vanityhack on Twitter.