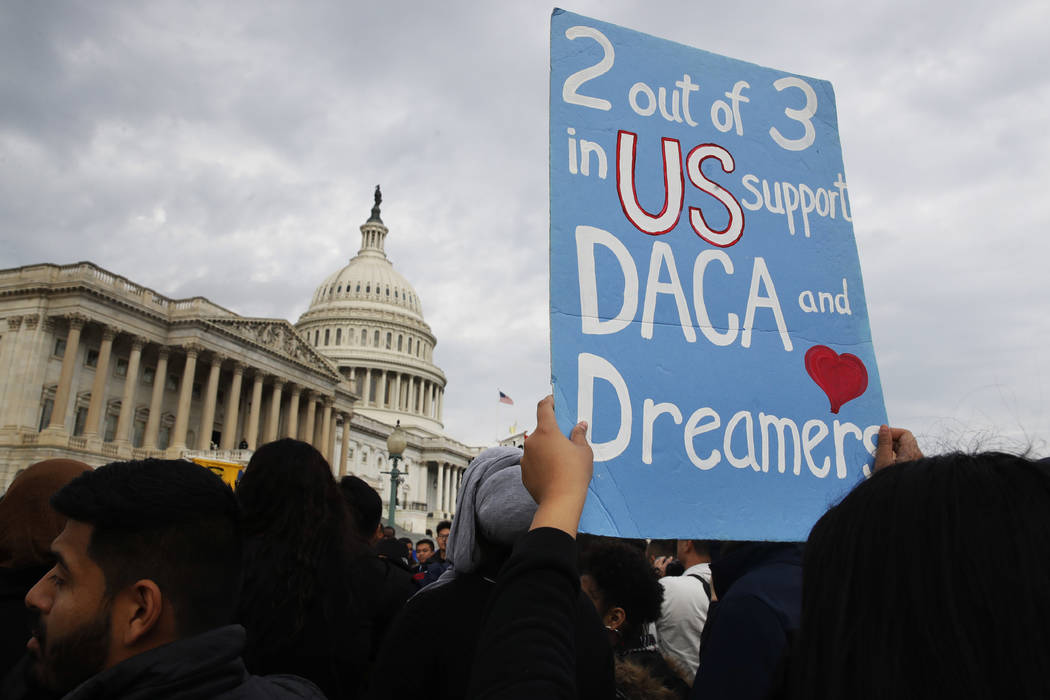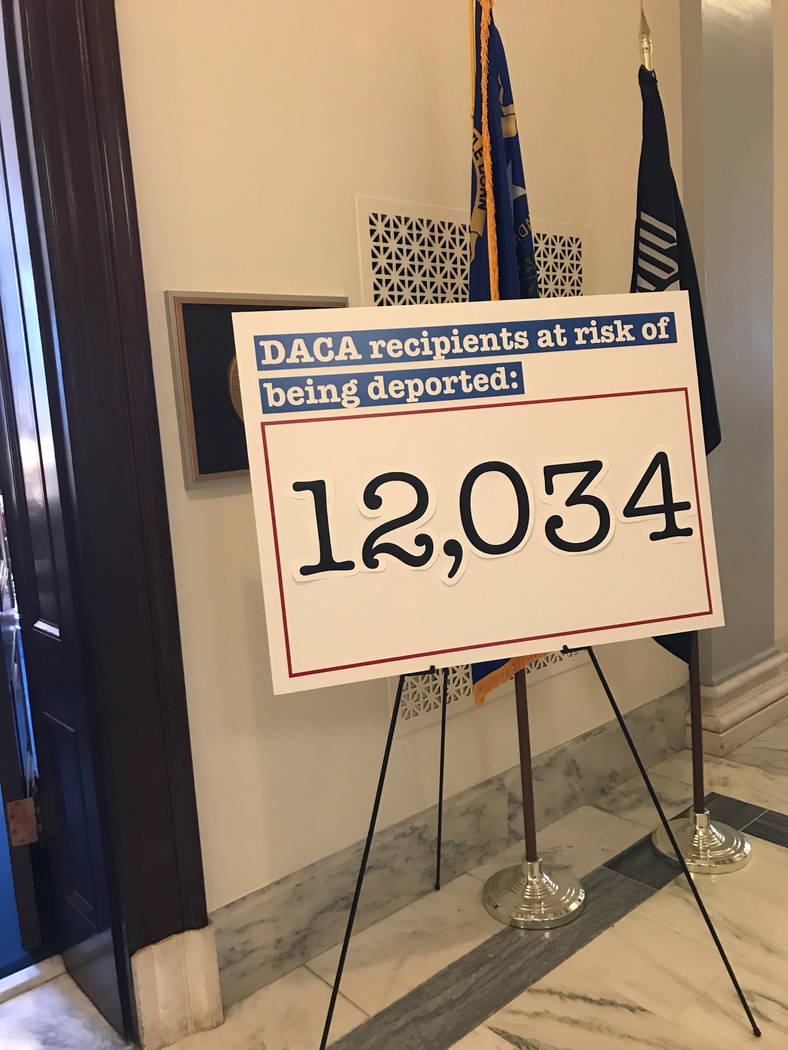 WASHINGTON — Nevada residents communicating by computer with Sen. Catherine Cortez Masto's office were greeted Wednesday with a black screen on her website and the words: "I stand with Dreamers. Pass the Dream Act now."
It was part of an organized, last-minute push by Democrats to pressure Republicans and the White House to act by the end of the year on legislation to extend protection from deportation for undocumented children who have grown up in this country — kids known as Dreamers.
It's an uphill battle, with the clock ticking on other legislative issues while more than 12,000 Dreamers have lost their protected status since President Donald Trump refused to extend Obama-era directives in September.
Cortez Masto, who led a Senate floor debate late Tuesday, said Wednesday in her office that she and fellow Democrats would not be dismayed by the obstacles.
"Our priority is passing the Dream Act and working with our colleagues to get something done by the end of the year," she said.
The Development, Relief and Education for Alien Minors Act, or Dream Act, would grant permanent residency for children brought to this country illegally and have met conditional qualifications for protected status.
"We have to make sure we are using every opportunity, the leverage that we have," Cortez Masto said, adding that the best way to make sure the issue is addressed is to place it on "must-pass legislation" like the spending bill to fund government operations.
There is bipartisan support for Deferred Action for Childhood Arrivals, known as DACA. But it may come down to Senate Democrats to make an extension of DACA protections a condition of support for a spending bill that keeps the government open, or agree to a fix early next year.
Republican leaders in the House and Senate have tamped down expectations that a compromise must be included in the spending bill, despite bipartisan support in both chambers.
And Trump has delivered mixed signals on the issue, signaling his willingness to reach a deal with Democrats in September, and recently daring Democrats to shut down the government.
Many Democrats, and Republicans, are encouraged with ongoing talks to reach an agreement on immigration reforms and border security.
Senate Majority Leader Mitch McConnell, R-Ky., said he is open to a deal to codify DACA protections if coupled with border security measures that Republicans seek.
Sen. Dean Heller, R-Nev., has signed on to a bill that would strengthen border security.
"While I remain concerned about the way in which DACA came to life, I believe that Congress needs to find a permanent solution for hardworking individuals who came to this country through no fault of their own and I'll continue working with my colleagues toward that goal," he said.
In the meantime, Cortez Masto said the situation that exists for children without protection is a "moral crisis."
In her Senate floor speech, she spoke of school children in Sparks, Nevada, who skipped school on the rumor of raids by Immigration and Customs Enforcement.
"The fear is palpable. It is there," she said in the interview Wednesday.
About 800,000 people nationally would be eligible for DACA protection, including 12,000 in Nevada.
Trump urged Congress to pass legislation after he allowed Obama-era protections to end in September.
Sen. Dick Durbin, D-Ill., and Sen. Lindsey Graham, R-S.C., have filed a bipartisan bill that would make DACA protections law.
Graham and other several Senate Republicans, including Sen. Jeff Flake, R-Ariz., are hopeful an agreement can be reached with Democrats.
In the House, more than 30 Republicans, including Rep. Mark Amodei, R-Nev., have signed a letter of support of similar legislative protections.
Meanwhile, many business groups are asking Congress to address the issue and extend protections. They took part in the campaign Wednesday, with websites also going dark with support for Dreamers.
Cortez Masto said businesses are coming forward because failure to address the issue impacts communities. In her floor speech, she spoke of a Dreamer, Maria Toca, who earned a college education and became a Nevada teacher.
The congresswoman also spoke of her father, a son of Mexican immigrants who rose from a parking lot attendant at the former Dunes Hotel to become a Clark County commissioner and the president of the Las Vegas Convention and Visitors Authority.
Cortez Masto, the first Latina elected to serve in the U.S. Senate, said she and her sister were the first in their family to graduate from college.
"If we are going to go down this path of deporting everybody, it is going to have a devastating impact on our economy," she said.
Contact Gary Martin at gmartin@reviewjournal.com or 202-662-7390. Follow @garymartindc on Twitter.