COVID task force says Clark County bars can reopen
Updated September 17, 2020 - 3:50 pm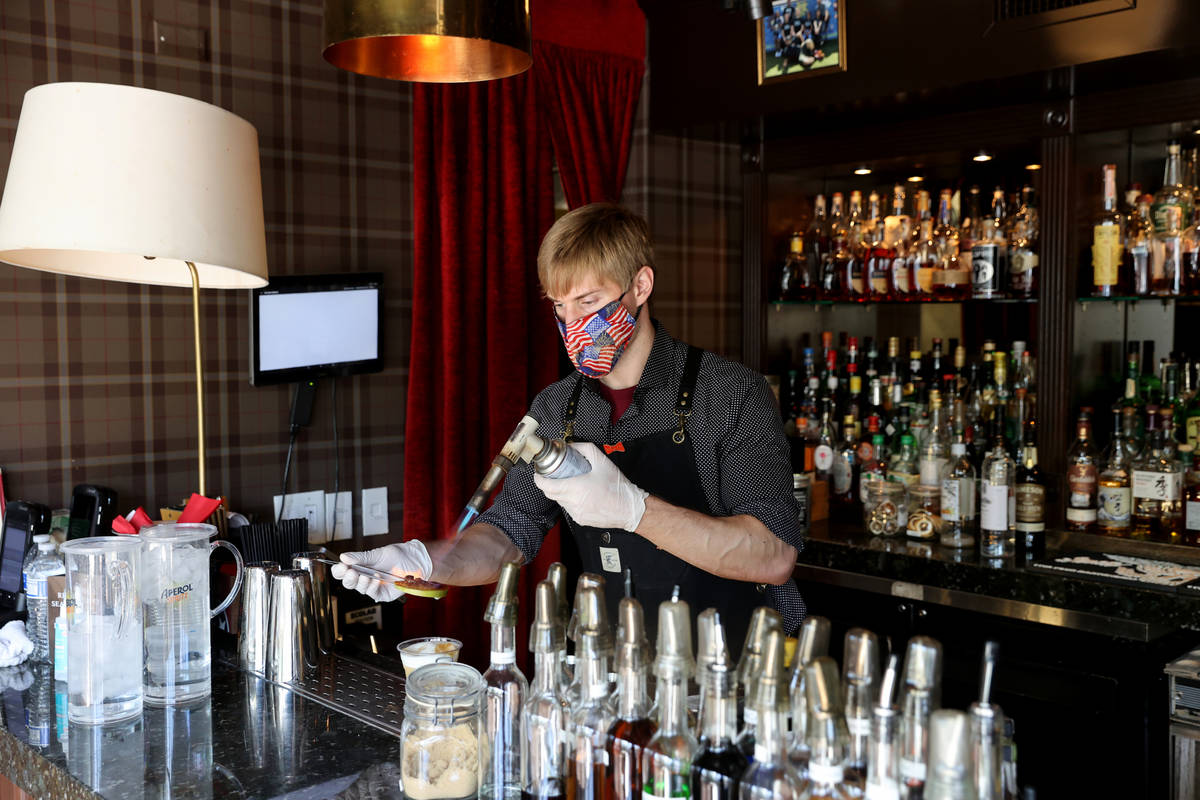 CARSON CITY — Nevada's bars and taverns will be open again statewide Monday for the first time in more than two months following the state's sign off on reopening plans for Clark and Elko counties Thursday.
The state COVID Task Force approved the two counties' proposals unanimously based on continuing improved metrics on COVID-19 case numbers, testing and positivity rates, locally and throughout the state. Officially, bars, taverns, distilleries and other alcohol-serving establishments can reopen at 11:59 p.m. Sunday under social distancing requirements that apply to restaurants.
Clark, the state's most populous county, and Elko, its second largest and the fourth-largest county in the contiguous United States, were the last two counties subject to bar closures due to high risk for coronavirus spread based on testing numbers, reported cases and positive test rate. Numbers continue to decline in all three categories in nearly all of Nevada's counties. As of Thursday, only three counties remain at high risk — Clark, Elko and Mineral — with a fourth, Lyon considered borderline.
"It's just really great news that we just have three counties that are being flagged now," said Kyra Morgan, the state's chief biostatistician.
Morgan and others on Thursday cautioned that numbers could rise again as data comes in from the Labor Day period, which has already shown elevated case numbers due to holiday weekend gatherings. Officials also referenced, without naming the events, the possibility of increased spread from two campaign rallies for President Donald Trump attended by thousands in Minden, located in Douglas County, and in Henderson.
Going in the right direction
In a statement, Gov. Steve Sisolak said he was "beyond thrilled that the hard work of Nevada's residents and businesses has resulted in our COVID-19 data trending in a positive direction," giving the task force the green light to lift restrictions.
Bars in select counties were closed by order of the governor on July 10 as infection rates began to peak following a steady climb through June. Under the state model, counties that exceeded metrics in two of the three criteria were flagged at high risk and required to submit mitigation plans to the task force, which meets weekly to review the plans.
The state topped 1,500 deaths from COVID-19 Thursday and nearly 75,000 cases. But the positivity rate has declined steadily since July 9, the case and death rate has slowed, and hospitalizations have declined since early August.
In Clark alone, the positive test rate has gone from a peak of 17.1 percent at the end of July to 8.6 percent as of Monday. Morgan said that number had declined even further, to 7.8 percent as of Thursday.
County officials for both Clark and Elko came prepared to make the case for reopening but met less resistance from the task force based on the improving trends. Clark had also requested the relaxing of restrictions on church gatherings and convention and business meetings. Action on those items is outside the purview of the task force and subject to the governor's directives.
The gold standard
Representing Clark County at Thursday's meeting, commission Chairwoman Marilyn Kirkpatrick and other county officials reviewed for the task force how the county had worked with bar and tavern owners for weeks to facilitate reopening. The county's mitigation and management plan for reopening requires owners to agree to follow public health protocols, with penalties for lapses.
Nevada as a whole also recently moved from a red to yellow zone ranking in the White House coronavirus task force status, indicating lower outbreak risk, Kirkpatrick noted.
"Knowing what other states are doing, I promise you that we are the gold standard, and we will continue to be the gold standard," she told the task force.
Interviewed after the task force vote, Kirkpatrick said there was no consideration to reopen bars ahead of Monday night's first-ever Las Vegas Raiders game at Allegiant Stadium.
"I'm more worried about the economy and where people are headed" than sports, she said.
The task force officially removed Churchill, Eureka and Washoe counties from the high risk list Thursday, leaving Clark, Elko, Lyon and Mineral. Washoe on Wednesday reported the highest daily case increase since mid-August, attributed to Labor Day socializing.
Contact Capital Bureau reporter Bill Dentzer at bdentzer@reviewjournal.com. Follow @DentzerNews on Twitter. Review-Journal reporter Shea Johnson contributed to this story.