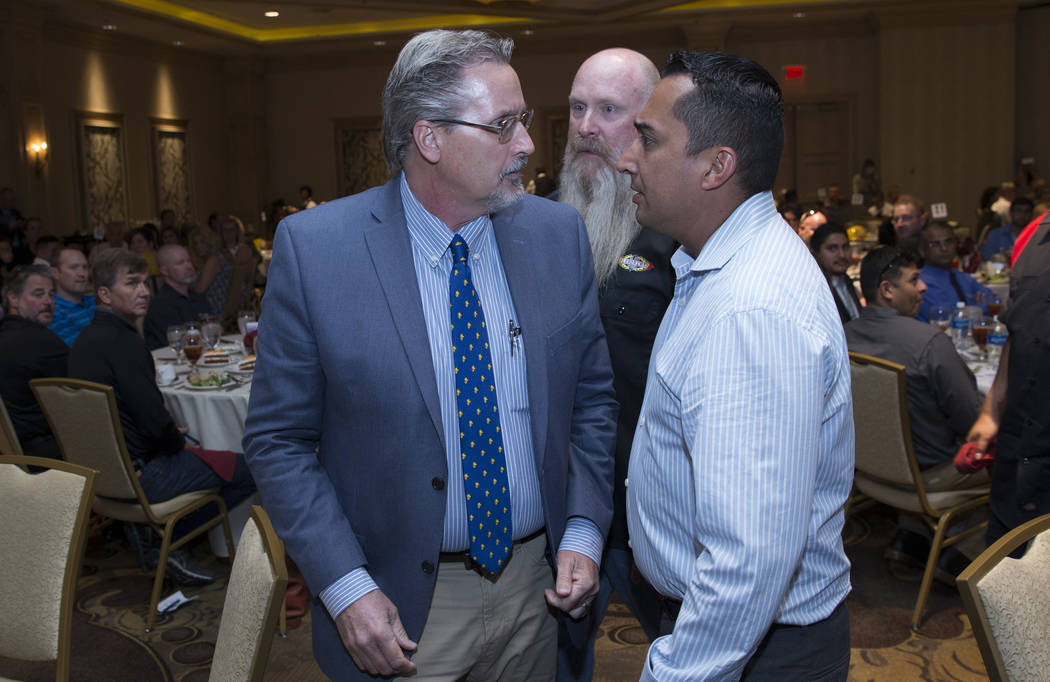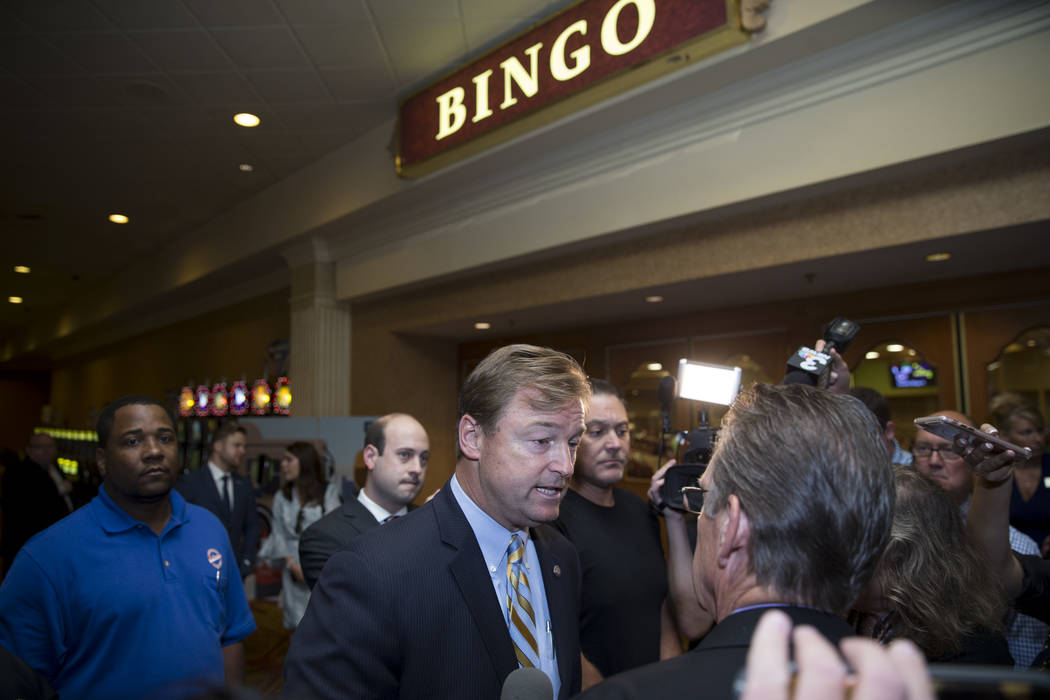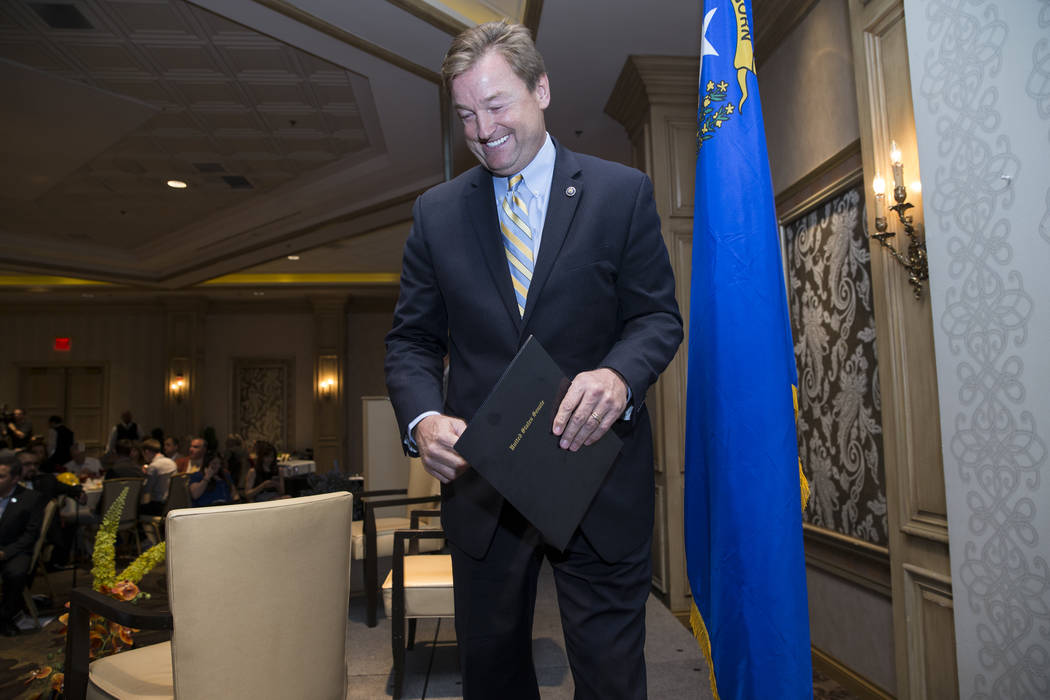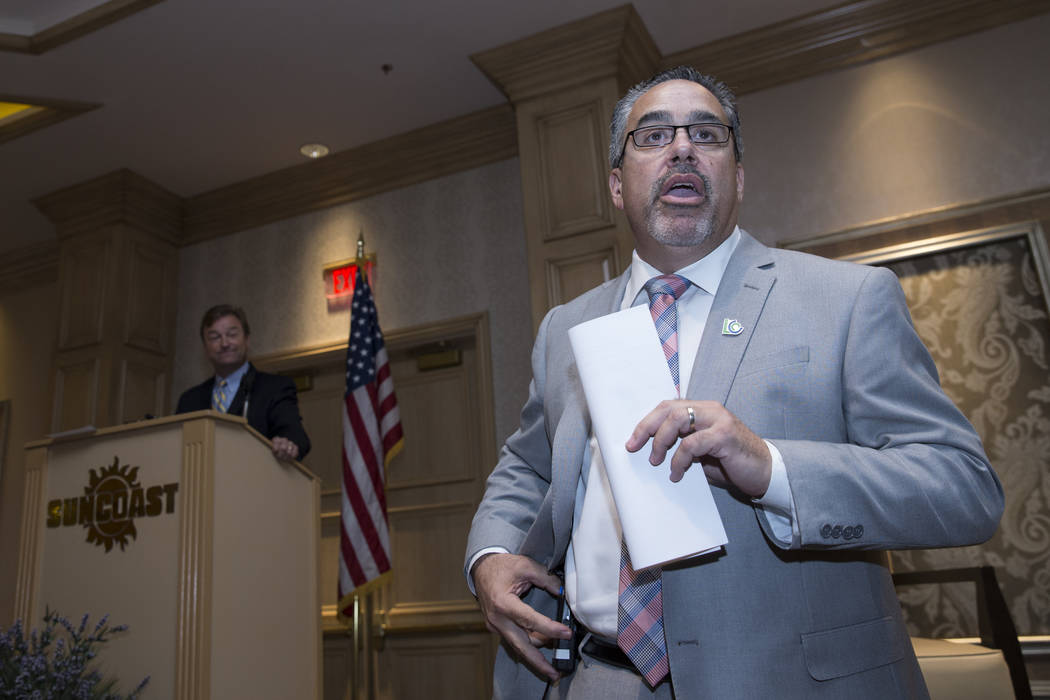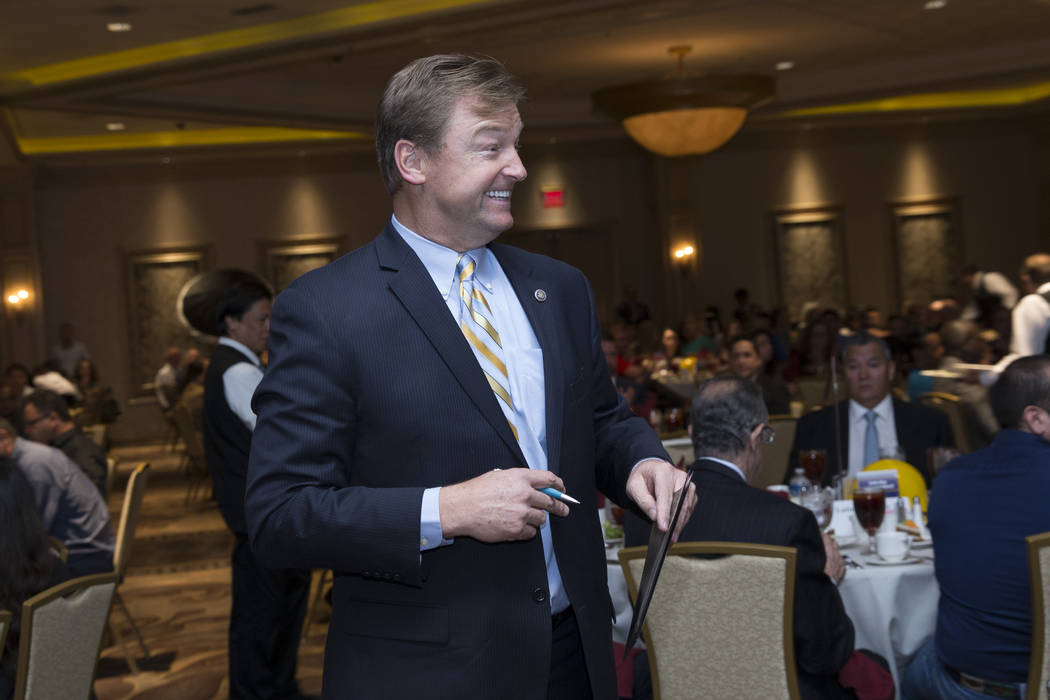 Sen. Dean Heller's expected speech on statewide infrastructure projects was drowned out by four hecklers who were escorted out by security during a Friday luncheon hosted by the Las Vegas Latin Chamber of Commerce.
The four protesters stood up, pointed fingers and yelled at various points during Heller's speech at the Suncoast Hotel and Casino's ballroom.
When one heckler was escorted out, another one would stand from the same table and shout over the Republican senator's remarks in what could be compared to a prolonged game of whack-a-mole for security officers.
"No matter where you stand on the issues of the day, there is one fact I think we can all agree on, and that is our country has never been more polarized," Heller said at the start of his speech before a crowd of more than 350 people.
"There's a lot of anger on both sides of the political aisle," Heller said. "More anger than I've seen in my political career."
Moments later, a woman stood up shouting, "He's a job killer," and "He does not support Latinos."
Three more people interrupted Heller in what appeared to be an orchestrated protest, eliciting jeers from most of the crowd. At one point, Latin chamber president Peter Guzman took the microphone from Heller and asked the luncheon attendees to stop yelling and respect the senator.
A handful of people said the interruptions and subsequent chatter among the crowd made it difficult to clearly hear most of Heller's speech.
"I was sitting up front, and I couldn't even hear him," said one attendee, who declined to give her name.
Heller touched upon road infrastructure projects for about 90 seconds during his 12-minute speech, which was co-sponsored by the Regional Transportation Commission of Southern Nevada and the Laborers International Union of North America Local 872, which represents construction workers.
Heller said his support two years ago of the Fixing America's Surface Transportation Act, known as the FAST Act, helped secure $305 billion for various transportation projects across the country.
A portion of those funds, he said, are paying for the $1 billion widening of the Spaghetti Bowl interchange in downtown Las Vegas, along with construction of the first 15-mile segment of Interstate 11 in Boulder City, pegged at $318 million.
"I'm a big believer that the federal government is responsible, as is the state government and local government, to create the infrastructure necessary to conduct commerce, trade and moving people from Point A to Point B," Heller said.
The senator changed gears near the end of his speech and spent several minutes discussing his support of "comprehensive immigration reform." Even though he did not provide any specifics, Heller said that the system should be easier to understand, particularly for those who do not speak English.
"It's going to take Republicans and Democrats coming together to solve this particular problem," Heller said. "No one wants to see families broken apart, no one wants to see honest hardworking people unfairly punished, no one wants to see young people denied the American dream. To solve this, a balance needs to be struck and compromises have to be made."
Contact Art Marroquin at amarroquin@reviewjournal.com or 702-383-0336. Follow @AMarroquin_LV on Twitter.
HELLER COMMENT AT EVENT
"Thank you for the entertainment that I got," Sen. Dean Heller, R-Nevada, said at the conclusion of a speech held Friday in Las Vegas, where four hecklers were escorted out by security.