Decades after Congressional deadline, Nevada Senate passes Equal Rights Amendment
Updated March 1, 2017 - 3:39 pm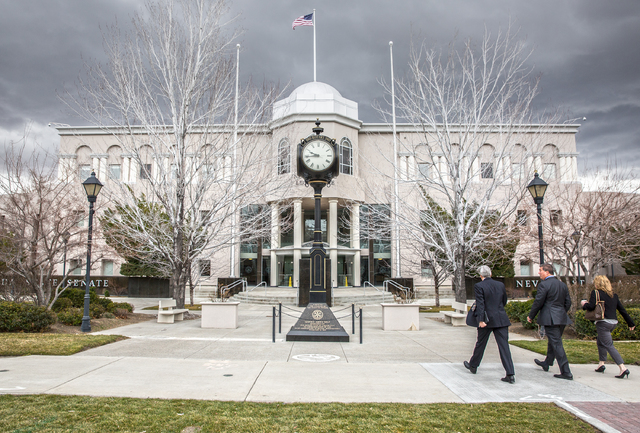 CARSON CITY — The Equal Rights Amendment was approved by the Nevada Senate on Wednesday after passionate floor debate and more than 30 years since it was sent to the states by Congress.
Senate Joint Resolution 2 passed on a mostly party-line vote of 13-8. State Sen. Heidi Gansert of Reno broke with Republican colleagues in voting for the resolution, which goes to the Assembly, where approval is expected.
Introduced by Co-Majority Whip Patricia Spearman, D-North Las Vegas, the resolution would ensure equal rights for women and men. Opponents argued it would erode anti-abortion efforts and could lead to women being drafted in the military.
"In recent days the legislation has been categorized by misinformation and false innuendos," Spearman said, kicking off an hourlong floor debate.
The Equal Rights Amendment, she said, "is about equality for all citizens and placing that guarantee in the Constitution."
"Nothing more."
Arguments that the amendment would allow for bestiality or forced surgical removal of women's genitals, she said, are nonsense.
"This line of social and cultural demagoguery is admirable for it asininity alone," Spearman said.
Republicans called the amendment nothing more than symbolic. They argued laws enacted over the past 35 years protect gender equality and said the amendment does not account for biological differences between men and women.
"Surely, we must admit to ourselves there are differences between the sexes," said Sen. Joe Hardy, R-Boulder City. "This resolution will not solve our problems and may exacerbate some of them."
Sen. Nicole Cannizzaro, D-Las Vegas, recalled the struggles of her mother and grandmother and stories told to her by constituents.
"When we are still talking about equal pay for equal work, we deny women equal rights," Cannizzaro said, adding when rape victims are asked what they were wearing, "we deny women equal rights."
Sen. Becky Harris, R-Las Vegas, spoke through tears as she explained her opposition. She said Nevada should adopt its own amendment to the state constitution and argued the resolution will not protect against prejudice, bias or hatred.
Harris also said she feared the consequences of no exclusions in the federal amendment that could leave a husband and wife serving the military to be deployed at once and their children left at home.
"An Equal Rights Amendment (without) exclusions to protect families and protect children is something I cannot support," Harris said.
Acknowledging the symbolic nature of the vote, Gansert said the amendment is "still a powerful symbol of the need for equality."
Senate Minority Leader Michael Roberson, R-Henderson, also voted no, arguing the amendment would restrict states from setting limits on abortion.
"This is a moral issue for me," he said.
When the votes were cast, there was brief applause from the Senate floor and visitors in the gallery. Many supporters wore "suffragette white," a nod to suffragettes in the early 1900s who pushed for a woman's right to vote.
Congress passed the Equal Rights Amendment in 1972. A seven-year time limit for ratification by states was later extended until 1982.
The measure was ratified by 35 states — three short of those needed to amend the Constitution. But supporters say Congress may determine whether an amendment is valid though a deadline passes.
The Nevada Legislature took up the amendment in the 1973, 1975 and 1977 sessions, where it failed each time. It was put to voters as an advisory question on the 1978 ballot and failed by a 2-to-1 margin.
In 1979 and 1981, voice votes not to consider the resolution cut off any action after it was introduced. The ERA resolution was introduced in the 2015 Legislature but died in committee.
Contact Sandra Chereb at schereb@reviewjournal.com or 775-461-3821. Follow @SandraChereb on Twitter.
RELATED
Debate rages on whether Nevada should pass Equal Rights Amendment
Decades after deadline, Nevada Senate committee passes Equal Rights Amendment
Nevada Democrats want to ratify Equal Rights Amendment decades after Congressional deadline