Defamation case against GOP official will proceed
Updated May 5, 2023 - 3:31 pm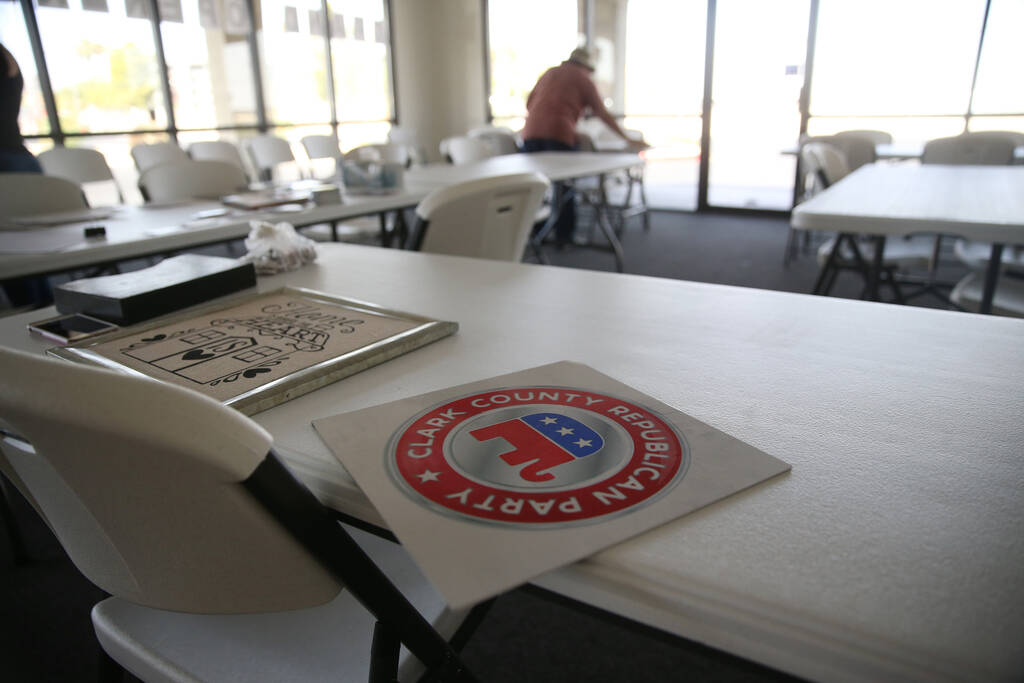 A Clark County District Court judge rejected the Nevada Republican Party executive director's request to dismiss a defamation lawsuit against her on Thursday.
Judge Jessica Peterson denied Alida Benson's motion to dismiss the case that was brought in October 2022 by a trio of Republicans who claimed the executive director defamed them during a Clark County Republican Party meeting in September.
Amy Tarkanian, a political commentator and former chair of the Nevada Republican Party, and Republicans Elliot Malin and Jason Guinasso filed a complaint against Benson and James Blockey, a member of the Clark County Central Committee Republican Party, alleging that the statements they made harmed their reputation and ability to earn money in their respective fields.
At the meeting in September — when the county party's central committee voted on a resolution to censure Republicans who had announced their support for Democratic Attorney General Aaron Ford rather than the Republican candidate Sigal Chattah — Benson had said Tarkanian and Malin, a registered Republican lobbyist, were "personally profiting" by supporting Ford in the 2022 election, according to the lawsuit.
Blockey had also said in the meeting that those named in the resolution to censure "are working for Democrats, getting paid," the lawsuit says.
The plaintiffs alleged that those statements were both false and defamatory. Tarkanian, Guinasso and Malin were members of "Republicans for Ford," a group of more than a dozen Republicans who crossed the aisle to support Ford and boost his re-election bid.
After the initial lawsuit was filed, Benson filed a SLAPP motion on Dec. 13, 2022, as well as a motion to dismiss.
Anti-SLAPP laws, or "strategic lawsuits against public participation," are ways for a defendant to quickly dismiss meritless lawsuits before they incur significant costs.
Benson had to prove that what she said was in advance of free speech, was made in public and was made in good faith.
But she also had to show that she was telling the truth or did not know at the time that what she was saying was false.
Peterson agreed that the statements were made in a public forum and in connection to an issue of public interest, but did not find evidence that Benson's statement was truthful or made without her knowledge of being false, according to Peterson's order.
Benson had provided Peterson with Ford's webpage, and an article from the Review-Journal about the Republicans endorsing Ford.
"Nowhere in any of those documents does it state that Amy Tarkanian, Jason Guinasso, or Elliot Malin were 'fundraising, making money, or personally profiting' from campaigning for Democrats," Peterson wrote in the order, concluding there was no evidence to show that Benson knew at the time that the statement was true or made without knowledge of its falsehood.
The defendants have a right to appeal the decision to the Nevada Supreme Court; otherwise, the case will move forward.
In a statement to the Review-Journal, Tarkanian, Malin and Guinasso said they are "very pleased" with the ruling and "look forward to holding the Republican Party Executive Director further accountable for her reckless and damaging fabrications."
Benson referred the Review-Journal's request for comment to her lawyer Brian Hardy, who did not immediately return a request for comment.
Contact Jessica Hill at jehill@reviewjournal.com. Follow @jess_hillyeah on Twitter.
Order by Jessica Hill on Scribd