Democrats accuse Nevada's Hardy of misusing campaign funds
Updated March 12, 2018 - 9:31 am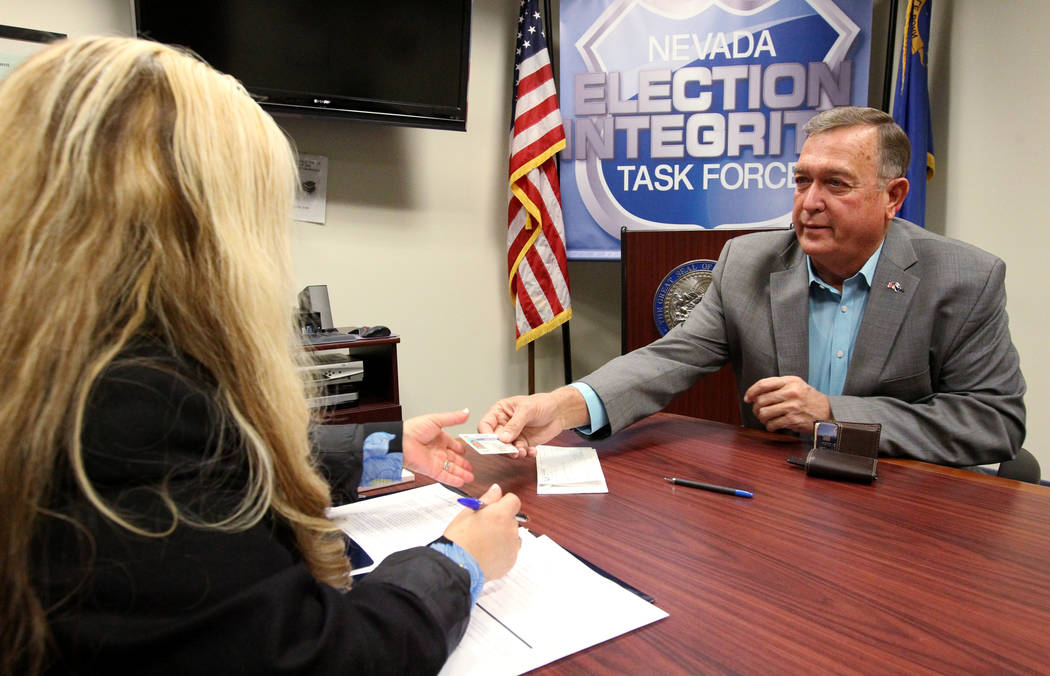 Democrats are accusing former U.S. Rep. Cresent Hardy — who has filed to run for Nevada's 4th Congressional District, the seat he won in 2014 — of using nearly $4,000 of campaign funds for personal use.
The 11 expenditures in question span Jan. 3 to Aug. 8 of last year, after Hardy had left office. The Republican lost his 2016 re-election bid to Democratic Rep. Ruben Kihuen. Federal election laws prohibit the personal use of leftover campaign funds but allow officeholders six months to spend the money on "winding down" the office.
Campaign finance filings show Hardy spent $395 on an Alamo rental car, $210 at The Orleans, $297 at Hotels.com, $788 on airfare and nearly $80 for phone and internet services with Cox Communications.
"This is potentially more troubling evidence of Cresent Hardy's history of shady dealings to line his own pockets," said Drew Godinich, a spokesman for the Democratic Congressional Campaign Committee. "We deserve leaders who put the needs of Nevada first, instead of themselves."
Hardy's camp said Sunday that the Cox bill was for lost equipment during the campaign, and The Orleans charges were related to "official staff" using vacation time the week before the election. The rest of the charges were related to Hardy exploring a run for office, his campaign said.
"While Nevada Democrats hurl false accusations at Cresent Hardy for simply following the law and properly disclosing legitimate campaign expenses, for months they looked the other way in in the face of multiple allegations of sexual harassment by Ruben Kihuen," said Ben Sparks, Hardy's campaign consultant.
After saying in July he would not seek office in 2018, Hardy reversed course and last week filed to run for the crowded race for Congressional District 4 to replace Kihuen.
Kihuen, who was plagued by sexual harassment allegations in December, is also considering running for re-election after initially saying he would not.
Dems plan fall TV ad blitz
The House Majority PAC announced Thursday that it was reserving nearly $2.8 million worth of TV ads for the final weeks of the 2018 election cycle in an effort to keep Nevada's two competitive congressional seats blue.
According to its website, the House Majority PAC is "focused on holding Republicans accountable and helping Democrats win seats in the House."
For Democrats in Nevada, they will need to defend two blue seats, Congressional Districts 3 and 4, but without the help of an incumbent. Rep. Jacky Rosen (CD-3) is challenging Republican incumbent U.S. Sen. Dean Heller, while Kihuen (CD-4) hasn't clarified whether he will run for re-election.
The Las Vegas ads are part of a $43 million ad reservation by the super PAC that will span 33 cities, the group said in a statement. Of those cities, the PAC is only expected to spend more money in Philadelphia, Minneapolis and Los Angeles.
The PAC said this will be the earliest that it has reserved late-cycle ad buys.
Events
— State Sen. Mo Denis, D-Las Vegas, plans a fundraiser from 5:30-7 p.m. Monday at The Capital Grille, 3200 Las Vegas Boulevard South.
— The Senate Democratic Caucus plans a fundraiser from 5:30-7 p.m. March 21 at Makers & Finders, 1120 S. Main St.
— Democratic gubernatorial candidate Chris Giunchigliani and Democratic Clark County Commission candidate Tick Segerblom are set to speak at the Las Vegas Asian Chamber of Commerce's monthly luncheon March 22.
Contact Ramona Giwargis at rgiwargis@reviewjournal.com or 702-380-4538. Follow @RamonaGiwargis on Twitter. Contact Colton Lochhead at clochhead@reviewjournal.com or 702-383-4638. Follow @ColtonLochhead on Twitter.